Click on Bookcover to order from Amazon.com
---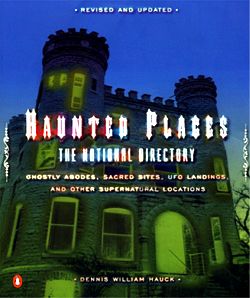 Haunted Places: the National Directory - On Sale
Still the most respected and authoritative guide to ghosts in the United States! Completely updated! This one-of-a-kind book is both a fascinating and unusual travel guide and an indispensable reference casebook for serious researchers. The result of a five-year research project with the cooperation of several national organizations, this unique directory lists over 2,000 locations in all fifty states where paranormal activity has been reported. Included are sacred sites, as well as haunted houses, hotels, inns, restaurants, businesses, schools, churches, campgrounds, and parks. These are real places complete with names, addresses, phone numbers, and websites. Each entry presents a history of the site, names of witnesses, current investigations, and detailed travel directions. Every case is footnoted to an extensive bibliography of sources for further research. Over 100 photographs. Click on bookcover to order!
This book is a remarkable resource guide for serious case researchers and anyone interested in visiting unusual places and phenomena. - NAPRA Review

Similar works are narrower in scope and less thorough in coverage. Readers interested in the supernatural will enjoy this directory and will read it cover to cover. Buy one for reference and one for the circulating section. - Booklist

Haunted Places: The National Directory is a book of enormous importance to the study of American folklore. - Academic Library Review

Hauck's book, while piquing my curiosity enough to make me think about buying an RV, also reassures me, because I already know what I might see. For the first time in my life, I can open myself safely to the Other Side. - Lily Warner in Fate Magazine

This guide is indispensable to both the serious fortean researcher and the psychic tourist. - Factsheet Five

Anyone who has had an unusual experience or has witnessed a supernatural occurrence will cherish the detailed descriptions in this book. Also, as you thumb through the listings, some of the sites may trigger a personal experience you may have had and previously forgotten. - Brian Thomas in Magical Blend Magazine
---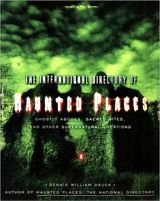 International Directory of Haunted Places - On Sale
From an overgrown temples at Angkor Wat in Cambodia to the empty shower stalls at Dachau in Germany, this books chronicles all the latest hauntings worldwide. Great Britain and Europe, Africa, the Middles East, Russia, Asia, Australia, the Pacific Islands, South America and the Caribbean, and all of Canada – over 750 new cases with a hundred photographs of apparitions and locations. Visit haunted jail houses in Iceland. Enter ghostly castles in Scotland. Or meet household spirits in Russia. No matter what your destination, this unique guide will direct you to the eeriest spots in the area. Each entry includes a spine-tingling description plus precise travel directions, phone numbers, and, if available, Internet addresses. This indispensable casebook will be of special interest to paranormal researchers and folklorists, because it provides a unique look at the variations among paranormal phenomenon in different countries and cultures. Tourists and armchair travelers alike will find this directory a fascinating companion to traditional guidebooks. Click on bookcover to order!
"Belief in ghosts or spirits is part of human culture, and the telling of ghost stories has been traced back to ancient times. Today, according to the George H. Gallup International Institute, more than half the world's population believes in ghosts and at least a third of that group have actually seen one. Whether we like it or not, ghosts and spirits are still part of modern civilization, and most of us believe there is a lot more going on in the universe than our practical scientists and social leaders would admit. This rejected part of human experience, which is another side of reality, will not go away simply by closing our eyes to it. As we enter the new millennium, more and more people are opening their eyes to the Other Side. The number of paranormal experiences being reported has quadrupled in the last decade, and most organizations and researchers are swamped with new cases. Witnesses are much more willing to talk about such things, and they are actively looking for answers about what is really going on. The media and entertainment industries recognize this trend and have responded with an avalanche of articles and films on the subject. The surge of interest in the paranormal coupled with the growing emphasis on the global economy and emerging cultures makes this a truly planetary phenomenon. For the first time, local folklore is giving way to an international perspective that emphasizes the similarities and belief-altering components of these experiences." – Dennis William Hauck, author of Haunted Places: the National Directory and the International Directory of Haunted Places.
---

HAUNTED HOTELS YOU CAN VISIT!
This travel guide to over 100 inns in the United States and Canada is a must for the haunted traveler. Lisitings include contact information, a list of facilities, price range, case histories, and a description of both living and dead residents. Robin Mead is a well-known travel writer who has authored twenty-six books on the subject, though this is her first detour into the realm of the supernatural. HAUNTED HOTELS, Rutledge Hill 1995. 224 pp. Qpbk. $9.95 Click on bookcover to order!

FIELD GUIDE TO NORTH AMERICAN HAUNTINGS
This book lists over 100 haunted sites and their resident specters, focusing on haunted houses, vessels, cemeteries, and haunted sites in nature. Each site has a narrative and supernatural history and includes address information. There is also a chapter on ghosthunting. FIELD GUIDE TO NORTH AMERICAN HAUNTINGS, Three Rivers Press 1998. 272 pp. Qpbk. $15.00. Click on bookcover to order!
---

HAUNTED AMERICA - Tor 1995. 576 pp. Pbk. $5.99
This series of true ghost stories by Michael Norman and Beth Scott contains in-depth reporting on some of America's most haunted locations. Each book contains between 70 and 150 cases. Click on bookcover to order!

HAUNTED HEARTLAND - Warner 1994. 487 pp. Pbk. $6.50
Click on bookcover to order!

HISTORIC HAUNTED AMERICA - Tor 1996. 672 pp. Pbk. $7.99
Click on bookcover to order!
---

GHOSTLY AMERICAN PLACES
This ghostly guide to America's most fascinating haunted landmarks by Arthur Myers is a textbook on our haunted history. GHOSTLY AMERICAN PLACES. Sites include Carleton House, Horton Grand Hotel, Whaley House, Baldpate Inn, Old Stone House, Tuckaway House, Tupelo Seven Theater, Country Tavern, Double Eagle Restaurant, Beardslee Manor, Buttertoes Restaurant, Crier in the Country Restaurant, Logan Inn, Sullivan County News, Inwood Manor, and more! GHOSTLY AMERICAN PLACES. Fireside 1996. 269 pp. Qpbk. $11.00 Click on bookcover to order!
---

GHOSTS, UFOs, AND OTHER MYSTERIES FROM AROUND THE WORLD
The Sightings television series is syndicated in over 90% of the United States and has generated much interest in genuine paranormal events. This book is a montage of 31 of the best cases aired in the few years and covers everything from Bigfoot to Werewolves. A sampling of the contents includes the haunted castle of Berry-Pomeroy, the Blue Lady of Moss Beach, the Avebury Mystery Lights, and Orson Welle's curse. SIGHTINGS. Fireside 1996. 269 pp. Qpbk. $11.00 Click on bookcover to order!
---

CIVIL WAR GHOST STORIES & LEGENDS - U of SC 1992. 183 pp. Qpbk. $9.95
Civil War buffs can find out the rest of the story in these fascinating books. The first is from the South's own chronicler of the supernatural, Nancy Roberts, and the second is from the archives of FATE magazine and compiled by Frank Spaeth. Click on bookcover to order!

PHANTOM ARMY OF THE CIVIL WAR AND OTHER SOUTHERN GHOST STORIES - Llewellyn 1997. 256 pp. Qpbk. $9.95 Click on bookcover to order!
---

Possessed Possessions - by Ed Okonowicz - 1996. 106 pp. $9.95
A collection of true short stories about more than 20 haunted objects located across the country. From Maine to Florida and New Jersey to Ohio the owners of these haunted objects tell what it's like to own a collectible or piece of antique furniture that has refused "to give up the ghost." This is the book some antique dealers do not want you to buy. Click on bookcover to order!

Possessed Possessions II - by Ed Okonowicz - 1998. 106 pp. $9.95
This sequel to Possessed Possessions includes 40 more amazing true stories of bizarre, unusual and unexplained incidents--all caused by haunted objects like the demented dolls, spirited sculptures, a pesky piano, a killer crib, and much, much, more.
---

GHOSTS OF THE CAROLINAS - U of SC 1988. 116 pp. Qpbk. $9.95
Veteran folklorist and ghost researcher Nancy Roberts has made an important contribution to the documentation of true ghost encounters in the South. Add them to your collection now! Click on bookcover to order!

NORTH CAROLINA GHOSTS & LEGENDS - U of SC 1991. 122 pp. Qpbk. $9.95
New! GEORGIA GHOSTS - Click here to order! The 54 cases in Nancy's latest book span the entire state of Georgia from the coast lands to the historic heartland and classic south all the way to the northern mountains. John Blair 1997. Qpbk. $9.95 Click on bookcover to order!
---

GHOSTLY TALES OF THE PACIFIC NORTHWEST
Jessica Salmonson knows how to spin scary tales in these true accounts of hauntings from Washington and Oregon. Sites include Pike Place Market, Shaw Island, the Georgetown Castle, the White Eagle Saloon, and Lake Okanagan. There are seventeen ghostly tales in all. THE MYSTERIOUS DOOM. Sasquatch 1992. 216 pp. Qpbk. $11.95 Click on bookcover to order!
---

CONVERSATIONS WITH GHOSTS
Meet paranormal expert Robert Cunnington's ghosts first hand. These are transcripts of conversations with many lost spirits that have temporarily taken up residence in the body of his wife, Marianne. EARTHBOUND. Kensington 1997. 209 pp. Qpbk. $12.00 Click on bookcover to order!
---

HORRIFYING TALES THAT AREN'T MAKE-BELIEVE!
Author Terry Deary and illustrator David Wyatt work together to create some really scary stuff in this book that presents actual cases from around the world. TRUE GHOST STORIES. Puffin 1996. Pbk. $3.99 Click on bookcover to order!

STUDIES IN DESTRUCTIVE HAUNTING
Controversial occult writer Colin Wilson examines a variety of poltergeist phenomena and concludes that they are genuine spirit energies. This is one of the most comprehensive studies of the worldwide poltergeist phenomenon in print. POLTERGEIST. Llewellyn 1993. 448 pp. Pbk. $5.95 Click on bookcover to order!
---
Click Here to see our Haunted Posters & Artwork!