Tell us about your paranormal experience for entry on this page

Idaho (Wendell)
We were doing the "Charlie Charlie Challenge" and was recording the whole entire thing! Who was involved? my mother my father myself and my three younger brothers! In the beginning of the video my mother asked "Charlie Charlie are you there?" No answer the next question "Yes or no" A whisper says yes after that my dad asked "Are you a girl or a boy?" it then replied with a silent "i'm a boy" those were the only two voices we heard. One evening i was doing EVP recording and asked "are you my cousin austin?" (MY COUSIN DIED FROM THE PASSOUT CHALLENGE) A deep voice then said "No" after that 1st recording i did another one and i then asked "Are you my cousins father?" the same deep voice said "No" i believe there's a dark entity in my home but it's hard to know for sure can you help?
Arkansas (Fort Smith)
A few months ago we moved into a new house. It has an upstairs where my 14 year old daughter sleeps. There is also an extra room right next to hers. Anyway she was gone for the weekend and I decided to sleep up there with a nightlight on. My chorkie was up there with me and he ran in the other room to check out the noise. I was laying in the bed with the covers over my head and all of a sudden I got really hot I mean internal combustion hot a second more and I would have burst into flames, while the heat was going on in a demonic voice it spoke my name. I could not open my eyes to see because of what I might see. The heat in my body was so intense I have never felt anything like it before. So I tried to ignore it and go to sleep anyway and blinked and the nightlight was off and I felt something next to me. I thought my husband had come upstairs and came to bed and when I blinked again the light was back on and no one was next to me. Holy crap! W ell my dog went back into the other room and came running back trying to get under the covers. I got up and when I went to go downstairs I noticed a spool of thread in the middle of the floor. The other room next to the upstairs bedroom is a sewing room. There is no way the thread could have fallen off the spool holder by itself. My daughter has seen the entity in her dreams. It has not spoken to anyone but me. It knew my name. I am so scared. I will not go upstairs anymore. Yesterday my son was scratched on the arm while he was sleeping. A few weeks before that he had scratches on his back. five scratches straight in the middle of his back. Where did this come from? Did it follow us? Are they able to do that?
Pennsylvania (Union City)
I have had experiences of a "wind" under my covers, that is very cold, at my own house (the only place I've ever lived that this has happened), but that's not my true life paranormal experience I'm reporting here. I was at my daughter's house, staying overnight in the guest room. The room was rather cold, and I was just thinking "Well of course it's cold, there aren't any drapes on the window and it's right across from me". Right then, it was if someone was laying right beside me and blew in my face. Not only did I have the sensation, I heard the "mouth" slightly whistle as it blew VERY cold air in my face. There, that's it! I'll never forget it though.
California (El Cajon)
When we first moved in the house we were told of some "rainbow children" that practiced black magic in the back shed? there was a bad accident that happened where a mans head got decapitated and landed on our front lawn. 1 year after moveing in, a white owl flew down our chimney and we had to open all the windows to let it free. A week later my older brother died in a car accident I personaly have seen a black mass in my room. the back room we had the carpet replaced and the guy doing the work had to leave because he was nausiated? and couldn't finish the work. there is a dark spot in that room and a very bad smell. My sister has stayed some time before moving to her new home and she said she felt unconfortable and very cold? nightmares every night. well i know it sounds crazy but i have as well as my sister who by the way is vice pres of her company will no longer stay in that room.
Pennsylvania
I was visiting Valley Forge Park in 1981 with my sister (we lived nearby)and 2 other friends . We were on Washington road there was a couple of cabins about 200 feet away, then we see a group of men dressed in ragged uniforms marching past the cabins, they walked towards us but we heard nothing, then they seemed to disappear as they went past us .It was strange because it was springtime but they looked so real. The really strange thing was it seemed like they were aware of us because several of the men looked our way but we were not afraid .
Colorado (Mcclave)
I was recording my niece, who is learning to crawl, on my phone. When I got home and watched the video there is a man's whisper close to the end. He says something in a foreign language that sounds like "aviche motibae" whatever that means. There were no males in the room and the television was off. Creepy. I sure wish I knew what that saying translated to.

Minnesota (Braham)
I saw a ghostly figure on the railroad a few nights ago, it was like a man in a big fedora made of black smoke. He just stood there and pointed at my truck until I was out of sight. A lot of people say the old wood icon in the trees is surrounded by whispering, sick voices when it gets dark, and I've heard some disgusting sounds while passing by it on the trail.
South Carolina
I recently took a tour of the historic Robert Mills House in Columbia, South Carolina. The house was designed and built by architect Robert Mills in 1823, but the owner (Ainsley Hall) died before ever moving in. The vacant house was eventually sold to the Presbyterian Church who established a school there (The Columbia Presbyterian Seminary). When I arrived to buy a ticket to see the house, I noticed that I was the only visitor for the 11 a.m. tour. Despite this, the tour guide kindly gave me a very informative tour of the entire house that lasted for at least an hour. When we were visiting the upstairs of the house, I heard many loud footsteps coming up the stairs. I assumed that another tour was coming through or that a museum staffer was working in the building. I turned to the tour guide and said, "Do you hear all those footsteps?" He said he didn't hear anything, but didn't deny that I HEARD SOMETHING. He seemed to believe me. He also sa id that other people have had experiences across the street at the historic Hampton Preston House (also on a staircase). Ironically, I wasn't afraid. Those footsteps on the stairs gave the house a "busy" lived-in feeling. It felt as if I was hearing crowds coming through a busy train station or other public place. I know the Mills house once served as both a dormitory and as classrooms when it was part of the Columbia Presbyterian Seminary. So, perhaps what I heard were former students "going to class" and going about their daily routine. (P.S. the Robert Mills House is located at 1616 Blandings Street, Columbia, South Carolina). I visited the house on August 21, 2014. Sam, New York City
Michigan
There is a house known as The Jewett house. It is an old funeral home with the morgue still in it. My older brother's friend Brittany recently moved out because they were experiencing problems, and could not take it anymore. They were in that house for only 6 months. It is said that there are 5 ghosts: Old man jewett, his son, other son, one of son's wife and their little girl. Whenever you go by the house you can sometimes see old man jewett standing in the second floor window. Sometimes when you are in the house you can smell cigar smoke out of thin air. Old man jewett was an extremely mean old person and some say he is even worst after death, so people do get hurt in that house. I love that place it is beautiful and no one lives in it currently because they are too afraid of old man jewett.
Georgia
Lived on the corner of Jones and Abercorn. Back in the 1800s, fire broke out burning down 600something buildings downtown. Little boy died in our house during the blaze. Our things were never safe. Valuables were constantly broken. We had bells in the living room and eventually got used to them getting rung at all times. Woke up in the middle of the night to a loud crash. We knew immediately it was a large framed picture but ASSUMED had fallen of the mantle piece. When we walked into the livingroom it was shattered on the opposite side of the room from where it hung. The encounter that made me leave the house was getting hit in the back with a DVD case as it flew off the top of the TV. I won't go back in that house. It has been added to my list of thresholds I refuse to pass through.

Florida (Miami)
I was leaving my grandmother's house around 11:45 last night when I looked out the front window of my car and saw a red orb in the sky and I quickly put my car in reverse and started honking my horn so that my grandmother would come back outside. When she opened her front door I told her to hurry up and come outside and look at the sky. The red orb continued to ascend and then it cut over her house and switched directions. I was able to take a picture with my iphone and the color came out perfectly clear. After I took the picture I became scared and we went inside to get my grandmother a sweatshirt because it was a chilly night and by the time we came back out, not even five minutes later, the object was gone. It made absolutely no noise, and was larger than an airplane. Several airplanes passed by afterwards and we compared the light on the airplanes to what we saw and it did not compare at all.
Ohio
My experience comes with a question. When I was 10, going on 11, years old I used to experience something very strange in my house. My bedroom to be more specific. I had large french doors on my closet in my bedroom and they were right beside my bed. One day, late in the afternoon, I started to see dark shadows that look like they were either coming from my closet or it was something directly behind the doors. Now these closet doors had slots in them, kind of like old western doors to a saloon, so you could slightly see into the closet itself. Anyway, a few days after I saw these shadows appear, I started to see snow coming out of the slots. It sounds weird, but it was clear as day. I was the only one who could actually see the snow and it was only in my room. At first it started coming out of the slots like I stated earlier, but then it started to actually fall out of my ceiling and swirl all around my room. It was a mixture of really heavy snow fla kes like you would see in an actual snow storm outside, and a glittery substance as well. It never stopped, and it never built up on anything. It was just a constant flow that once it hit the ground it would disappear as new snow would fall. I would always see it. During the day is was dull, but during the night I would see it light up my room like it was actually emitting light itself. At first it would scare me, but then I became accustomed to it. This snow lasted until I moved out of that house when I was 11. I haven't seen it since. I was just wondering what it could be, or if anyone has had a similar experience. Please contact me through my email: tgrabski1994@gmail.com
United Kingdom
I was 12/13 years old and saw a dome around my bed - made up of what appeared to be particled bits. I never attempted to touch this shape, yet I was being sexually abused by my step-father for many years, and had done a vast amount of praying to so-called God that nothing ever happened to protect me from him. This demi globe sphere just appeared one afternoon in my bedroom whilst in bed. I did not do anything to make it appear and once conscious of it actually being there, just stared at it - blinked my eyes once or twice to see if it was in my mind, yet it wasn't at all and still there when I rubbed my eyes. Never experienced or encountered anything like that again since it happened 27 years ago now.
Malaysia
Last year, my uncle and his two kids went to Kellie Castle at Batu Gajah during the afternoon. The look of the castle at outside it look like grand but inside is dusty, old. Back to the haunting, when my uncle and his two kids went in the castle it was okay nothing happened but when they go to the second floor of the castle. All the windows at the second floor of the castle
just suddenly closed even though it not a windy day. In a few seconds, all the windows just opened back and my uncle's kids cried because they were scared. They quickly ran out of the castle and my uncle promised to himself that he won't come back to this castle again.
Minnesota (Burnsville)
In 2011. I lived in an apartment with my cousin. We had just moved in and his dad is of native/indian decent. He wanted to do a walk through and bless our apartment from any evil. He was somewhat intoxicated which you are not supposed to be while blessing a house as it can let in spirits, mainly bad but good too. A night or 2 after he left I was in my room watching tv just about to fall asleep when I heard someone say "Hey" I imediatly opened my eyes and assumed it was just the TV. I started to fall back asleep again and the same thing happend. I didn't think anything of it until the next night. My cousin went to bed before I did and I was closing the blinds in the living room and I heard "Hey" again CLEAR AS DAY. I turned around to say whats up, No one was there. I thought it was my cousin. Same thing happened again when I went to bed. The next night my cousin was doing dishes and I wasn't home yet hey said someone said "Hey" to him in the kitchen thinking it was me he repiled but no one was there. We talked to eachother about what we were both expirencing and we were both a little spooked. We called his dad and he said "oh no! This is my fault, when I blessed your place I had been drinking a little" His dad lives far up north and had to work so we had to wait 2 weeks before he could come help us. Needless to say as all of this was going on this spirit kept me up all night. I got NO sleep for 3 whole weeks. Maybe a hour a night if I was lucky. I was terrified. I was told it couldn't hurt me but after a while I started seeing a black shadow out the corner of my eye constantly. When I'd go to turn my head and look nothing was there. I was home alone one night on the computer and kept looking behind me, I could feel something watching me yet nothing was there. All the sudden I felt a poke on the back of my head like someone was tapping me. I flew out of my chair and into the other room. It didn't matter if I had the TV on and all the lights. I kept hearing and seeing things. One night I had a guy I was dating over. We were in my room watching a movie and his face turned pale white and the look in his eyes was undescribable, he said I feel someone breathing on me. Then apparently it let out a huge warm breath in his ear. He jumped up, frightened and shaking. I told him it was ok and wouldn't hurt him, I told him the story and he was freaked but calmed down after awhile until we layed back in bed and it started poking him. We were laying still on my bed when a huge heavy glass candle holder on my bed frame flew across my room. I said thats it!! I can't stay here till it's gone. That next morning I left for work and I was going to lock the door as I was leaving and I seen a black shadow figure staring at me as I left, It was watching me leave as it was standing next to the couch almost as if it was saying good bye. No one belives my cousin or I but I had a witness and my cousins dad n ew. He said it was a young girl spirit, a nice one. I told him I got the feeling she didn't like that I had a date over that's why she threw the candle holder. He said I was right. I had some sort of attachment to this spirit and she was nice to me and my cousin but seemed to spend more time around me. I had more things happen than he did. When my cousins dad came to reverse what he had done I felt her leave and I started crying after she was gone, I could feel her leave. In indian culture you burn fruit outside so she has food to eat on a four day journey. We were not allowed to drink, have people over or do anything negaitive for 4 whole days as she could come back. She wanted to be set free. As crazy as this sounds it happened!! I've always kind of beieved in this spirit/ghost stuff but you never really do until you witness it with your own eyes.
Spooked in Indiana
I was living in Whitley county, Indiana when the idea of investigating supernatural phenomenon struck my mind. We three gathered as a team as people full of high spirits. In Indiana, we had investigated Whispers Estate and recorded few high pitched disturbances including some apparitions and creepy screamings. Except that, central library and diana of the dunes are something every resident should visit for a ghost hunting. During our visit to the Willard Library, John Glenn, the cameraman, felt hallucination and survived from demonic possession. There is much more to say and thus, I handed over my experiences to this guy that created Hauntedia to gather my personal ghost journey to many states down. You may check the detailed investigation report of Indiana here- http://www.hauntedia.com/2015/05/most-haunted-places-indiana-only-superhuman-can-visit-night.html
Ohio (Sylvania)
I lived there from 1976-1984. The women in the family (myself, mother, younger sister) experienced several unexplained experiences while living there. Examples:
-Guest room that always had bees in the windows at all times of the year, despite repeated attempts by exterminators the bees never went away. The room became unusuable.
-Shadows in the back of the house on the ground floor (kitchen, living room, library)...would see something out the corner of eye and turn to see who it was and no one was there, this happened quite regularly.
-Crows/ravens in basement...at least 4 times we had a crow/raven make it's way into our basement...we had a basement level house (no lower level access from the outside) workers could never find how they got in.
-Basement incidents: my sister and I had a play area in the basement and many times our play things were "messed with". Example is we had a Barbie Townhouse, furniture and dolls in the house would be upended but the house itself was standing alright, as if someone had come in and tipped everything over. It never coincided with a friend being over.
-Illness, family break ups: The first owners of the house (we were the second) had an illness and subsequent financial difficulty that forced them to sell the house. My father at age 39 suffered a massive heart attack and stroke, rendering him disabled for the rest of his life. This was when he and my mother were in the process of seperating to divorce. We in the next year lost the house to foreclosure.
-Over the years we would hear from former neighbors as to the misfortune that befell the next families who lived in the house. As far as we know the next 3 owners experienced some sort of illness, family discord that lead to financial stress. The house has fallen into a disrepaired state in comparison to the rest of the neighborhood.
-My son: A few years ago I was back in my hometown and was going down memory lane with my son, showing him former schools and my house. By happenstance the house was vacant at the time and up for sale. I took advantage of the situation to get out and look in some windows and show him the house. He suddenly refused to get out of the car, saying the house was scary but he didn't know why. He wanted to leave right away. I had not shared my experiences in the house with my children. He had no knowledge of anything being amiss in the house.
Illinois (Saint Charles)
When I was 11 years old (1980), I slept over at a friends house. She had also invited our other girlfriend. We stayed up well past midnight and had our sleeping bags in the finished basement of her house. We got out her ouija board around 2am. Our mutual friend tried to call up the spirit of her deceased german shepard. She called his name while spelling it on the board. I has never been around a Ouija board, so I had no idea what it was about. About 3 minutes in to the seance, the lights went completely out and we were in pitch blackness. There was no storm outside, and up to that point, there had been no problems with the electricity. The lights flickered back on briefly, and went out again. We screamed, as you can imagine, and I dove into my sleeping bag terrified. I have NEVER used a Ouija board since. I really believe "doors" can be opened and dangerous entities can be invited in with them.
Tennessee
THE HOUSE I LIVED IN BEFORE I HAD TO MOVE HERE, HAD 3 HOUSES TO BURN.2 TORNADOES TO COME THROUGH THERE. WAS IN 1 OF THEM. I HAD SOMETHING AT NIGHT. IT WAS LIKE SOME KIND OF STATIC ELEC. I HURT SO BAD I'D SCREAM IN PAIN. I COULD FLOAT IN THE AIR, ABOUT8 FT.BEFORE I KNEW WHAT AN ORB WAS. I'D SEE 3 COMING THROUGH MY HOUSE. ALWAYS TRAVEL IN STRAIGHT LINE BUT,MOVING UP AND DOWN. 1 SIZE OF BASKET BALL,NEXT ONE THE SIZE OF SOFT BALL, THE 3RD WAS LARGER THAN A GOLF BAL. YOU COULD SEE THEM GO THROUGH THE WALL GOING OUTSIDE. THIS HAPPEN SEVERAL TIMES. SO DID THE EXPERIENCE WITH MY HEAD AND THE SOUND WITH MY HEAD
I CAN'T DESCRIBE HOW BAD IT HURT.MY WIFE AND 2 SONS HAD TO LEAVE ONE NIGHT. BECAUSE AND UFO HOVERING BEHIND OUR HOUSE. AFTER OUR HOME BURNT. WE FOR SURE DIDN'T WANT TO BUILD BACK.A FEW YEARS LATER AT THE LOCATION WE ARE AT NOW. THE ARE AL KINDS OF OF IMAGES OF THINGS APPEARING HERE.ONE THING FOR SURE, IS A BACK. TRIANGE, AND ABOUT 3 FT. TALL. THEY WOULD SHOOT OUT OF A GLASS DOOR FROM DINING ROOM. GO AROUND A CORNER, AND DISAPPEAR.ONE MORE THING. IN MY BEDROOM. THERE ARE ALWAYS VOICES TALKING NOT JUST TO ME. AND ONE THING ALSO APPEARED AT THE LEFT FOOT OF MY BED. ABOUT 7 FT. TALL. I HAD MY FEET STICKING OUT FROM UNDER THE COVER. MY FEET WERE BURNING FROM SUGAR BEING SO HIGH, I WAS COOLING THEM OFF.WELL THIS THING HIT THE TOP OF MY LEFT FOOT AND MADE A SOUND THAT I'VE NEVER HEARD BEFORE. NEEDLESS TO SAY I JERK MY FEET UNDER THE COVER AND MY HEAD TOO. DIDN'T COME OUT TIL I WAS SWEATING SO BAD, I HAD TOO.BUT, LAST 6 OR 8 MONTHS, THINGS HAS BEEN QUIET. I READ MY BIBLE MORE AND PR AY SEVERAL TIMES A DAY. HOPE IT STAYS THIS WAY.
Florida
A family friend once told me about an experience that her niece had many years ago. One night many years ago, her niece, who was around 12 at the time, had a dream of a black angel. The following morning, during breakfast time, she had told her family about the dream because she had found it strange. That same day, while walking home from school, she was hit by a bus & killed. The dream of the black angel that she had the night before was a premonition of her death (sent by possibly the ghost of a loved one who had passed to the other side).
Connecticut
I received a phone call from my boyfriend's cell phone one night. He lives in Connecticut and I live in New York City. It was after 10 pm, he was sleeping and I was up and my phone was turned off. The caller left a 3 minute long voicemail and I can hear whispers and breathing, and the phone being moved around in my boyfriends bedroom. I can tell its being moved away from the air conditioner by the background noise. Towards the end of the call, the caller places it where it belongs, which is close to the air conditioner. My boyfriend says that he didn't call me or touch his phone and that he was sleeping.

Nevada (Reno/Stead)
I was a student at Sierra NV Job Corps at 5005 Echo Ave Stead NV in 1994-1996. The place was haunted . I had my bed shaken one night to be awakened by someone who wasn't there. One time down in the laundry room one of the coin up levers went in and out all on its own. I heard many stories about that place and it has been boarded up for 10 years unable to be sold.
California (Hawthorne)
My kids and I moved to San Diego from Long beach california in 2011. I got us an apartment in Lemon Grove a two bedroom apartment, when i went to view the apartment as soon as i walked in i was ok until i viewed the hallway, for some reason i felt like a killing has happened there, in the apartment. well a month or so after my kids and i moved in. One day while the kids were at school and i was in my room, it sounded like the television turned on all of a sudden and i heard people talking in the living room, so i got out of bed thinking that the kids came home early from school or something. while i started walking towards the hallway i just visioned brutally killings in that hallway and it give me chills down my spine, still wondering why there was so much noise when i got to the living room i glanced and noticed that no one was at home so i turned around and i guess you can say ignored it and went back towards my room, then when i went to bed i jus t had the most hardiest time sleeping every night when i would go to sleep i felt as if someone was sitting on my chest cause i just couldnt breath so i had one of my friends spend a night there the next night the same thing was happening again so i told him to watch me as i sleep so he did but as i was telling him how i felt and whats been going on as soon as i said that i think there is a ghost i got the most chilling feeling that i have ever gotten be for i was so cold i was shevering i felt like i was going to die because i was so cold my lips turned purple and my friend had to hold me because i was freezing out of control. then i went to sleep but the next day i noticed a purple bruise on my side it was extremely dark but the funny thing is that the next day it was gone like their was nothing ever there. i just didnt like the way that apartment felt and it just didnt sit good with me so we moved out
California (Jackson)
This place is an establishment that was originally a brothel for the historic Kenedy miners. Later on a saloon and restaurant were added. The place has been kept as original as possible. You will never see as many orbs in a life time as you will see here in one day. I have several tapes and my opinion is that this place holds some kind of a port hole. Several people have encountered an entity that seems to wounder the upstairs rooms of the hotel. All of the paranormal activity here has been of the pleasant or should I say good type. There was only one occasion that I can remember and that was because something did not like the music that I was playing so much to my surprise the boom box and 2 speakers went flying 20 feet across the room never to work again. Sometimes you see what look like shadows or blurs that go by. We took a picture in the old bar and in the background you can see an old man who was dressed in old miner apparel standing leaning on the bar. Also we have several pictures of large orbs to the likes that have never been seen. We have kept this place off the map for a long time but for the right price we are willing to share it.
Ohio
I was home alone and waiting for my friends to come over. When they got there we all was just sitting there on our phones. Then all of a sudden we heard a loud bang in the kithen, I went in there to see what happened.. My volleyball bag was on the ground when it was on the table. Then me and my friend sat in the same exact spots and my friend knocked the bag off the table again and it was the same exacct sound. Then later that night my baby brother has a toy box, well all we was doing was laying there then one of his toys just went off and it was a dog barking toy. So my friend said hello it barked and then she said if your name is bob bark 2 times. it did. We was so scared and didnt know what to do. Then one night i was laying in bed with my tv on, it just shut off and i dont have a remote because the batteries died. i read about how animals can be distant when experencing these things, well i have a dog that i noticed isnt begging for food as much and is always upstairs not engaging in play. I also had this dream one night, it was where i wake up in my dream and get out of bed and open my door to this big black figure standing there with his hand open, I run through him to my parents but he grabs me and throws me back into my room, then I fell asleep and the same dream happened 2 more times until I actually wake up for real an dopen my door and run into my parents room cryimg. I have never done any drugs and i dont know why any of this would happen to me. My friends believe me but no one in my family will.What could happen next or will happen?
Texas
I first started seeing them we first moved into this house there was a really big xa tall black dark figure We've been ignoring them because it's kind of weird to talk about itbut 1 night I was sleep and then I woke up so heavy force over me. I couldn't move I couldn't get up but I was awake because I saw light whatever it was a have me pinned down to where I could not move even though I yelled my brothers and sisters name I could not hear me it was really scary.scratch my arms up and drug me up the bed and we all ran out the house and we left took family and left with the door open until the next day came home and the house was clear about a month later I was coming down the stairs because my mom called me and as I was coming down the stairs it was really really dark but I could still see it was a dark stadow crawling up the stairs real fast so I ran by and told my mom and I slept downstairs the rest of the night in my moms room now its happening a gain right now the other night my mom heard the vacuum around 3am. but everybody was sound asleep upstairs but she didn't get up to see who it was now two nights ago I saw a really really big dark shadow that ran across my room through the wall I always see them everywhere in the house and I went to sleep two nights ago and woke up with all my papers on the floor this is Trashad alladin talking I'm 17 years old and I want whatever it is in the house to leave and leave me and my family alone .
London, Great Britain
So, the thing is, I haven't had some very specific one time experience. There's something going on with my life and honestly, I don't even know who to turn to. I've been to three different countries now and currently I'm without family but the thing is, all this has started WITH family. Ever since I was little I was a bit weird. And so has my brother for that matter. One night when drunk, my dad told m he had dreams when he was much younger and I was born. About people asking for deals of me and my brother. My parents get wealth and a good life and me and my brother, are in turn, given away. My dad refused in the dreams. And after he told me that he was being led aw2ay from me and my brother from his dead grandpa, whom he realized he was dead and made his way back to us. But point is, things have been going...askew since I was little.
I've had dreams too. Of one man, dark hair and heavy eyebrows saving me in most of them. Of people trying to lead me away from my family, of people "leading me home". I had night terrors when I was little, none that I can remember. But my mom said I was always screaming "I want to go home". I only really took notice after I took psychology in school. And yet when I asked my dad about it, when he was a bit drunk mind you, he told me that he'd never tell me in person. That the best chance of me learning the truth was of a letter left to me after I die. And I have had figures of people coming to me telling me they've come to take me home. Dreams of people telling me how this world works. And when I was of age, I was bold enough to tell my brother who is five years older. Thing is, apparently, he's been having the same dreams. And same experiences. And all these years, all these things, I can't help that somehow...things just aren't as they seem. I haven't even told you the good bits, the interesting ones that hold proof with people. I just wish that I knew who I was dealing with. Or what with that meaning. And to be honest...I simply don't know who to turn to.
Illinois (New Lenox)
Me and my friend Savannah were always joking around about all of the ghostly stuff, in fact I was the one that taught her how to draw the devils' trap.
My encounter started on January 24 2013 it was a weekend, a Saturday if I remember correctly , and me and Savannah were going to have a sleepover. Well us, only being in 6th grade, stayed up till about 3:00 a.m. Savannah fell asleep easily, and when she falls asleep, she doesn't wake up for anything. But for some strange reason I couldn't go to sleep, I don't know why, I mean I was tired and everything but I just couldn't.
That's when I heard it, ok imagine a dog whistle except about 100 times louder and about 10 times shriller, you wouldn't even come close to what it sounded like. Of course, being me, I bolted through the door, clutching my head in agony. As I passed the living room I saw both of my dogs, one curled up into a little ball of fluff, snorting softly, and the other starting at me attentively while still lying down.
That was what scared me the most, I know your probably confused, thinking, "why would you be afraid of your dog." Is because if aether one of my dogs heard something even move, they'd be barking their heads off, and there she was just sitting there as if nothing was happening. I wanted to scream at her " Izzy, you stupid dog can't you hear anything, anything at all?!"
Then, it stopped, it just simply stopped. I stood there frozen like a statue considering my options. I stood there for a minute holding my breath, until I was certain that nothing was going to happen, and let out a long exasperated sigh. " I just need some fresh air," I thought " and then I'll be fine." So I went out side and took a few nice gulps ogre clean, cool air. Then I frose, did I smell wolf, we don't have wolves, cyotes sure, but wolves?
It was like it wasn happening in slow motion, I turned my head just in time to see clean, black blur just standing out from the shadows from which it had come. Now any sensible person would have run away , unfortunately I was not. I followed it, almost to the woods but it turned around just in time to see me slipping behind a tree . I didn't. Try to run, or even hide as it came word's me because I knew it would catch me. My blood started to rush to my head as I tried to remember how to breathe. That's when it looked at me
It took all of the will power not to scream. And Isshould probably rephrase that last sentence from the paragraph, because it couldn't have looked at me, it didn't have any eyes. I dont know why I'm still alive, because I shouldn't be. It left my there in my yard tring to decide if I was dead or alive. But I now know what I saw that wasn't any dog, it was a Hellhound, a Wherewolf
California
That was a former home I lived in with my brother, his three kids and mother. It was rare that the house was not full of people. It was a Sunday , the only time I was ever alone at the house fir entire day and night. There was always a feeling of something in the house. I could from the day I moved in. For example, the bathroom window screen, looked as if a face had been pressed in to the screen, it was a face with out question. But the window was about 8 ft high. niece was scared even after scrubbing it with hot soapy water, it came back. she would not go into the bathroom , to make her feel better we replaced the screen, the next night it reappeared. So many other things had happened. Back to my experience , alone at night. Every Sunday night I would steam the bathroom, sit and sweat out my pours. Waiting for the steam to build up, it sounded as if some one was taking a shower, pashing, of a person in shower. I'd get up, open the door, and the sound of steady water stream . This happened 4 or 5 times. About an hour later, I'm laying on the couch, through the front door, was figure. It looked like a shadow, but with no person to make it. It moved slow, about 4 feet away from me. Walked into the kitchen and was gone. I'm not a Person scared of "ghost" . But on my way to bed that night, as I hut the light switch and to bake way down the hall way . I got infant of my brothers opened door. I was tapped, very firmly on my left upper thigh. It spooked me, scared me. But I had to speak to this sprit. Out of curiosity . I said, are you the one , in the screen? Is that your face? Your real scary to a 9 year old . You touching my leg , is that best you got? Went back to living room asked some questions. The town of Salinas, Is famous for a massacre that happened when 4 people tired to leave a satanic cult. A block away was were it happened .

Pennsylvania
It was ten at night on a Sunday in November of 2006. My son and I were walking to the grocery store 20 min. from our home. We took the only route available to us which passed through the parking lot of a volunteer fire company, community center, and behind a shopping center before being on a route where the store was. On our way home, we noticed the usually well lighted back lot of the shopping center was in utter darkness. I suggested we alter our usual route and go a bit out of our way by passing in front of the shopping center just in case someone had deliberately shot out the lights that usually illuminate that back lot even after hours. We were rounding the community center when I noticed a figure up ahead that appeared to be light blue and shimmery. I assumed it was a combination of my worsening eyesight from age and/or a trick of the light. Where the moonlight fell on this figure seemed perfectly visible, but where there was shadow I could see behind the figure. I was about to point this out to my son who was talking, but figured it might scare him so I refrained. As we closed the distance to the figure, I was able to identify that it was a male who appeared to be leaving the bar at the firehall. He wore light blue jeans, tan work boots, and a denim shirt tucked in. His hands were in his pockets and he walked with the subdued gate of someone who had enough to drink, but was interested in showing self control. He did not acknowledge us and for just one second we lost sight of him behind the corner of a storage warehouse. When we rounded the corner fully expecting him to be right in front of us - he was gone. There were no cars in the lot or on the road. About a week after this sighting, a firefighter died and the lot had a memorial to him with his gear, flowers and candles. We reported this to a locale investigator who reported that the area had strong EMF activity since there was an electrical transformer and a creek called the Black River running nearby. One other weird occurrence happened at that site. On a very still balmy summer night we were walking through that same lot and heard the chain on the flagpole repeatedly hitting the pole. "Look," I remarked to my son, "the flag is completely limp, there is no wind - so why is that chain clanging?" The next day I decided to investigate more closely and was chilled to discover the flagpole did not even have a chain. It had a white cotton rope.

Texas
A few months ago a little girl drowned in a lake a few roads over from my residence. The next day I saw a Blonde little girl looking about six years old walked through my home. I saw her cause I was at my fridge looking into the door and looked past the door at the same time she passed by. I saw her again going the opposite way a few. days later. I don't believe in ghost but that might be changing soon.
California
When I was about 4 years old, I woke up one night. At the time, my parents rented a 1 bedroom apartment which was part of a church building. I got off my parents bed and could hear them talking in the living room. That evening they had company and put my brother in the crib and me on their bed. As I rose and got off the bed, I walked to the window which looked out over the side passageway which ran the length of the church building. I saw a man with a long white beard, holding a wooden staff. He eyes glowed red and surrounding him were animals- rabbits, a fawn, a snake and others. They all stood at the foot of a large tree supported by a gnarled trunk. What was also peculiar is that they all seemed to illuminate as if they were emitting a light. I was so scared I ran to the living room where my parents sat entertaining a couple. My mother turned towards and I pulled her by the hand, frantically telling her about the man outside the bedroom. She walked ked back with me into the bedroom and pulled the thin curtains aside and the yard was dark. There was no man, no animals and no tree. She remembers the incident and said she always thought I was merely dreaming though now she believes it was not a dream. I've never forgotten what I saw. Years later, when in my 20's, I happened upon a drawing in a book of a druid priest and it shocked me that the man I saw resembled a druid with exception of his red eyes.

Great Britain
Since my nanny passed away this year march 2014 I have been experiencing weird and strange things in my home, my dreams and even me as a person. I believe in ghosts, spirits and life after death and I believe that they are not there to harm you. I have asked my Nan to come to me a few times when I've either been on my own or just before I am going to sleep. a month after her passing she eventually came to me in my dream I could hear here as clear as anything it all felt so real as if I was having a conversation with her in real life. she told me in my dream not be mad or angry with her, she didn't want to go but she needed to and she is not in pain anymore and she loves me and my family very dearly, I was screaming at her begging for her to come back and she left my dream and it all went blank I woke with a startle and felt a cold presence in my room and I could smell her cigarette smoke and burnt toast (which I have looked into and mean that the spirit t is present) a few days later I was crying out for her again and she came to me again in my dream but this time she spoke to my partner in my dream and she told him to pass a message onto me and that she is with me in everything which I do and that she loves me very dearly and didn't mean to hurt me or cause me such pain.

Bangladesh
I am rakib age 30 was student of psychology. From childhood I was very enthusiastic about paranormal activities. Recent time I found one haunted house with some unbelievable experience. The house is in the village with five family members. Now I mention the main victim is wife of house owner. she is 40 years lady who lost her things as like as ornaments and cloths last five years. Ornaments are disappeared from locked cabinet .Clothes disappeared from the house and also on the roof both day and night time. Disappearing things will find after many days in the house some unexpected areas. After find this clothes they see too many holes in those clothes. They also hear some footsteps around day and night in the house. Sometimes they can't find their cooked food from the kitchen. They are very puzzled now. Please give some suggestions to help them. Contact me through my email.
West Virginia
September 12, 2014 approx.11:30pm. My best friend is back in town from boot camp and on his way home he got a really weird feeling once he turned up his road. He made it to the house and the feeling got so bad he almost didn't go inside. Once he did, he immediately went and got his pistol and sat down on the couch in the living room. He looked down the hall at his cat and it was just laying there staring at him. He stood up and as soon as he did the cat started hissing at him. He sat back down and got out his phone and looked at his cat through the camera on it and the cat was not there. He immediately left and stayed somewhere else for the night. Definitely haunted house in small-town USA.
California
I lived in a real nice apartment/condo location in Fair Oaks, CA. I stayed for almost 5 years until I started hearing people were becoming ill and then a newborn-baby died. I was told it was a accident, but the brother of the family member was a Satanist and would conjure up "things". I seriously feel that was a contributing factor. This family stayed near my condo, and one night, there was a full moon. I decided to take pictures of the full moon and its brightness. Instead, I saw two "faces", looking directly at the digital camera! AT ME!! Their appearance was like the "Transformers" face with a helmet with dark oval eyes. They looked directly at me! I've never been so scared of the unknown until that day. I took my camera to Walmart to see if I could develop the pictures. They would not come out, because it was a digital camera and the software at Walmart, kept " correcting the "blemishes", thinking it was a picture error. They are still on my cam era, but I'm afraid of looking at them. I will send them to you if you request it. I also don't take many pictures anymore of full moon, because I'm afraid of what I will see or if anything is "drawn" to me. I have since moved. It's a been a year since that occurrence.
Alabama
I am posting this hoping I can find answers. Around 4 years ago my sister and I decided to go to our dad's for a small vacation since we all lived in different states. Once there we were all sharing pictures of the kids and family around the kitchen table. My sister who has 5 boys from ages 3 to 15 was showing us pictures of where she took the kids to an old building in Mississippi. The pictures were taken with a black and white disposible camera . As my sister, her husband, her 3 oldest sons, my 3 kids, our father, out fathers girlfriend and myself were looking at these pictures, other images started to appear. In the background one of the pictures we noticed a guy hanging in a tree, where he had been hung. Then images started coming in the other black and white pictures. We all thought this was really interesting and exciting till it took a turn for the worse. In one of the pictures, her sons were sitting on a bench and a family appea red behind them. It was a Man , his wife holding a young baby, and a young girl who looked to be around 7. We thought at first it was where another picture had came through from someone else's pictures bring developed. But, all of a sudden snakes and lizards started to appear around my sisters kids. The mom and dad and baby left the picture, and all that was there was the girl who started turning to color . She was wearing a little sun dress with a yellow smiley face in the front . All of a sudden the little girl mad a face like she screamed, AND RAN OUT OF THE PICTURE! ! As she ran out, a demon looking thing.. looked like a English bulldog with no hair and mean and ugly, it came out from behind a tree beside my sisters boys. My sister screamed and grabbed the pictures and burned them. That night we called and talked to several preachers and was scared to death. Never had we dreamed anything like this would ever happened. I have researched but have found nothing even close to what we all experienced. In my family we have a lot of paranormal experiences, but this still has me at a loss as to how or why this happened.

Florida
Around the first week in May of 2013 while shopping in the Dollar General I had a very strange experience. I was alone in a isle and heard my name quite clearly whispered in my ear "Pamela". I jumped and turned around and there was nobody else there. I was positive a friend would be there I even jumped when I heard my name because it was so clar.

Massachusetts
I was Born march 14 1984 . Ever since the age of 3 years old my mother and father couldn't take care of me anymore so unfortunately they had to give me up to department of social services .There I've was being moved foster home to foster home and then group home to group home even several visits in and out of jail. I signed myself out of a program named gandara. Then went to my mothers house on Middlesex St in Springfield Mass .Very strange things happened to me and my family. There my mother told me of a woman on the second floor who practiced ungodly things. One day my brother broke into the second floor at Middlesex St and saw a row of pictures of my family members including me with ornaments and pins in and around them. Ever since then nothing for me and most likely my family weren't the same. Since then 11 yrs has gone by and I've been addicted to heavy drugs thinking uncontrollable sexual thoughts and miserable and lonely. Majorities of the time I'm wondering if anyone can figure out what it is and, where its coming from I have my own ideas but I'm still unsure thanks.

Vietnam
Small village in Vietnam. I will not divulge it due to concerns my father was stationed there in 1968 he use to tell me about the sounds of battle smell of blood and the sounds of pain. I recently stayed where his cabin use to be and experienced the same experience, Creepy place truly haunted
Missouri
My girlfriend is in bed iv been catching up on a few thing on my laptop online when I started hearing these sounds coming from behind the wall of our closet I closed my computer an went into the bed I started hearing footsteps and my my cat started hissing an making weird noses she never has before so I went to go get her an put her in the bed room with us an she hissed an clawed at me and moved her head to the left of me an stared off behind me like some one was there I just blew it off she is old so I didn't think much I walked back in the room the noses where still going on I walked toward the closet an got a sharp pain in my nose and it began to bleed from both sides so I walked to the bathroom to clean it up I felt like I was being watch so I grabbed toilet paper and left felling like I was in a race to save my life I speed walk back to the room an for some reason I locked the door my girlfriend ask what was wrong I said nothing the noses stopped so I said to my self I need a smoke so I walk to the back d\door an sit in the chair out side the feeling of being watched increases so I look around me nothing so I light my cigg then I turn around an look at the deck balcony an there is a figure an I said hay buddy your trespassing an I'm calling the cops the next thing I no he was gone right in front of my eyes so I finish smoking fast an walk in side lock all the doors an go into the room an sit down by this time my girl friend is getting very uneasy an the noses are getting worse it 3:17 in the morning I haven't sleep in 2 days now going on 3 do to these well I don't no what to call them what do I do can some one help me

Washington
I am followed everyday by this entity I've spoken with a paranormal investigation group, but it's taking them a while to get here. It's to the point where I know for a fact that there is more than one. It hates me, tells me all the time, but the strange part is that, it's not just located at the house this thing is able to follow me around. It channels to me and I can hear it constantly. It started around the 4th of March when I said jokingly what if the place was haunted, and laughed it off a little. After while I thought about some of the things that have happen around the house and things started clicking and adding up. Take in mind that I am really freaking out about this voice of a female speaking with me out of no where and couldn't tell anyone cause they would think I'm crazy. So each night after work I talk to a co-worker about it. Finally he had agreed to come in the house. Whenever I would turn my lap top on and plug the head set in I could always hear running water and a females voice always talking whispering all the time. Now it's getting more clear on what she's saying. Well he was pretty well freaked out by the thing. Needless to say thank goodness he has experienced the voice without the headset too after a few more visits. Our other co-workers would think I really lost it, but since he was there too and heard it they didn't think I was too crazy. Anyhow my buddy did capture a picture of it but deleted it on accident. To me it kinda looked like a screaming banchee, my sister being raised in the Philippines says that's a witch. I don't know what it is but with six others in the house it seems to talk with me all the time always saying I hate you, or you're dead, and me always correcting it saying I'm alive you're dead. But it likes to be in control, never giving me any privacy. I can't sit on the pot in privacy. It's always looking over my shoulder, right now even reading every word I 'm writing and threatening my life. Tonight may be different cause she or it has others that are coming in to help. So just in case anything does happen to me tonight I at least got some of this weight that I've been dealing with off my back shoulders head, everywhere by at least typing some events out that I've been going through, So who ever reads this today June 1st 2013 pray for me tonight. I'll find out what happens once I get home from work. This could be my last day and I'm going to work. wow. Take care people. Mike
Florida
An acquaintance once told me about an experience that her late niece had many years ago. Her niece, who was around 12 at the time, had a dream one night about a black angel. The following morning during breakfast time she had told her family about the dream because she had found it strange. That same day while walking home from school she was hit by a bus & died. The girl's dream the night before was a premonition of her own death perhaps sent to her by a loved one who had passed over to the other side.

New York
I moved into an apartment across the street from a cemetery, not being a believer in the supernatural, I had no problem with it (& the price was right). However, once I moved in, it only took a couple days before I started to feel "watched". Different things started happening, not only flickering lights (which could probably easily be explained, if I was an electrician) But channels changing while I watched TV, doors slamming, and things missing & reappearing in the same spot later that day. The scariest thing however, was while I brushed my teeth one morning, around 10am, I felt a hard smack on my behind and heard a man laugh. No one else was in the room or in the apartment at that time. Needless to say, I informed the landlord, who told me I wasn't the only one who said this to her & explained to me that's one reason why the apartment was so reasonable. I moved out that week.

Florida
October 2007 Fort Zachary Taylor in Key West FL, my husband and I stayed after hours at the state park to continue work on a haunted house, we were the only ones in the fort itself . my husband needed me to hold up a plywood wall while he drilled holes, I was holding a pack of zip ties so I dropped them. when he asked to hand him the ties I reached for them and they were gone, we searched all over the fort and found them in the latrine area . this is the area that has had activity such as apparitions and evps by the state parks volunteers. later that night we set up a work light in the latrine for fun I asked out loud if there was any spirits here to give us a sign , right away our work light flashed on and off sever times , this was the only time it happened. when it came time to work the haunted house during a break I was the only person working at the latrine area I was holding a severed leg on top my shoulder no one in my entire wing and only a brick wall behind me , something knocked the limb from my hand all the way across the room .that made me almost run away , but I was afraid I wouldn't get the nerve to go back. I worked that place for 5 years, and heard other stories as well.
Wisconsin
The following ghost report comes in from a twenty-two year old engineer claiming that the road they visited was very haunted. He witnessed many ghosts in Oak Creek, which is located in Milwaukee county. According to the witness, there is a known history to the location, unexplainable sounds, odors, cold spots and even interactions with the ghosts. Here are the details:
"On the evening of November 2 2003 a group of kids one of the kids mother and myself made the quarter mile hike down to the end of Fitzsimons rd in oak creek. The story we were told was that it was a drag strip from the 30's to the 50's however the road ends at a cliff. To win you had to die. We were told that if you kept silent you could hear the sounds of the past intruding on the present. I personally heard the sounds of bottles clinking, engines rev, cars crashing into the lake, screams, crying, and even the sight of a car driving right through us. as hair raising as that was nothing could have prepared us for the girl. She was 15 when she died and was killed by her boyfriend when she stepped in front of his vehicle to stop him. Her boyfriend also made his presence know when one of the other young men was essentially being beaten by him. He stopped at nothing to get to this boy including shoving me and the other adult that was with. The feeling that was most predominant was that of pain and great sadness." www.W-Files.com

California
In the late 70's there was a few sighting's of a strange orange light that seemed to follow above my vehicle as a friend and I were taking a ride in my pickup late one evening when we observed the light to follow us directly above as we drove towards a curve in the road, the light seemed to follow the road we were on directly above still we decided to stop and see what was above us with no noticeable sound. Once we stopped we looked directly above us and the light also stopped after a few seconds the light shot straight up in a few seconds it was gone. I don't know if it was the same object that a person in town who was on the other side of the lake we were on had seen the same thing who was deaf since he was an infant felt his ears pop and could suddenly hear again. NBC, CBS, ABC news came to our town Porterville CA to interview this person who had all of a sudden could hear. When word had spread about this person being able to hear a decision was m ad to have him flown to a hospital in San Francisco in a helicopter to find out how his hearing was restored, once the copter got off the ground the person who had his hearing restored suddenly felt a pop in his ears and was unable to hear again. Unfortunately one morning a few years later while riding his bicycle to work he was hit by a car and was killed, that also was involved in a few other hit and runs on other pedestrians who were intentionally run over also. NBC news did a piece on the evening news to demonstrate that this person had regained the ability to hear. A few nights later my mother asked if I would drive to the store to get milk at Pattons Mkt. On Orange St. after buying the milk my brother who was driving and I noticed as we were driving through a street after leaving the store that we seen almost everyone that lived on that street were standing on their porches and front yards looking up. My brother and I looked up and We seen the same orange light following directly above us, once we stopped the light stopped for a few seconds and then shot straight up and was gone. I have yet to hear an explanation of what had happened or what we saw. when I bring it up during conversation with friends, my wife looks at me like I'm crazy and I have never heard of anybody else who witnessed these events. I have no pictures of these events but I would like to find out what it was that was apparently seen by hundreds possibly thousands.
Alabama
Back in 2002 a friend of mine were driving around and exploring. I was from Kansas and she was from Arizona and we didn't know Alabama very well but were both on softball scholarships at AAMU (a local university). We just happened upon the back entrance of the cemetery which leads straight to the playground and at the time (I hear it's been remodeled) had parking spaces. We thought it was eerie but cool and decided to go down in the ravine where there was a playground. We were running around and acting like two little girls even though we were both 18 at the time. We started swinging on the swing-set and she got scared and ran back up to the car to sit. I tried to play it off like I was bad ass, (even though I was a little scared)I didn't want -whatever was there- to know they scared me so I stayed on my swing. I tried to focus on something to ease my mind. I could see her sitting in the car and I caught her swing out of the corner of my eye, which was right next to me, it wasn't slowing down, it was speeding up even though she had jumped out and ran to the car. I thought to myself to stay calm and let my swing slow down to the point where I can walk off of it and walk up to the car. My swing started speeding up until they were "married" so I freaked a little bit and looked behind me because I thought I felt a push (a friendly one) and I heard giggling like whoever it was- was playing a trick. I tried to again act like nothing was going on and I'm sure outwardly I was as white as snow. I dragged my feet in the pebbles to slow my swing and I started walking "calmly to the car. I hear the giggling again and I ran as quickly as I could to the car. My friend and I were completely freaked but in unison that something happened and we went back again that Halloween 2002 with some more girls from the softball team. This place is definitely haunted but it's neat
Pennsylvania
I met my husband while I was living in Pennsylvania. He lived in Columbus, Ohio and I decided to move in with him once we became engaged. He lived in a relatively new townhouse that he rented. When I moved in, his roommate moved out. We took over the master bedroom and used the second bedroom as a computer room. As soon as we moved into the master bedroom, my then-fiancé started having awful nightmares. He refused to tell me the content but would say they were terrible. He would go to his hometown every weekend from spring thru fall to race a car. I often stayed in the apartment by myself. On at least 3 occasions, I would be sitting in the living room watching television and I would see something white out of the corner of my right eye in the entrance to our dining room. I'd turn my head and of course, there was nothing there. But then I'd look at my dog and cat--they would BOTH be looking up at the ceiling and both of their heads would be moving as if attached to each other by a string watching "something" fly around the ceiling. Of course I couldn't see whatever it was but both the dog and cat were watching something or someone that was invisible to me. One night I was in bed while my fiancé was in the computer room. I was in that half asleep/half awake phase when I turned my head to the right and floating beside my bed was an angel. She was all white with varying shades of white for her hair (long and flowing), her wings (white feathers), her skin and a varying shade of white for her dress. She smiled at me and said "Hello, my name is Hildegard and I'm an angel." I said "An angel?" and she just smiled and said "yes". I remember we "talked" but I can't remember the rest of what was said and then she just disappeared. I got out of bed and went into the other room and told my then-fiancé what happened. He just looked at me and said "You know there's something strange about this place" and that was the end of it. I often wonder if she wasn't what I was seeing out of the corner of my eye on those occasions. I wonder if she was my angel and she protected me from having the bad dreams that my fiancé having. I've never seen her since and now live in a home near Pittsburgh.

Michigan
We have been in our home for almost 13 years now. I would say after a few months little thing started happen like door closing by them on there on, flies all over my kitchen window the day before I was to get married nervier could understand that one. One afternoon I was laying across my bed look at my daughter playing on the floor in her room some dolls and toys act... when out of no where her bedroom door just closed (no windows where open) I quickly got out of my bed and opened her door she was still sitting in the middle of the room I asked her why did she close the door when I already knew that she hadn't because I was watching her; she stated to me that Debbie closed the door at this time my daughter was 4 I had heard her talk of Debbie before just thinking it was an imagery friend-- not this time I ask my daughter if Debbie would show her self to me. my daughter looked to the corner of her room for a moment then turned to me and said that Debbie said I would not be able to handle the sight of her so I looked over to the corner of the room and spoke to Debbie and said if you are going to play with my daughter I need for the door to stay open my daughter turned to me and said Debbie said ok and she was sorry if she made me mad I watched her play for the next few hours and it looked to me as if she was really playing with someone this went on for about two years now my daughter says she does not remember her? A few years later I was in the basement washing clothes I never liked our basement it always felt as if someone was watching you. As I was putting the clothes into the washer I felt someone standing behind me I thought it was my daughter but when I turned around a man was standing their dressed like he was in the 30's or 40's in a brown pinstriped suite and a cane I new he was a ghost because I could see threw him I stood their for a couple of seconds not saying anything because I was shocked and he was looking at the washer and dryer trying to see what I was doing when he saw me looking at him the he looked shocked and disappeared and I took of running up the steps... after that my husband mover the washer and dryer to the first floor I will only go in the basement now with my dog and he want go in the basement alone.. every time we do something new that add on wired things start happening I never had the house blessed how ever I walked threw my home myself with blessed oil and prayed over my home and spoke with all the sprits here and told them that they did not have to leave but they had to stop doing things to scare me and my children... have not seen any ghost just little things happen every now and then you will hear a noise, cold spots, and the poor dog her sees things often but it must not be bad because he will just sit and look at what ever it is so the ghost are aware of the dog and he of them... we all know we are not alone in are home we are just all living in peace together they have never done anything to hurt us.

California
I keep seeing this figure. I only see it when something bad happened or when something bad is going to happen. It started when my dad started abusing me. He would hit me and push me around for petty things. The first time he hit me and left a mark and slammed me against the wall by my shirt. That night when I was sleeping, I had a feeling that somebody was watching me. So I opened my eyes and sat up, only to find a figure of a human being standing in the corner of my room watching me. Its presence felt masculine so I assume its a man. It never touches me but it just stands there with its head tilted staring at me. I wonder what it could be.....
Florida
When I was little, me and my brother were at a friends house and saw something horrifying. it was 3:00 am we woke up because we couldn't go to sleep) we turned on the TV and we saw a blue orb, float to the TV then float to the edge of the couch. it was by my feet and I was very scared) it went in a "M" shape and then just disappeared going to the left. of course my brother was on the floor freaked out. later in the morning, we told our friend and he told his mom. she said,"well,that mightve been you uncle. he was very fun though. he died of a car wreck at age 8.(im going to hide his real name but it did start with a "M")his name was Mikey.he was always pranking people." me and my brother was going to stay away from that house for the rest of our lives.well,thats what we promised. we have to go back one day.

Oklahoma
I worked for Toys R Us by Crossroads Mall in Oklahoma City last year. One night I was helping closing down. I hated closing because the store seemed really creepy at night. Usually us girls walked the store in pairs to make sure there was no more customers and to put things away at night before we locked up. One night I had to put up our damaged returned products in the backroom as I was back there I heard what sounded like something moving on the shelves so I got on my walkie and asked who was in back I was informed that everyone else was at the front of the store. As I started to walk back towards the backroom doors to go back into the main part of the store I heard what sounded like footsteps following me again I asked if there was anyone around me and again I was reassured that I was the only one back there. Also there is a cash register that has a tendency to whistle at the staff. On another occasion I was walking by the register and heard a whistle when I walked by the register I noticed I was completely unplugged. There are stories that the store is haunted by previous employees along with previous customers. But this is all I experienced. I did hear stories that there is a ghost in the attic storage room and certain employees refuse to go up there from being scared the last time they were up there.

Kansas
My childhood home was built in 1910 and my parents were the second owners of the place. Ever since I can remember, there have been rather odd occurrences, some of which have been extremely frightening. Once, when I was about 5 yrs. old, I woke up startled in the middle of the night at the sound of my older sister's shrill screaming. Shaken out of a sound sleep, our father ran out of his room and into our bedroom to see what the matter was. My sister was shaking so badly from fear that she could barely speak the words, but she insisted that our father had just ran through a huge black "blob" which had been standing in our bedroom doorway. She said that she had been lying awake for awhile listening to slow, hard footsteps which she described as starting from our basement, continuing throughout the kitchen, dining room, and living room - before coming up the stairs and arriving at the doorway to our bedroom. She said that as our father ran through the black entity, it flew up and through the wall. Around that same time frame one night my sister and older brother were being allowed to stay up an hour later to watch a particular program on TV. I wanted to stay up, too, but my mother (Dad was at work) made me and my younger brother go on to bed. I, instead, decided to wait at the top of the steps (and around the corner from my mother's view) until my sister returned upstairs for bed. I was just too scared to sleep in our bedroom alone. Anyway, as I was waiting for the program to be over, I was beckoned from the steps where I sat, to enter my parent's bedroom which was directly behind where I was. I fought the urge to enter the bedroom because I felt that something evil was about to happen, but the beckoning was too strong for my weak will. Slowly, I approached my parent's bedroom door which was already slightly opened. Though I tried NOT to turn the door knob, I found my hand resisting my will to not grab it. It was like my hand had a mind of its own. I reluctantly grabbed the door knob and pushed the door fully open. What I saw next scared the wits out of me. It was wintertime, and the window shades were opened and the corner street light was shining brightly into the room. I saw a creature which appeared to be either dark brown or black with long straggly, matted fir. It was leaning against a desk in the room facing the window and, as I looked at it, it slowly turned the upper part of it's body toward me as I stood at the doorway. It was a wolf-like creature. It had a shout and pointy ears and red, glowing eyes. As it flashed a slow, grotesque (sp?) smile at me, I could see that it had sharp fang-like teeth. I tried to look away but something kept me staring at it. Finally, after what seemed to be forever, I was able to scream and run away. My scream didn't rouse my mother or siblings who were still downstairs watching their program. I was suddenly on my mother's lap without regard to any punishment she might enforce for my disobeying her request that I go on to bed. I have seen that same creature only once since and hope to never again. It was when I was 19 yrs. old and still living at the house. It was about 10:00 at night and I had just gone to bed. As was our family's custom, the hall light would be left on until my parents would go to bed - usually at 11:30 or midnight. As I lay on my stomach facing the window, I suddenly became beckoned again. Something evil was forcing me to look toward the doorway of my bedroom. I did NOT want to look. I tried to keep my head from turning in that direction, but I just could not help myself from looking. What I ended up doing was squinting my eyes closed as I turned. I remember smelling a sour-rank odor as I suddenly (though I tried to keep them closed) opened my eyes. But I didn't get to see anything at the doorway as I had assumed. Instead, as I my eyes flew open, there, leaning over my sister's side of the bed (she was married and gone) was that horrible, smiling creature! I managed to scream so loud that I shook the bed. I was petrified, as I buried my face in my pillow. I was afraid to look and layer there for quite awhile before I finally mustered up the courage to jump from my bed and head for cover in my little brother's room. I slept on his sofa couch for the next two weeks before deciding that it was safe enough to return to my own room. Other things have happened over the years in that house, as well. For instance, like the numerous times we would hear muffled voices and clanking sounds like that of a busy restaurant, or the numerous times several in the family would feel the presence of someone sitting at the bottom of our bed then rising off after about 30 minutes. I could relate many other disturbing incidents surrounding my childhood residents, but don't have the room to elaborate. What I've reported are true events.

North Carolina
This was a while ago but I was at my grandparents' house (this was like 2 years ago when I was like 12) and I was sitting in this chair in the den that was right by the doorway that lead to the living room talking to my family and I kept seeing what looked like a little kid around 7 or 8 years old running across the doorway and hiding behind this plant that my grandmother kept beside the door or whenever I looked it would run towards one of the couches in the back of the room. After a while of my looking back in the middle of a sentence my mom was like "What do you keep looking at?!" and I told her but she didn't believe me so I let it go. That same night I was sleep and I saw what looked like a tall man walk by my bedroom from the direction of the living room and I thought it was my grandpa but he was already asleep and I was like 'girl, you're hallucinating, go to sleep'. THEN like 3 days later we were talking again and my mom was sitting in the seat that I had sat in a few days before and she kept looking back into the living room and I was like "What are you doing?" and she was like "I keep seeing this little kid in the living room. They're like . . .playing hide and seek back here." and my grandma was just like "Ya'll are crazy because I live here EVERY DAY and I've NEVER experienced anything like ya'll are talking about!" Every time I go to my grandparents' house I STILL see that little kid whenever I'm sitting near that doorway.
Illinois
With a couple cousins we proceeded to make our own Ouija Board. We were in the attack of our home and no one knew we were up there. It was the "belief" of our older cousin, that at first sign of contacting a spirit, you should ask if the spirit is good or evil and if it likes you. If the spirit "replied" no to liking you, that the Ouija Board should be burned and discarded. So sure enough, it said it didn't like us. So from the 3rd story attic my cousin started the Board on fire and threw it out the back window, where it landed directly in the garbage can and caught fire. It caught fire to the garage as well, but we quickly put out by the fire department that was the next block over. A couple weeks goes by, no thought of the board or the incident what so ever, my mom sent me to the attic to get something for her. When I got into the attic, I was stunned and scared to find that the board was setting back in the same place where we were playing with it and had a charred mark in the corner, where my cousin had started it on fire to begin with. So I run down stairs and told my mom I could not find what she sent me for and that was that. The next day or so my cousin come over and I started telling him that was not a funny joke and he asked what. So I told him. To my surprise he did not laugh and was looking funny at me. When we went into the attic, I was soon going to find out that my cousin was not playing a joke on me. I figured this out when he seen the board, he almost knocked me down the stairs trying to get away from it and out of the building. He told my mom what had happen and she got mad and yelled, blah blah blah. My mom happen to have a friend that was "in touch" with the other world. She went into the attic and brought the board down and much to our surprise the word "NO" was circled and the letters of his name R.O.N.I.E was circled. The "N" was circled 2 times, it indicate the spirit was spelling "Ronnie" which was his name. This was circled in what we all thought was blood. My moms friend performed her séance on the board... however 2 months later, my cousin Ronnie was shot in a drive by shooting. Thank the Lord above it wasn't a deadly shot. Needless to say, I don't play with Ouija Boards no more, but LOVE to go to "Haunted Locations" as I am intrigued by the mere aspect of ghosts and haunting.
Canada
I live in a house that was built in the early 30's. Everyday when I was younger, I felt like I wasn't alone. I always felt like someone was beside me. I am a fan of Rock music. So one day I was listening to Crosby Still and Nash on the computer, and I went to the kitchen for a drink. When I came back the music had stopped, and the speakers were UN plugged from my computer. I found it weird, but I plugged them back in. 5 minutes later. I was still listening to the band, and my computer froze, and shut off. When I turned it back on. all CSN albums were gone. They weren't anywhere on my computer. They didn't even appear to be deleted. This blew my Mind. I also collect vinyl records. I had a digital record player, and the arm moved electronically by itself. I was playing CSN, and was doing work in my closet. I had half my body in the attic, and standing on a step latter. My stereo volume knob, turned completely to the right. full blast. and blew everyone of my speakers apart. A week later, when I hooked up new speakers, I was listening to Crosby stills and Nash- greatest hits. and the arm of the record player, dragged across the record. leaving a deep scrape in the vinyl. The record is completely unusable. The record player I had, was on a track. (meaning it couldn't move freely) So the answer to why it moved is unknown. I like to tease what ever is here with me, by playing this bands music over and over. I'm waiting for the next "paranormal situation".

Indiana
I want to share some weird experiences my family, and I have witnessed in a home that we were renting last year. My two youngest children James, and Sara seen a old bold man, and a young girl who looked to be thirteen. My daughter Sara woke me up to tell me that the old man was in my bedroom by my window, her father went outside to check, and then Sara said he, and the girl were in side the bedroom, telling her not to wake me up, then telling her to come to him using his index finger. Another time my niece ,husband ,and daughter were in the living room looking in the kitchen and saw a fork fly out of the disdainer into the air spin twice and land on the floor with no one in the kitchen at the time. My dryer would be turned on and off. In the upstairs bedrooms anytime anyone is up there you hear noises from the closet, my oldest sons friends had a can of air freshener thrown at them from the bathroom up stairs, my husbands cell phone rang late one night and a message was left on his voice mail, so the next morning he checked his voice mail, and heard a white noise. With no return number to call back explained that? Or when my oldest son had a out of body experience he had a dream about all the people who lived in the house at one time, and told me the mother was shot up stairs, the young boy that was kept in his closet up stairs was dragged downstairs to the basement, and shot, and the thirteen year old girl was shot in the doorway of the living room ,and kitchen, then the old man shot himself in my bedroom nice huh .Now for the catcher I have a friend who says he gives séances one day after we moved from our haunted house, he comes up to my work to ask me when I moved from that house, I said in September he says that there really is a thirteen girl living in that house with her father, and she wanted to know why, I moved out of the house, because she grew close to my two youngest children, and he said she named them. She was angry that we moved, and very angry that when we moved the landlords family started renovating the place. I never told my friend about my son's dream but the only thing he said then was he name is Silveia.

Tennessee
In June of 2009 my best friend Brittany and I decided to rent a place together. In July unexplainable things started happening the ceiling fan would cut on full speed with no one around it, the lights would get real bright and then dim. we would hear growling noises and knocking. We felt the presence of something so we started taking pictures when all this stuff started and there would be orbs all over the house. So we started asking questions about the house to see if anyone had passed away there or who it could be, my mother Brenda was told an older man named Raymond had passed away there a few years before so we talked to his brother and he said that the stuff happened while he lived there and he believed it was his brother. Whoever it was did not want us there because it would get so bad and would not stop till we left the house. One night we got scared and went to my dads house he thought we were crazy he told us laughing to go home and ask it if it was Raymond and to knock if so, so Brittany, Chelsea ( one of our friends), and I went inside and Brittany ask it "Raymond if its you knock" as clear as day it knocked. We were so terrified none of us had had an experience that bad. I called my sister and she started coming over recording the house and in one of her videos there was a red light heading toward the camera once it got to the camera you could see a perfect picture of its face he looked so scary and mad you could make out its hair line and everything if you slowed the recording down. One night Brittany and I were in the living room and something had started knocking on the side of the house like we freaked out and called Jamie (our neighbor across the street) to come over and walk around the house and see if someone was messing with us. He came over with his flashlight and pistol walked around the house around the building like three times, he came in and told us we were hearing stuff and we were crazy as he was standing there with us trying to explain what it was doing it did it again I seen the terror in his eyes he went back outside and found nothing. Everyone who we told thought we were just two crazy little girls then as time went on other people started seeing the stuff. We finally had enough and moved out in February of this year.

Illinois
This is just one of the many 'ghost' stories I have about my house, but this is probably the coolest. It was about two years ago and I was in my back yard on the trampoline at night. From my back yard you can see into the boiler room through a window on the door. Well, I was jumping when the boiler room caught my attention because the light was on when it wasn't before. I didn't really pay much attention though because, obviously, that's not a very big deal. I figured my mom or dad had turned on the light to walk out there for a minute. But a few seconds later when I turned around again, there was a man standing at the window, staring at me. My mind immediately said "That's just Dad." Even though I was staring straight at him and this man was not my father. I guess that was just my rational mind trying to find an explanation. The man was probably about 6'0, maybe a little shorter. He was probably about medium build. It's really hard to describe how he looked because even as I was staring at him it was hard to describe. He wasn't transparent, but his edges were fuzzy, so he I could tell he was something paranormal. I didn't feel threatened at all by him. I wasn't even scared, and usually I am when creepy things happen in my house. I just remember he was looking at me with so much emotion. I felt like he had been waiting a long time for me to see him. Then, as quickly as he had shown up, he turned around and opened up the door behind him and walked out. You better believe I was off that trampoline as quick as I possibly could. I was at my back door in an instant and I ran inside and saw my father, lounging on the chair with a beer. I asked him if that was him, even though I knew it wasn't. I think he thought I was joking, but eventually he realized I was dead serious. He checked the garage and the house because he thought someone had broken in, considering he is the only man in the house, but no one was found. When he came back in from the garage he said "It's weird... It's hot outside and that garage is unusually cold." I haven't seen that man since, but I will never forget him.

Ohio
I recently moved to Lakewood Ohio and I have always lived in very haunted places but in Lakewood I noticed it was far more active! It doesn't bother me but I think many people would be interested in checking it out in my home there are many sad things that happened in the attic many children were kept in cages and were fed very little food 1 of the boys even drew pictures of him hanging himself... I can hear them talking and I even came across a older black figure that comes around every so often you can hear whispers and screaming of a girl saying help me help me! but my home is not the only haunted site. Lakewood is home to one of the most haunted places in America and there has never been a family that lasted over 6 months in one house before moving. I plan to buy the house though you cant do any construction but I'm not living in it imp going to let ghost investigators go in so in 2018 you are welcome and on lake eerie you can see many apparitions so come to Lakewood investigate and love! the city is made up of many family owned businesses including the MELT BAR AND GRILLED it is featured in the food channel and food co. on TV so come to Lakewood and be scared out of your wits..............


Florida
I have experienced many paranormal occurrences beginning when I was 3 years old. All my life I have experienced my bed shaking or waking up to the feeling of someone kicking my bed...this only has happened when I'm sleeping in the bed by myself so it couldn't possibly be the movement of someone else sleeping with me. The first time this happened I was 3 yrs old and woke up in the middle of the night to my bed shaking, this went on for about 3 minutes then stopped, as I started to relax again and try to go back to sleep it would start up again. The first time a saw anything was when I was 7yrs old, about 2 weeks after my grandmother died I was sleeping in my moms bed with her like I did every Friday night since my grandmother had got sick, because I used to spend the night at my grandparents on Friday nights so sleeping with my mom on those nights made me feel better. I began waking up every Friday night at exactly 2:00 in the morning, I would look up and there would be a white bodily image standing in the room between the bedroom and the bathroom area, you could tell it was a woman and at first it would be creepy to me, but after a few weeks of this happening I began to feel safe and looked after. This happened for about 5 months and then one night I woke up to the ghost again and I said "Nana, I know it's you and it's okay. I love you very much and miss you terribly but I will be okay." Even though my grandma's death was something that took me almost 7 years to get over and move on from, I felt that she came to me because I couldn't let her go. Another time I had a very scary experience was right after my stepfather was murdered. I was 10 years old and it was strange because I knew that something tragic was going to happen if my mother married my stepfather Steven. The day she told me she was marrying him I burst into tears and begged her not to, I told her if she married him, something very bad was going to happen. She dismissed this as just a young child wanting her mom to herself and not wanting someone to replace my father. Sure enough, 4 months after married, my stepfather was murdered my his stepson from a previous marriage. The reason my stepbrother gave for murdering him, was that my stepfather was spending too much time with me and my mother. He also admitted that he was going to kill me and my mother after he had killed my stepfather, but luckily was caught by police before he got to us. But after the death of my stepfather I would feel his presence in our house, there were times where I would start crying, telling my mom that he was in the hallway and I refused to go down the hallway towards the rooms so we would sleep on the couches in the living room. Sometimes this feeling of him being there watching us would last all night, other times it would just go away after an hour or so. My mother got so freaked out by this, she had multiple psychics come to the home and do readings and things of that sort. All of them said that he was in the home with us, but he did not want to be there and told them to please ask my mom to send his ashes to New York to be with his family. After we did send his ashes we were contacted by his sister in New York, who told us that her 3 yrs old daughter kept seeing a man in there home. She would tell her mom that he had a boo boo on his head but he was better now and she would point to her head exactly where he was shot. So her mother took out a photo album of the family and asked her if the man was in any of the pictures and she pointed right to his picture and said that was him.

Indiana
I have had multiple experiences over the years. One day, I was very upset. As I stood at the sink washing dishes, I felt a presence come up behind me and give me a hug. I also felt "him" lay his head on my shoulder. Since I have felt "his" presence before, I was not afraid. It was actually comforting.
On another occasion, I was asleep in bed with my husband. I was dreaming that there was a silver man (like the silver surfer) standing next to my bed watching me sleep. I woke up and saw something fly over my head. I asked my husband what had happened, and he had woken up to see something silver standing on my side of the bed. He had thrown his pillow at it.
I feel like these presences are there watching over me as protectors. I am not afraid of them. I also work at a hospital, and I have seen entities at work. I have even had equipment moved when I was the only person in the room.

New York
When one is alone and think you hear or see something happen that there is no basis for, one tends to dismiss it as a hallucination from fatigue, illness, too much to drink or what have you. However, in December of 1974, three of my family members, including myself had an experience that we could not explain. was at my parents' home in the mid-west for a month during December of 1974. It was one of those nights when my parents decided to watch the old home movies. My younger brother was upstairs in is room. There was nothing foreboding about any of it; we were just watching these old movies. I guess it was about 45 minutes into our impromptu film festival that all three of us heard very heavy foot steps come from upstairs, the front door open and slam with so much force the whole house seemed to shudder. I figured it was my eleven year old brother -- was something petulant, difficult kid. I figured it was a tantrum of some kind, although, the foot falls we heard suggested someone MUCH larger. I quietly crept upstairs where I expected to either see him sulking or hear him giggling because he pulled this rather unnerving prank on us. I saw him quietly playing with a toy car, balefully staring at the TV. He probably hadn't moved for some time. I still was not convinced it was not he so I snapped on the porch light to see if his little eleven-year-old footprints were on the porch. It had been snowing and the porch was covered with a light coating of snow --- without any footprints of him or anyone else. I went back into the family room to see my parents staring at each other and reported my findings. None of us knew what to say. It scared the hell out of us. My mother, trying to lighten the pall, said, "Well, perhaps it was just old father time." We laughed nervously and never spoke of it again. Perhaps the strangest part of it was the fact my brother didn't hear any of it. Sadly, all my family members are gone, now. My brother passed away just last year. I can't offer any verification of evens through them. However, we all experienced it together and I'll never forget it.

Ohio
This experience occurred at 9:45 on this evening 8-31-2010 in Lima, Ohio at my residence. I was getting my children ready for bed for school, starting with my 10 year old son, he got his bath and came down stairs. After he was done I went upstairs to clean it up for my 6 year old to bathe, in the process I cleaned up all of the toys and put a specific ball in a deep toy box in their room, this ball weighs about 4 pounds and is filled with glitter and water and bounces but requires force to bounce! So my 6 year old is washing and all of the sudden this ball forcefully bounces down the stairs. My son was terrified, he says that this ball bounced from in their room and he watched it bounce down the stairs that's impossible when it was deep down in this toy box, so what would you classify this as?
Texas
I just want some peace of mind, something weird happened to me and I can't explain it nor can it adequately be put in words, but ill try. After a long stressful day dealing with my landlord refusing to take care of his responsibilities all my roommates and I were just sitting in the living room talking and at one point my boyfriend mentioned that he feels like there is something in the house maybe a child spirit, my roommates told me that I got really wide eyed and looked at him and hysterically started to cry. It was uncontrollable I felt a horrid feeling of despair and black emptiness a deep sadness took me over and I would not stop crying. And it was not my typical cry it sounded very painful and my chest and neck felt a lot of pressure, but it wasn't constricting. I was completely coherent this whole time I was able to talk to my roommates and tell them I have no idea what's going on, apparently they all felt the room get a rush of cold tingly feelings. After a while I still felt horribly sad and was still tearing up and I was trying my hardest to control it, but my boyfriend again mentioned that he thinks its a child but he isn't sure, that it could be a parent who's child passed unexpectedly, again the rush of despair and uncontrollable crying started, the sadness lingered with me for a while and eventually the feeling in my chest and neck went away and I was fine. I don't know what the heck happened.

Montana
A friend of mine had told me about a house up Bowman Road in Hamilton, MT that is haunted. Being interested in the paranormal, myself and a few friends piled into my car and headed up to "investigate". We got directions, from our friend Kyle, to this gorgeous tan and white, three story house that was at one time a bed and breakfast. We parked by the gate and got our cameras out. As we were getting out of the car we realized that on the 2nd floor one of the sets of windows had the blinds open. We disregarded this, but still thought it was strange since no one lives there to have pulled the blinds open. We all hopped the fence and once standing on the other side we started taking pictures. McKayla and Alysha had their digital cameras and were taking pictures left and right, I had my Nikon Digital Camera D70 (which I use for photography). My camera wouldn't take a picture of the house, my flash would work, but it would not take a picture. I stood there trying to figure out my camera and then gave up, at which point we all stood there staring at the house, that's when Jenni, Alysha and I saw what appeared to be a person standing in the 3rd floor window. We all got pretty scared and jumped the gate back over to my car, when we turned around the person was gone. In the few pictures I was able to take you can see orbs floating around all over the place. We tried to "debunk" it ourselves, thinking maybe they were a reflection of the moon off of a window. Then we remembered that on this particular night the moon was completely engulfed in smoke and clouds from the thunderstorm and fires that had recently started in this area....haunted? or not? you tell me!

Virginia
In July of 2009 a friend and myself went up to Verona Elementary school around 2:00am. We were bored and wanted to play on the playground. Our first stop was the swings, then to a large wall of tires, and on to another part of the playground. As we were walking back from the other playground about ten minutes later I looked over at the swings and realized that the first swing we had been on was still swinging, but the others had stopped. I thought it was strange but I got on a different swing and talked to my friend while the first swing was still moving. We started walking over to another part of the playground and jokingly I told my friend to take a picture because he might see something. Sure enough when he took the picture, the swing still moving, there was a small dark shadow that looked about 2 feet tall. That was enough for me so we left. About a month after it had happened I was telling a friend about it and she told me how her son had gone there a few years after I had moved on from the school. He was playing on the monkey bars, which are near the swings, and he said someone pushed him off them and he fell and broke his arm. The strange thing was no one was near him.

New York
When my friends and I heard Buckout Road was haunted our first instinct was to go up there and check it out. We looked it up first and read about how John Buckout's wife killed herself in the woods. Since then there have been several other hangings in the area. Some of which were suspected witch hangings. There are three X's marking an area of Buckout Road where three suspected witches were hung, it's located right next to the graveyard where the Buckout's are buried. We went to the graveyard at around midnight and took some pictures with the tombstone of John Buckout. My only two friends who touched the stone looked down at their hands and had cuts on them which were bleeding. We investigated the stone and it had nothing sharp on it at all. We decided to leave but once we got down the road we got into a car accident. Since then we've had extremely bad luck, almost as if John Buckout never wants us to come back. We plan on going back and reversing our curse in the near future.

Washington
Well, My Best Friends mom-Tami, Told Me This Story But It Is 100% True! In About 2001 Tami Kayla and some of Tami's friends And Tami's friends 3 year old daughters went for a trip to sea side. And They Stayed in a small house that they rented for like 3 days. The house was really old and a long time ago there was a huge fire that burned down the town and the house was rebuilt. So The First Night Tami and her friend went in the really creepy basement, and if you would go way back into the corner there was a sand patch thing because it was a really old house, And so when Tami and her friend went down into the sand thing there was a cross made out of wood, so Tami called her mother who owned the renting business and told her about the cross and her mom said its just kids they do that all the time! so then Tami Knew it was just kids, but they wanted to have a little fun so they went to get some shovels and when she went to open the door, it was locked. And She had swore she left it open. so they banged on the door for about 5 minutes and Kayla came and opened it. So they went and got some shovels and when they went down stairs they MADE SURE the door was UNLOCKED so they started to dick for a while and Then!! Tami hit something!! So She Screamed and ran upstairs with her friend and then the door was Locked!! Again!! They just thought there was something wrong with the door, so they banged for about 5 seconds and then, something started to play with the knob, The were freaking out!! But then, Tami's friend realized and was SURE it was her 3 year old- Ammie. She the door knob kept wiggling and friend said come on Tami's you can do it come on! And the handle just kept moving and moving for like 10 minutes more. when Tami said, I don't think that's ammie... So she bend down to look under the crack in the door to see if she could see any little feet. and when she looked there was no feet but the handle stopped wiggling. they were FREAKING OUT SO BAD! they started BANGING AS HARD AS THEY COULD and about 20 seconds later Kayla came to the door and opened it. they didn't come back downstairs until the next day. this time they kept the door open with a chair in front of it to keep it open. They came down with a camera and recorded it.. and when they went down stairs to see what they hit with the shovel they were almost crying.... AND! It Was just an old piece of wood. Ha-ha(: but they stopped the video and took pictures and took about 3 pictures of the sand area and then a door slammed and they ran upstairs and the door was closed but not locked and when they opened the door the chair they had placed there was tipped on its side on the ground so they just got the kids and left in like 3 hours on there 3rd day but when they came outside and Tami tossed the keys to her friend, They landed on the roof! and she barley tossed them. so they got the keys down and left. Tami's friend called and was screaming Tami! Tami! you have to look at the picture we took of the sanded area I will send them to you NOW! so she got the picture and there, was five faces, no necks, no bodies, just sort of transparent faces 3 women and 2 men a cowboy with a long beard and so Tami called some ghost people and they were really interested in checking out the house! but they never got to because the house was a renting house and they never got the chance to. but everyone that got the picture sent to them, there computer crashed. NO JOKE!!
That's the end of my little story lol thanks(: btw its 100% TRUE!

Florida
When I first moved into this house I was laying in bed and I swear I heard someone whispering my name over and over. So I woke up my brother and it stopped. The next thing that happened to me was when I was walking out of the downstairs bathroom and I saw this black guy sitting on my couch reclining with his hands behind his head I had never seen him before. I turned my head when I turned back he was gone. He was wearing A white T-shirt and black shorts. The next time I saw him I was watching TV upstairs in my room and I looked over at my door and he was standing in the doorway just staring at me then he vanished. My son used to wake up screaming at night and never used to do that. I would run into his room and ask him what it was and he would always say the bad guy and point at his closet. Another time he asked if I would lay with him because he was scared I asked him why and said it was the bad guy. So I asked him what he looked like, he said it was a black guy and the reason he was there was because the guy was outside the house and a car drove by and shot him. Right after he told me that we heard someone walking around in the attic, and my son grabbed me real tight. And I started praying for it to go away. I told my brother I thought the house was haunted and he said I know, so I asked him what it looked like and he said it was a black guy with a white t-shirt and black shorts. This really freaked me out. The last thing that happened to me was when I was laying in bed then all of a sudden it sounded like someone was right next to me and yelled THAT ISN'T RIGHT!!! Right in my ear, I was fed up so I sat up and said what isn't right mother******!?!?!After that not too much happened but I moved out of that house pretty quickly I only stayed there for six months.

Pennsylvania
My experience happened at my moms' house when I was 16 years old. I had a room up in the attic and I always knew that the house had an unseen presence, I just never seen or heard it before this experience. I'm a pretty heavy sleeper, and I was on a sleep aid at the time, so nothing was waking me up... it was about 3:00 in the morning and I was dead asleep because I had school the next day, something told me to wake up and look over by the stairs to get up to my room, when I did I seen the shadow of a tall man wearing a top hat staring at me and I just sat there and stared at it for a minute and it disappeared down the stairs, and so the next morning I asked my mom, my stepdad and my brother if the had come up to my room for any reason that night and they all said no, so I now know that my experience was paranormal.

Ohio/Japan
I just came across this the other day & was shocked that I had never heard of it before! It's called Aokiahara or sometimes Jyukai. It's other names are suicide forest or sea of trees. It's located in Japan near Mt. Fuji. Many people go here to commit suicide in this beautiful forest. They have groups of volunteers that actually go in to try to locate bodies which range anywhere from a couple days or bones that have been there for years. A lot of times the bones are untouched because they say not too many animals even want to hang around here. It is also so big that it would be nearly impossible to locate them all. It has also been said that long ago people used to take the elderly or people with mental disorders there & leave them. A lot of times people I guess who haven't really made up their minds if they are going to go through with their suicide will tie strings to find their way back out incase they change their minds. Most don't. There is an actual sign posted at the beginning of this trail telling people that their lives are gifts from their parent & to think about what they are doing, & it gives a suicide hotline number to call. It is really easy to get lost & starve to death so they don't recommend people going off the trails because you may never come out again or you may come across a dead body & panic! Check it out. It's truly disturbing!! I feel a little bad even submitting it.

Colorado
Mid July 2010 3:00 am Bear Creek, F.R. 106 While on a bigfoot camping trip with my brother. We usually camp in this location because of the sightings of a bigfoot have been reported in this vicinity. We had just put the fire out around midnight and have been telling stories and jokes in the tent until it got too cold. We moved to the truck and warmed up with it running. After 30min we had shut the truck off and both felt like someone was watching us. I occasionally turned the spot light on and scanned the tree-line. After giving up on seeing anything we were sitting in silence and I then saw a light reflecting off my mirror and windows. I turned towards the passenger side where the light was coming from and at the same time my brother was telling me to look at this weird light. we both were watching a small golf-ball sized light orb move from the ground and slowly move up and away from camp. we have no explanation of what this could be. clearly NOT a flashlight, ember from the fire or anything man-made. the only description I can give is Tinker Bell-ish. I have a daytime photo of the camp spot.

Wisconsin
Well, here goes:
These experiences happened shortly after my mother died when I was 10 years old, and then my cousin was murdered a year after that. Anyway, we moved into the house where my cousin lived when he grew up. Everything was fine for the first few months. I set up my bedroom in the basement, which was my cousin's old bedroom. It was quite creepy in there, the walls were painted black, and there were some other freaky images on the wall. So I painted over them with black paint. Then here's where shit got weird. A few weeks after I painted the wall, the images started to show through the paint. Creepy. I always had the feeling there was someone watching me when I was downstairs. I actually never slept down there because I was too scared. So I slept in my sister's room on the floor for the whole time we lived in that house. Anyway, so one day I was doing laundry, and I went to put the clothes in the dryer, when I felt this strange cool breeze go past my arm, and I felt as if someone wanted my attention. So I looked over my right shoulder and I saw this mass of black mist appear and disappear in the course of what seemed like ten seconds. So I ran upstairs and I never went down there again. A few weeks later, my brother came up to visit. We watched the Ring in my sisters room, and went to sleep shortly afterwards. Later that night, around 3:30 am, I had this strange feeling again like someone was watching me. I look over, and in the doorway was a silhouette of a small boy just standing there. Staring. I quickly closed my eyes, and when I looked up again, he was gone. We moved out of there shortly thereafter. The next experience was in the next apartment we moved into. One night I went to go talk to my dad, his room was right next to mine. I opened the door to my room to go talk to him, but he had just gone downstairs to get a snack or something. So I waited, and while I was waiting the light in his room clicked on. I stood there, I was literally frozen in fear. I waited for him to come upstairs, and as soon as his foot hit the top of the staircase, the light switched off. I didn't tell him about it, I didn't want him to get freaked out. So I went back into my room. A few weeks later, at night, I heard my little sister screaming for my dad in her room, I go and see what the matter is. She said she saw someone hanging in her closet so she crawled under the covers. I go and open her closet door and nothing is there. So I decided I'd sleep on the floor so she wouldn't feel so frightened. Later on that night I felt this strange eerie feeling. So I looked in the closet and I see a black mass hanging there. I almost lost it, I ran and flicked on the light and slept with the light on. I've had several other experiences with seeing this black mass, and feeling like someone was watching me. But now that I'm in my own house, with my husband I haven't felt them since. I believe they are done following me around.

Nicaragua
I grew up in Nicaragua and was raised there in the urban part of the capital. My father was a well known architect and although we lived in a pretty poor neighborhood, we were pretty rich. Our house was big and spacious and had been one of the first buildings built in the area and had been passed down for generations. In other words it was old, no more than a century though. I grew up along with both my older sisters, a few cousins, my father and one of my many aunts. For whatever reason it is that you want to believe, many paranormal things happened in that house, so many that hearing or seeing things wouldn't even surprise us or scare us anymore but instead thrill us. Me being the youngest I had less experience in those kind of things but I had my share and always heard stories of things that had happened to my sister and relatives.
One of the memories I will never forget happened one summer night, I was around 7 or 8 years old, and I had spent the whole night playing around with google earth on my cousin's new laptop since it was a new thing to us. Before we knew it, it was bed time and we decided to go to sleep. I remember seeing my cousin shut down her laptop and my sister close the windows as I stood up and stretched my limbs, it was a very quiet night and it felt very peaceful, all of a sudden I heard someone softly humming a tune, I looked at both my cousin and my sister, and my cousin stared at my wide eyed, so I knew she had heard it to, on the other hand my sister was still busy cleaning up after our mess. I hushed her, held a finger to my lips and whispered " Tanya be quiet .. " she did as I said and we listened to the singing for a few seconds " do you hear that ? " I asked, and got a nod from my cousin but my sister looked as confused as ever and asked " hear what ? " I hushed her a second it me and continued listening to the voice. It was the voice of a little girl, a very sweet sound, smooth and alluring, I tried making out what she was singing or saying, but it was like she was speaking some unknown language. Everyone but us had been asleep by then ( besides my dad who was still at work ) but I highly doubt it was one of my family members for obvious reasons. I don't know how long it was that we stood in silence and listened but it wasn't very ling before the sound grew faint, and for some reason my eyes drifted off towards the door leading to the kitchen, and as soon as my eyes met the door, the singing abruptly and suddenly stopped. I smiled and looked back to my cousin to discuss what we just heard while my sister frowned at us and claimed she didn't hear anything.
I will never forget the sound of the voice of that little girl, whatever it was, it put my mind and body at ease, it was very relaxing and it was an amazing, incredible thing to experience.
Now, I don't know much about the history if the house besides that it's very old, I don't know who lived there in the past or what happened, but one thing I'm sure of is that it is, what you may call, haunted.
Pennsylvania
I worked for a hospice in Columbus, Ohio that has a free-standing inpatient unit. Our patient care area was on the ground floor and the administrative offices were on the second floor. The second floor was accessible by a front and back stairwell with doors at the bottom and top of each stairwell as well as an elevator. At 5pm each day, the secretary would ride the elevator to the ground floor and lock the elevator to prevent it from going to the second floor. She would lock the doors at the ground floor entrance to both stairwells so that no one without a key could access the administrative floor after hours. I worked as the on-call nurse from 4pm to 12am every weekday. I was often alone on the 2nd floor after hours doing paper work or receiving/making phone calls to homecare patients. I would hear the front stairwell door open and slam shut. Then I would hear the elevator bell ring as if the elevator had arrived on the second floor (of course, the elevator door never actually opened) and then I would hear the back stairwell door open and shut. At first I would just think perhaps an employee from the first floor was upstairs accessing pt. records or something. Often I would call out to see if someone was around but no one would answer. Then I started to feel suspicious. I started to pay attention each time I would come into the building to make sure the stairwell doors were indeed locked at the bottom of the stairs and that the elevator was indeed locked onto the first floor. I would go up to my cubby and on the way make sure that the button you pushed to summon the elevator was NOT lit. That's when I realized there was a ghost. I realized that every time the front door would open and shut, the elevator would then ring as if it arrived onto the second floor (but the door never opened!) and then the back stairwell door would open and shut that when I would peek around my cubby wall, the light was lit for the elevator call button as if "someone" had pushed in on their way from one stairwell to the next. On at least 5 occasions, I would literally feel "someone" standing behind me at my cubby as I was either on the phone or doing paperwork. I'd look behind me and of course, no one was there. I never spoke of this to anyone I worked with but I do have to say that when I would be out doing a visit and I would have to return to the building at night, I'd look up at the windows while sitting in my car in the parking lot and wonder if I'd see "anyone" looking out at me--I never did! Eventually, I got a position during daylight hours doing homecare visits and another nurse took over my position. She approached me one day and said "Did you ever have the ghost visit you when you had my position?" I smiled and asked her to tell me what she experienced. She recited back to me the exact course of events that happened to her that always happened to me. She told me that the 20-something year old, 6foot, 5inch tall, male cleaning person REFUSED to come up and clean unless someone was up there with him because he experienced it as well. She also told me our medical transcription tech who would often work after hours would have the same experiences. Hundreds, if not thousands of people died in that building over the years due to being terminally ill. It wouldn't surprise me if it was one of their spirits that haunted the building. I never asked the nurses who worked on the ground floor in the patient care area if they experienced anything...I know that were at least 4 of us who know of a ghost who haunts the second floor!!

Mexico
I was on vacation with my brother back in 06 to Mexico City and we stayed with an aunt. I was about 12 at the time and my brother was 9. It was our first time there. We got off the plane, looked for our aunt whom we previously never met and we went to her house. The first thing I did while arriving to her apartment was go into the bedroom to drop off the luggage, I sat on the bed and and turned to the left. Sitting next to me was a really pale old man with a white hair and a mustache in what I guess to be 1920's-1940's. He wore a black suit and a homburg hat that was worn back then mostly by older men. I looked and him and he looked like he was laughing but no sound came out. I went into the kitchen and asked my aunt who the old man and she didn't know what I was talking about. I then told my brother about it. My brother believes in ghosts, bigfoot, aliens, etc. He suggested it was probably a ghost. I didn't believe in ghosts. I came across the old man a couple of days later, he just stood there and laughed. I noticed I could see right through him. My aunt's dog hid under the kitchen table. I looked for my brother that it was a ghost and I wasn't imagining it since the dog freaked out. Days later my brother ran out of the shower. He says a pale bony hand came out of the wall of the shower. A day or 2 later I saw the old man again in the hallway of the building; he was still laughing. It really got on my nerves and I snapped at him and walked away. I decided to go tell my cousin about this guy and she described him to me before I did. She says he's always walking around the 2nd floor and that his wife walks around on the roof by the clothing lines. She says that they lived in the building a long time ago and died here. That's all the background she had on them. The time I yelled at him was the last time ever saw him. I never encountered his wife.
While visiting other cousins in a different part of Mexico, my brother had told them about the old man. They then shared a story with us. Their property was formally a place used for punishment. The people would be pinned to the wall and tortured. One of the walls in their house was actually the wall where the people were hung on and killed. According to them, once in a while at night you can hear their screaming. I never witnessed it though. My grandmother confirmed this.
Colorado
We no longer live here but had many unexplained experiences here. One of the first happened to my younger sister while she was in her bedroom something asked her what her name was. Years later I was home alone and while leaving her room I also had something ask me what my name was. A year later my mothers friends came to the house while she was out of town he went up stairs to my sister room to feed her rabbit and also experienced something asking him for his name he was so scared he ran out of the house. We also would here scratching from inside the walls and lights turning off and on. I was also hit on the leg by something while laying in bed. My mothers roommate says she saw orbs floating around while she lived in the down stairs bedroom. My mother also heard a Native American girl crying in the front room late at night. I would have nightmares about the attic. My mother heard a voice tell her friends bird to shut up while she was watching it for her. there was one morning I was getting ready and heard something tell the dog to move. A friend of mine and told me she heard a voice in the kitchen talk to the dog. Besides it being haunted the was a man that would stock the house and expose him self several time. We called the police and filled reports how ever he was never caught. This had to be the scariest place I have ever lived and have many more stories about this place.
California
My name is ray and I have had a lot of scary things in my life, but at my old house in los angelos was the scariest. My house was very old so it squeaked during the middle of august and it was 3:00 in the morning. I was woken up by loud creaking, so I ignored it like usual. It started getting louder and closer. I sat up and got out of my bed to see what it was. When I opened the door there wasn't anything there, so I went back to sleep. A few minutes later I felt something on my leg so I got up and turned on my lamp. I picked up my blanket but nothing was there so I stood up and went downstairs to my living room and slept on the couch. A half an hour later I woke up with a light at the corner of my eye. I walked to the light switch and turned it on. I walked to the backyard, but the light was flickering. I turned off the light and went upstairs again. But when I got upstairs there was a silhouette of a little girl, I started to back away but the silhouette went at me really fast. When it hit me, it felt freezing cold the rush of air went past me. That was the last time I have ever seen it though.

Wisconsin
Growing up in Wisconsin with the interests that I have in the paranormal, naturally I've visited the Walker House Inn on countless occasions. Many of my trips have included interviewing area residents that have had first and second hand experiences with unexplained occurrences at the Walker House Inn. During my research and investigation I have been fortunate enough to use many of the ghost hunting pieces of equipment from GetGhostGear.com. Enjoy the following snippet on the story of the Walker House Inn. Mineral Point, Wisconsin Walker House Inn. Many believe this old structure to be haunted. Numerous reports have come from the people who have ventured inside: "This log inn, built in 1836, is haunted by a murderer who was hanged in front of it. On November 1, 1842, William Caffee was hanged from a scaffold erected in the yard of the inn. Before a crowd of 4,000 people, the contemptuous man rode atop his own coffin and, using two beer bottles, drummed a funeral march on the sides of the casket. Afterwards, his cantankerous spirit took up residence in Walker House, and over 150 years later, his ghost still walks the halls. Employees and guests complain of the scary sounds of heavy breathing, footsteps on the second floor, and a presence who turns doorknobs but never opens doors. Scary voices and poltergeist activity frequently occur in the main dining room and kitchen. In October 1981, owner Walker Calvert saw Caffee's headless ghost sitting on a bench on the back porch. The phantom stayed visible for several minutes. That same month, a waitress saw the ghost, this time with a head, walking on the second floor." (Mineral Point is in Iowa County in the southwestern corner of Wisconsin, at the junction of U.S. Hwy 151 and Hwy. 23. Walker House Inn has been open and closed to the public numerous times over the last several decades.)

Indiana
Metamora is an old canal town along the Whitewater River in southeast Indiana. It was platted in 1838. The town was converted into a tourist town back in the 1960s to save it from destruction. There are numerous reports of Civil War soldier sightings. The Mount Holland House has had several reports of haunting. A man in a plaid shirt and khaki pants has been seen walking down the steps of the house and out the front door. A little girl is heard laughing frequently, and tugs at people's clothing. The presence of an old woman that refers to herself as "grandma" has also been know to haunt this building. The old Tyner Home/Martindale Hotel building (circa 1839) is known to be one of the most haunted buildings in the town. A story was told by a former owner of a girl who was in the house, who frequently appeared by the beds of visitors who were staying in the Hotel. She believed that this was the ghost of Ellen Tyner, Ezekiel Tyner's daughter. A story is also told about the Gingerbread House, a pretty pink house with seven different kinds of gingerbread trim. It was originally built by Monroe Allison in the 1870s. One day, when a workman was working on the roof, he saw a beautiful woman in the widows nest (window tower) at the top of the building. Needless to say, he was quite startled, due to the fact that no one else except him was in the house. The next time he saw the woman, it was in an old painting that still hangs above the family organ in the house. Another story is told about the Metamora Canal Lock Ghost. It seems that during the building of the canal, a black man would take wagers that he could jump over the canal lock. The men would pass around a hat and put money in it. He accomplished this feat many times, but one day, he lost his footing. He hit his head on the stones on the other side of the canal lock and was killed. It has been reported that strange things show up in this area on photos, and that there is a feeling that someone is staring at you. Another location in this quaint historic town that is reported to be haunted is the Townhouse, which was the home and office of Dr. Millard Cupp and family. This house has also been reported to be one of the most haunted buildings in Metamora. During the months of September 2011 and October 2011, several private and two public investigations were done. We had huge amounts of photo, EVP and psychic/sensitive authentication that this town is full of spirit activity. The investigations continue....
New Mexico
Well one day I was sleeping over at my sister house and she was looking at photos of her that she took at her friend's house and well she found one that had a ghost of a little girl and well the next day I went to sleep over at her friend's house and went we got there my sister went somewhere and I was all alone and I feel someone blowing in my ears and then my sister came back and she started to hurt and there was scratched forming and we freak out and then a couple hours later we feel asleep and I hear something so I had my eyes close and I hear footsteps walking to me on my side and the bed and then I felt a breath then a scream of a little girl in trouble so I shot up in bed with my heart beating fast and breathing fast then I had a need to go somewhere but I could not because I was scared and I sat there looking and my sister and her boyfriend was sleeping and my sister friend and her boyfriend was sleeping so I went to wake up my sister and I was shaking bad so she told me come here and she ask what happening I told her and she woke up her friend and she went to sleep again and I didn't get any sleep after that but when I went home for like 2 months I had nightmares and bad things happening to me and this s really true I'm really it remember everything.

Canada
I live across the street from the second avenue grave yard, and I walk through it to get to the movies and mall and so on.. One night, I saw a little girl standing in front of a grave with toys and such in front of it. She had a blue ribboned dress on with pure white eyes. Two weeks later, I found out that my god mothers parents were buried in that exact same place (it was a memorial type of thing). That little girl still shows up every time I walk past the memorial grave stones.

Missouri
I am being haunted by I don't know exactly what it is I think it might possibly be my friend Cody that died in a car accident 3 years ago or it might be a lady I know named Laura that died last year on December 12th from an un normal exploding heart the haunting feeling did not start until about a year ago and then it started to change the way I act and the things I say I have no idea what this feeling is but I know every great once in a while when I'm sitting alone I feel a presence around me...its not harmful I'm pretty sure but I will feel an indention in my bed like someone is sitting down and I look around and no one is there.

Pennsylvania
I met my best friend and love of my life, Christopher Gasper, at age 16. We were pregnant and married at 18, we had a girl, Ashley, born 1991. We had a son,Codi, 1992. The story becomes in depth from here on out, in a nut shell. we separated in approx. May 1993, I was 20, he,21. I never understood why or what made me decide to separate because I truly loved and cherished this man and knew, I would never feel for or love another the same. However, it is true, there is a reason for everything. August,1993, I met and have been married to since, my best friend since 2nd grades brother, Frank who is 7 years my elder, the reason for the delayed meeting. We fell head over heels instantly, he was moved in a week after we met. Chris was devastated and I was shocked that I actually loved and bonded with another even more than with Chris. Frank and Chris had a heated moment but Chris who weighed 123, 5' 5 and Frank, 225 6' was too much for Chris to take on. At one time, Frank actually had Chris and I sit down to see if we felt we could work out our problems to stay together. We talked and mutually decided against it. Chris told Frank he was a lucky guy, shook his and said to Frank, all I ask is take good care of Keri (me) and my kids. Frank gave his word. This was the beginning of Nov, 1993. a few days later I received a frantic call from my mother that Chris and my 17 year old brother, Ron were in a car accident. She had no info on the condition or seriousness. Immediately after I hung up, I broke down and told Frank we have to go now, Chris is dead, I know he is. The sad fact is, he was. My brother was the driver, and was drunk. Chris was without his seat belt which again proves the fact all happens for a reason because he never even started the car until he and I had seat belts on. He ended up falling onto my brothers lap in the wreck which saved his life instead. The creepy thing is that my nana was a well known true card reader in our area. Two years prior, she read me telling me Chris was going to die in a car accident on a windy mountain road. I told him and he and his brother laughed, life went on. The accident took place a hr. away by my parents home, in the boondocks on one of the windiest roads in the vicinity. The date was Nov. 11 1993. My sisters birthday is the 13th the day of the viewing, the funeral date, the 14th happens to be Frank's birthday, what are the odds? Now I knew why the years of my life from 16-21 was rushed into a young marriage and children and why the separation and how the new love came, it was all because Chris was destine to die young. The night of the funeral, Frank and I went home, that was the home, I shared with Chris. We slept in my room on the bed Chris and I shared like we did since the day Frank moved in. The only difference was my daughter, 2 yr. old Ashley slept in between us for the first time ever because of the day we had. We laid there, I hear and feel the bed squeak. I touch Ashley, no movement, I reach with my leg over to feel Frank's, no movement. The squeaking starts to sound like a cry, Frank says, do you feel that. I say yeah, is that you moving the bed. He gets up and goes no, Keri, I think Chris is crying. I jump up get my kids and flee the house. I never went in it again and gave the bed to my brother. We moved in with my grandparents. My son Codi had his crib in my grandfather's bedroom. One morning he says to me, Chris was hear last night. I am like what. He says, I went up to go to bed, opened the door and he was standing over the baby's crib watching him. I immediately breakdown, oh crap, now he followed me here. I become so emotional between feeling scarred and sad, it put me into a shocked state of terror. I wouldn't sleep at night, I would wait until it started to get light out to sleep because I was so afraid of possibly seeing him. I wouldn't go upstairs during day or night alone. This effected my showering and going to the bathroom. Some days I held it in for 5-10 hours. A night during that time, Frank goes downstairs for a drink, comes back up and wakes me saying Chris wants to talk to me, he is waiting down in the kitchen. He was serious, I freak and never go downstairs to see. I went on like that for over a month. We move out 3 months later. We rent a place and I begin to paint. I have a ladder in my room to do so. We go to bed, laying there Frank says Ker, do you see what I see? No what? Chris is over petting our kitten that is playing on the ladder. I would not look. The same terror starts again. A few years go by, we buy a home. At this time Frank and I have 2 girls and our very much still in love, we own our own businesses and are quite well off. He took my children and raised them as his own, they have no recollection of Chris being the ages of 1 and 2 when he died. They however since his death regularly visited with his parents and grandparents who is still today like my own grandmother. We again, go to bed, watching TV, the TV goes off, we turn it on, off it goes again, this time however, it was actually unplugged no one near it, impossible for it to have pulled out for any reason but to be pulled out forcefully by someone. I snap, grab all my kids and refuse to sleep upstairs. Another night, we were watching TV in bed. I began to fall asleep when I felt what I thought was Frank like petting me on my head. It felt and sounded like he was moving his hand in a petting motion from the side of my head over my ear, I could hear that sort of sound you hear when you put a seashell up to your ear to hear the ocean. The problem was that I said Frank, please stop I am trying to sleep. He kept doing it, I get mad and yelling like repeat myself. I hear him say What,What in a groggy like voice. I tell him again, you know what you are doing, just stop! He says, Keri open you eyes, Look! I already knew what he was going to say. I quickly get up, jump over him to turn the light on and freak out screaming at him. I say, don't play games and tell me to look, it's Chris. He swears he was not doing it and he did see Chris leaning over me petting my head. I knew it was true because Frank was asleep, I recalled hearing him snore during the time someone was caressing my head. The same home another night, this is a bit uncomfortable to speak of however, it did happen. My husband and I begin to do what married couples rarely do in bed LOL! When you are with someone for a long period of time especially, over, 5 years you know there routine (You know what I mean) this time however, it is not the same, it reminds me of the routine Chris and I had. I feel this overwhelming feeling to cry and I sob but at the same time feel love in a way I couldn't even describe. I just thought wow, I must be overly tired to the point of feeling drunk or like I was possibly having a realistic dream. I definitely was not dreaming because we then went down to grab a snack as usual back up to bed held each other and fell asleep. The next night, lying in bed Frank proceeds to tell me last night during our couples session (again, you know what I mean) Chris asked him if he could use my body to touch me one last time because he needed to go he knew me and his kids were ok. I told him I kind of knew it but thought it was impossible and I must be going nuts. The experience was unforgettable one of the deepest feelings of sadness, missing someone and love I ever felt in my life and thought I would never feel again until recently when I almost pushed my husband Frank away to the point of leaving me. I felt the same emotions of loss that I felt grieving for Chris and when he came home after only being gone for 2 nights, I felt that feeling of happiness, sadness, yearning, and love that I experienced that night Chris entered my husbands body. He was right though, it was time to leave because I love and am loved for even greater than he and I loved each other, I know that for a fact today because I was able to re-experience the feelings I felt that night but because of Frank. That is how I know I am exactly where I was destine to be. My husbands tragic destiny led me to be able to live a full life of unconditional everlasting, true love and happiness even though he was only able to experience the same for a short time, the positive was that he at least had the chance to have that with me and our 2 children, no matter how short lived, some people live a full lifetime and are unfortunate to never experience it. I have since become a fanatic of the supernatural. I live and die by the word of Sylvia Brown and would no longer fear a visit from Chris or any other loved one. I look back and now see how lucky I was to have had someone love me so much they would prolong there trip home just to see me and my kids were ok before moving on. I am blessed to be so loved by two men in my lifetime.

Wisconsin
The following ghost report is from a thirty year old professional regarding their haunted house. The ghost sighting takes place in the city of Hudson, St. Croix county. There is a history in the location and recent remodeling has taken place. There has been unexplainable sounds, unexplainable problems with plumbing or electricity, and pets have reportedly responded to a ghosts presence.
My husband had been walking down the stairs and saw a large silhouette shadow in front of him. He turned the hall light on, the shadow disappeared. He turned it off and it reappeared. Various other times we have heard unexplained noises, the DVD player will turn on and open up the disc tray, we will close the tray and power it off only to have it happen again. The TV will turn on by itself after being shut off. I thought my husband had knocked a picture off the wall when he had come in from outside, when I went to see what had happened I found a picture on the floor & my husband was still outside. while my girls & were watching TV the playstation2 came on by itself. I blamed my girls for doing it. My oldest daughter (6) said how could we have done it, we were sitting next to you. I'll hear weird noises at night when everyone is asleep, I'll get up to see what is going on but do not see anything. Last night before my husband had seen the shadow I swore I had seen something out of the corner of my eye moving. When I would look towards the bottom of the stairs I wouldn't see anything. That happened for about 15 min and about 30 min prior to when he saw the shadow. We used to have a cat and he would always follow you upstairs and would walk right back down with you as to protect you as you went up & down the stairs. You would see the cat looking at nothing as if something was there. In the bathroom upstairs the curtains would be down, both of my girls will tell me the curtains were pulled down when they went upstairs to the bathroom. It has been all seasons when these things have occurred. Last night being the first time in a couple of weeks. We share a big house as a duplex, I am not sure if our neighbor has experienced anything."

California
Johnson Inn Bakersfield. Can't remember what room number we slept in. We had a smoking room. but no one smoked. Felt like smoke was being blown in our face. My husband said he saw a spirit coming out of the bathroom that looked like a friend staying with us; except when he asked the spirit if he was our friend, and what was he doing up, he said he is not him. My fiancé reached his hand out, and went straight through the spirit. We didn't share out experiences until after checkout; so we both had reason to believe it was haunted.

Turkey
Had a connection with some one, it was night and we were all sleeping in one room, a hotel room with my parents, for some reason something pull my hair and I was Waken up, and in second later something walked over my mom even she moved her position while she is sleeping and something a man hold my hands and kept saying to me "kill me" I was so scared, this thing visited me many times later days and even I was feeling that was following me, and some time later, a young women was with this man , the man was pointing the young women for some reason, 1 year later I saw the same women a ring in her hand trying to give me the ring , I had the feeling she wanted to marry me !!! After all, we went to a medium, and I don't see this women or man anymore" the medium said that it is sometimes ghost may want to get connected to humans. Maybe you think I am crazy or gone mad, but this is true, it happened when I was 12 years old, today I am 37 I haven't se en anything for the last 17 years, But I know that when ever I want I can get connection and make them visit me !
Believe it or not ..

Virginia
I have 2 controller that operate my basement TV. I work out in my basement & do my yoga. Anyway, I keep my controllers in the same spot every time. Anyway, I go to the basement to find the controller & they are NOT there. I look all up & down the house. I go to the basement 50 times looking in the same spot that I keep my controllers & they were not there. All of a sudden on Sunday nite, I go to the basement once again, there they are. They just reappeared exactly where I normally keep them. Needless to say I was very puzzled. It was like they disappeared into thin air & reappeared in the same spot that I normally keep them.. I have misplaced things before, but this was definitely something I knew wasn't a figment of my imagination. I have had other strange things happen in this house too, that I can't explain.

California
I was a non-believer until I had an experience that I can not discount. Old building at Mare Island Navy base in California (North of SF) built in the 1870's was a hospital for many decades. I was a sailor at the time (1980) and was responsible for assigning linen to late-night arrivals (I know, it wasn't much of a job but it was only a place keeper while I waited for my next school to start). I was the only person in that basement on the nights I was there and frankly, it was always really quiet down there between sunset and sunrise. I slept in a room in the basement and awoke one night at 2:00 am - I was thirsty so I stepped out of my room into the hallway to get a drink of water from the water fountain about 10 feet away. The basement consisted of a single long hallway about 40 yards long and about 8 feet wide, with steam pipes near the ceiling running the length of the hallway and I could easily see from end to end of the hallway as it was brightly lit 24/7. There was no one there physically except me. As I got a drink of water, I distinctly heard footsteps starting at the far end of the hall, walking towards me, and added to this was a clanging sound as if someone was testing the pipes by banging on the overhead steam pipes with a piece of metal as they walked toward me. I instantly had goose bumps and froze where I was staring in the direction of the footsteps and the clanging noise. The footsteps and clanging progressed down the hallway and when it went directly behind me I felt a chill - the footsteps and clanging continued down to the other end of the hall and then abruptly stopped. I don't consider myself a coward, but I bolted back into my room, locked the door and jumped back into my rack and left the lights on the rest of the night. I spent 2.5 months doing that menial job and only that once did I have a paranormal experience. Still gives me goose bumps now thinking about it.


Georgia
While staying overnight for our honeymoon, my husband and I witnessed strange events. We stopped at the Sautee-Nacoochee Antique Mall (formerly known as the Martin House) to pick up our key and pass code for our cabin. Upon arriving, the downstairs apartment we were staying in had an off-feeling. The light was on when we arrived, but we thought nothing about it. We checked the rooms because it felt as if someone was just there; we found no one. We went about our day visiting Helen and coming back that night, still had that eery feeling that something was off. When the a/c would cut off, there was a loud banging noise coming from the closet in the kitchen (like someone tripping over stuff). The bedroom was damp feeling, the sheets felt wet when you laid against them. The next morning, the feeling was a lot stronger and had an angry tension to it. We thought we heard someone outside, but didn't see anyone. We thought nothing of it since we weren't in a hotel and surrounded by people, so we got ready and left for the day. When we got back and were getting ready for bed, we went outside and I thought I saw a face out in the woods down on the slope. As we were walking back inside, my husband noticed small hand prints on the side of the house. That startled us, but again, we thought maybe we didn't see those before and they were left from before. We had trouble sleeping that night, both of us having strange dreams. The following morning, I woke up to hearing banging noises, but they stopped abruptly. As I was showering, my husband thought he heard noises coming from the living room area and thought he saw someone. He didn't find anything, but every time I would turn towards the water while showering, I felt as if I would turn around and this man would be there. We both had this horrid angry feeling as if something was highly pissed that we were there. We had a free third night stay, but decided to leave. Once our decision was made, the feeling got even stronger and we rushed to leave (feeling as if we didn't, we wouldn't see dawn). As we were packing, the phone rang. The caller asked for a Mr. or Mrs. Martin. I was very confused and said I didn't know who that was and the man hung up. After leaving quickly, I called to check out and the first thing the owner asked is if something was wrong. I told him we had an eight month old at home and would like to get back, and he replied with "Well you can bring her back in two months!" That may not mean anything, but my daughter is just walking and putting hand prints on walls.

Florida
There has been so many that I can only tell you a few. I have had T.Vs come on by themselevs, smelled strange smells in my house seen a large shadow on my fence out back and there was nothing there making it, came inside after I got home from work and heard a conversation going on and as soon as I walked in it disappeared, I have woke up every morning to an empty clean glass on my kitchen counter top and no one claims they did it.

Massachusetts
My boyfriend and brother used to rent the second floor apartment of a multi-family home that was built in 1912. They were close with the landlord who lived on the first floor and when no one was home we would receive phone calls concerning lights that would be left on. Particularly the attic light though we only ventured into the attic on moving day the one time and the light would be on once every couple of weeks. I would spend about three nights a week at the apartment and would have to stay up late drawing for a mandatory art class. Whenever I stayed up past the other two at night I could feel something watching over my shoulder at what I was drawing. What really left an impression on me was that at night I would sit straight up in bed all of a sudden awake and would look at the couch on my left expecting to see someone there. This happened to me almost every night I spent there and it always left me feeling dirty; almost like someone was thorough ly enjoying watching me sleep. Almost three years later and I have never experienced that feeling of being watched, nor have I ever sat straight up in my sleep like I did there. During the day and when everyone was awake it seemed fine, both my brother and boyfriend reported some sort of strange sound or an alarm going off, but nothing that really freaked us out. It was at night when the thing would sit on the couch and watch me that I got scared.

California
There are tunnels that were made years ago that are haunted. They have the energies of the people from 1800's-1900's. It is an old gold rush town. Known as the "Mother Lode". The Sonora Inn is another place that is haunted there. I worked there and I am a psychic medium. I have had encounters on more than 1 occasion there. Its a great place to get in tune with energies around the area.

Great Britain
I must state that I personally do not believe in paranormal activity, but I feel that this is worth mentioning, if I am wrong. In both my fifth and eighth years of school, I visited Standon Bowers for one week. Both times, I noted that items had been removed from my assigned cupboards. The first time it was a pen, the second time a torch. The second time I went, however, I heard rumors of a "red hoodie ghost" that purportedly stole people's belongings. One of my friends, however, maintained that it wasn't real, and also stated "it's probably some chavs".(chavs are basically juvenile delinquents.) In addition, a google search for this "red hoodie ghost" returned no relavant results. In addition, I heard reports from the larger bedroom about a wardrobe door opening on its own, and that one of the other students "felt something creeping up his bottom". I am unsure as to whether this is true or not, since I was not there, however another person from the same dorm said it was because another student was kicking the wardrobe. Again, I don't know if this is true, but I do suggest mentioning this.

Massachusetts
This message is for UFO investigators, I am just an average American with no special education, but do have law enforcement training(25 years), and I have a theory?, all I ask is that an UFO investigator get back to me, via email. Now for my theory!, We all believe that UFO's come from outer space, or from another planet!, because I have not heard otherwise!, after watching the recent video of the UFO hovering over Israel, and out of nowhere an aircraft, rocket, another UFO,ect., collides with this hovering UFO and an explosion erupts, causing the wreckage to fall to the ground, (NO WRECKAGE FOUND), my conclusion or theory and question is, ARE UFO's REALLY FROM OUTER-SPACE , OR ANOTHER PLANET? , I ask this because of the Israel video, If any of these craft,(UFO's) were really from the cosmos, they would have to travel millions and billions of miles to get to earth!, space travel is very dangerous, and although we here on earth believe that they have the technology to do this type of traveling, ,(dodging meteors,comets,ect.)and even possibly getting struck by these deadly projectiles ,(large or small), my point is that they must have some type of system to all together avoid or dale with such force!, so I believe that it is possible that maybe the UFO's, as well as aliens are actually from earth!, think about it? the UFO's are hardly ever detected on our radar?, seems to show up out of nowhere?, and were possibly here on earth before any humans were?, and what about the craft over Israel getting shot down, or having a collision?, if this craft did come from the cosmos? it can most easily handle anything that we throw at it!, or any collision!.(comets and meteors are far more destructive) Our oceans and seas are very deep and a great percentage have NOT been discovered or explored, lets face it! we have no way of getting down that deep! the perfect hiding place, or our governments of the world have created some very amusing and impressive aircraft's.
Iowa
I have a few stories of what happened to me and most that have happened to my mom
first off, when I was about 6 I made up 3 people in my head, ones name was Scorpio, one guy was French, and the other didn't have an appearance, now when I told my mom this she wasn't very worried, and neither was I cause I thought I just made them up, but me and my mom were talking yesterday and she told me about when I made those people up, but she told me that I was speaking French when I told her about it, which I don't really remember, but it freaked me out cause I was 6 and speaking French that I didn't remember doing,

second: I wasn't born at the time, but like I said it happened to my mom,
my big brother was about 2-3 at this time, he told my mom that he didn't want to go to sleep cause there was a man in his window, my mom didn't really believe him since he slept on the 2nd floor, so she layer down with him that day for about 10 minutes in her room (not my brothers) and about 10 minutes later, she could see a faint green glow in her closet, and she was thinking in her head "what do I have in my closet that's glowing??" and the glowing continued for about 10 more minutes, after those 10 minutes a faint body of a man was starting to form, and it stood there watching my mom for a while, and all of the sudden my big brother says to my mom "mommy, that's the man in my window" and as he said that, the man disappeared, my mom grabbed my brother and brought him downstairs, my mom had a friend over named Eric, and Eric was like "jen (which is my moms name) whets the matter? what happened?" and my mom told Eric what happened, now Eric wasn't a strong believer of this stuff at all and he was telling my mom that she was crazy and stuff, and my mom says "if imp crazy, then turn around and look at the thermostat and tell me what you see" so Eric turns around and says "well if I beloved in that kind of stuff I would think it looks like an outline of a hand" and as e said that, an outline of a man appears, like a see through man with no color, and he was walking towards my mom and Eric, and as he got in front of them, he disappeared, Eric turns over to my mom and says "listen jen, your a really good friend and stuff but I got to get out of here, this stuff freaks me the hell out" and he left my mom in a house with just her and my big brother scared to death, so she left and went to her neighbors house to sleep (with my brother of course)

third: when my mom was 7 she had an unexplainable fever of 106 degrees for 6 days and it just disappeared, when she turned 17 she had that same unexplainable fever of 106, but this time she was taken to the hospital, as she laid in the hospital bed, she closed her eyes, she opened them and she saw her dad (who has been dead since she was 2) and his parents, they took her hand and brought her into a white room and sat her down on an invisible bench I guess, and then they brought her to a giant place, literally there were thousands of people there, she could hear voices, but nobodies mouth was moving, they brought her up to a high spot and just sat there, my mom looked at her dad and asked "am I going to see god?" and he shook his head no, she asked "am I going to see Jesus?" and again he shook his head no, and then she asked, "am I going to die?" and her dad said "its time to take you back now" so they led her to the hospital bed and laid her down, she closed her eyes, then instantly opened them again, and her fever was just gone.
I have a lot more stories just like this, and maybe ill post the rest of them.

New Mexico
One day we're walking along the outskirts of Albuquerque, near the petro glyphs. when we saw an Indian ghost, who was very upset. due to the fact that we have ruined they're sacred lands. he vowed that when the world ends, he and his people would return to power.

South Africa
Once, when I was in primary school, my mom and I got back home later then usual that night. I can clearly remember that it was a full moon and it had an eerie feel to it. It was extremely big, bright and yellow. My mom and I have been with my grandmother ever since my mom and dad divorced. Me and my grandmother was in the sitting room when we heard knocking on the sliding door of the room. Let me remind you that my grandmothers hearing isn't that good. I was too afraid to take a look so I called my mom. She went outside with a flashlight in hand but couldn't see anyone. We have a small garden at the front of the house and it's surrounded by concrete walls so it's impossible for anyone to jump over. The gate can be opened but it would have been impossible to get in and out so quickly. It still freaks me out whenever I think of it and there's no explanation for it.
Indiana
My father and 2 sisters moved in my now adopted mothers home when I was 13. I heard my mother and father talk about how there used to be an old farm house in the back left corner of our property. There was a fire and the house burnt down. According to history of the house there has always been a small pond on the property. Apparently when the fire happened there was a little boy who had caught on fire and had jumped in the pond to put it out. unfortunately he could not swim and drown. when my mother bought the house from my grandparents we dug the pond up and made it bigger. still there were no paranormal experiences. One day my sister and I went out back where there was an old horse trough from the house that burnt down. I had gotten a metal detector for my birthday and we thought we might be able to find something. When it started going off we began to dig. We found several items including an old door knob and a plank for a door. We kept them in my room after showing my parents. The next day we went outside to dig some more. We ended up finding a metal shingle. We could not dig it up though so we left it uncovered. About a week later while playing outside in the mud we heard yelling. As it got louder we could make out what it was saying. We heard,"Johny where are you." over and over we stared at each other and then ran full sprint inside. We knew no one by that name and we wanted to know who was trying to scare us. My father and mother were sitting in the kitchen and we ran and asking questions to quickly for them to answer. They claim they didn't yell for anyone and then my mother decided to do some research. She found out that the little boy's name that had died in the fire was named Johnny. After that things got worse. One night my closet door opened and I know I had shut the door because when you opened the door the light would come on and I couldn't stand sleeping with light. Every night until I moved out the door would open. you could hear people walking around upstairs when no one was home, at night you could hear people walking up stairs and no one would be there when you looked. one night however I got really scared. I was asleep in my room and out of no where I woke up to a little girl with long brown hair in braided big tails staring right at me it looked like she had a night gown on but I wasn't sure. I blinked and she was gone. we still don't know who this little girl is but she has been noticed on multiple occasions. One evening my parents and littlest sister were the only ones there and it was about 11pm. My parents heard a cry outside there bed room door and they thought it was my little sister. They said come in and the door remained shut my mother finally got up to see who was at her door and wouldn't come in thinking it was my sister she opened the door and found no one she went up stairs to check on my sister and she was sound asleep. A lot of things have happened in that house none of which were bad so my parents continue to live there and you can still here people and that closet door still opens.

Wyoming
This was the old junior high school until the early 2000s. Childish laughing and knocking on the walls can be heard in the hallway east of the gym, the scoreboard in the gym flickers and flashes random numbers at odd times, the flag pole on the south lawn has been reported to shake violently on calm, clear nights, one has a feeling of being watched throughout the building, especially at night. I find this place to have a very foreboding aura to it; even in broad daylight it feels as if you are not welcome.

Texas
I have always been different, I'm sensitive to the paranormal/spiritual world. I've known this since I was very little. its kind of common in my family, I had a great grandmother who was a curandera(healer) and she knew things and saw things, guess it passed down in the family. But growing up we lived in an apartment, which was haunted. we didn't know it at first, it wasn't until I started telling my parents about a little boy who lived there. They never understood it but strange things always happened, stuff got knocked over and even one day, my siblings were arguing over a bag of hot cheetos and kablamo, one of the glass doors on my mom and dads entertainment system broke into tiny pieces all by itself, no one could explain it, eventually we moved into a house and after we moved our neighbors from downstairs said they could hear footsteps coming from the room where my uncle stayed in our apartment, turned out later on a little boy had died in that room. We moved to a house and I guess he followed us cause I can feel his presence there, I guess he was lonely but I always say hi to him and acknowledge that he's there. Now that I have moved out and have my own family I have experienced more stuff. I live in a townhouse and I can say there are nights where the downstairs living room has a really creepy feeling, like someone is down there that is steaming out negativity, I don't like it much, feels like a bad entity is down there, on those nights I hate getting up to go to the bathroom, it sits at the top of the stairs looking down towards the living room and you feel as if someone is looking at you. and the other thing I have experienced is one night I was taking my big boy downstairs to get him a bottle of milk and when we were coming back I saw this big bright white things in my living room, scared the crap outta me, as I was going back up to my room I could hear it following us, my big boy turned to look back and started crying loud, I'm guessing he either sensed it or saw it, needless to say after that I rushed up the stairs, ran to my room, closed and locked the door...shortly after you could hear someone talking and trying to open the door, it was scary, then I heard them calling my sons name, that put me on the defensive side, so I said out loud, mess with my son and your going to have to deal with me first, after that it stopped, the voices calling out to my son has happened more than once, all I have to say it stop or go away and it does. but this is what I have experienced so far in my lifetime lol, I can honestly say its not so bad just so not loving the one that comes and goes and gives off an evil vibe.

Virginia
I've tried to research into haunting at Royal Cinemas. It's a really old movie theater that I work at. And all the other employees also believe its haunted too. We have 3 theaters and theater 2 is the one we have the most problems with. Back in the old days it used to be the balcony above our main theater where the slaves sat, and that's the one we believe is haunted. Many employees have heard things. I actually experienced something about 2 years ago, when I was in the upstairs projection room I looked over at a giant speaker we had and it just started rocking back and forth getting faster and faster until I ran out. There was also an incident where another employee was in the same projection room and swears she saw a figure standing at the bottom of the stairs. And then yesterday me and my manager where standing in the lobby and we heard the door open but when we looked at the door no one was there. Then we heard little kid footsteps walk across the lobby and when we looked over the counter to see they stopped. But then 3 minutes later we heard the same footsteps get louder and louder until they passed us and seemed to run up the stairs to theater two. And then 1 hour later the same footsteps where heard coming down the stairs. Also during this time my manager said when she looked on the cameras she saw me behind the counter talking to a boy. She said it lasted for about 30 seconds. But when she came out she didn't see anyone and I was all alone. Over the years strange things have been seen on the upstairs camera like foggy images and sometimes the cameras would even be blocked by something semi see-through, but when we'd go up to investigate there was nothing there and the image disappeared. I don't know how to go about investigating this. But things recently are getting stranger there and it would be nice to know why.

New York
A couple years after my uncle died,2010,I had a paranormal experience. I was laying in my bed ,with my back up, and trying to go to sleep. Then I felt something tap my arm and whispered to me. When I heard that mumblish whisper in the background I heard TV too. I knew it was my uncle because I knew he loved to watch TV. I'm still wondering who tapped my arm and whispered to me because it also sounded like my babysitters husband that pasted away and I know what he sounded like because my mom is dating his son. I was terrified and could not get up for 5 minutes. I just pray that it doesn't happen again.

Michigan
It was the 3rd of may and all was quiet I was up at 1 in the morning and I had my underneath bed/trundel out and it was very squeaky I then heard something quietly shout my name "WILL" (that is not my real name but just a example) than another voice sushes it "SUSH" that I heard soming fastly ran across my trundle than my door opened that slammed hard with no explanation the same thing happened to my mother the night after that after that nothing happened.

Nevada
I never really believed in the paranormal. I became interested in the paranormal after one very frightening experience. It was about 11:30 pm. I was tossing and turning in bed trying to get comfortable. I finally decided I liked were I was and tried to get some sleep. I was on the brink of falling asleep and suddenly a man appeared in front of me, just staring down at me while I was laying in my bed. I didn't say a word, I couldn't. I was paralyzed with fear. This man looked as if he was in his early 20's. He has medium length brown hair that nearly covered is green eyes, his face was clean shaven. He wore green track jacket, the jacket was open revealing is plain black t-shirt, he also wore blue jeans. The man than took a step closer to me, bent over to where his face and mine were nearly touching. His farcical expression was angry looking. He then asks me in a angry tone, rather loud, almost yelling. Why did you do that to her? He than disappeared immediately, right before my eyes. I wouldn't have had time to answer if I could, I was to scared I just sat up in my bed and wondered if what I saw was real or if I was going crazy. Well my girlfriend and I had a fight recently, I admit I was being a pretty big jerk and said some things I didn't mean and I'm sorry baby. But anyways I called my girlfriend and asked her if she knew a person of this description. She said he was her cousin, He was a close friend throughout their childhood but he recently passed away in a car accident. I guess this guy didn't like what I said and decided to pay me a visit. I admire that he watches out for her and puts jerks like me in their place lol.

California
Valliceto Stage Station in Anza Borrego Park . San Diego County. Here is a link with info on the Valliceto stage station. http://www.legendsofamerica.com/ca-vallecito.html
We went there on Oct 31 2003 to check it out and a little past 2 in the morning while sitting in the car in the campsite to the right of the front of the station we saw appear to the side of the station near the entrance sign a guy . He was partially see-through and behind him you could see the canvas /burlap material of a type of tent blowing in the wind. He was wearing a white billowy shirt like what they call a peasant shirt. he had on dark pants and boots that went almost to his knees. He was holding a lantern in one hand and a short digging shovel in the other. he was digging and kept looking behind him like he was afraid someone was going to come up on him. This lasted for about 5 minutes then he disappeared.

Great Britain
My name is Holly; I'm the head photographer and UFO specialist with Ayrshire based paranormal investigation team, the A.P.I (www.forbiddenfear.co.uk). While we've held numerous investigations, this is the only one so far where any of the team have actually witnessed an apparition.Having heard some rumours about Loudon Kirk in Galston, Ayrshire being haunted by the apparition of Lady Flora Hastings, my paranormal investigation team headed out on Friday night (25/03/11) at approximately 9pm.We were equipped with the usual gear - 2 cameras (Canon EOS 450D and a standard Samsung handheld), a night vision camera, various EMF meters, digital voice recorders, etc. However, the night was a complete flop as far as our equipment was concerned. I couldn't take my Canon camera due to battery problems (the investigation was also rushed together at short notice). The equipment hardly picked anything up - the night vision camera, set to video mode, recorded a few orbs, but there was one photograph, taken by Tracey, which is significant in relation to this experience.
The team (consisting of 10 members) split into two groups and traversed the cemetery separately. I went with team member Jo and we wandered around equipped with only the voice recorder and our torches. On our first few rounds of the little kirk, we both stopped at a section of the walkway close to the river. Hushed voices could clearly be heard whispering but the rest of the team were at the other side of the location. As soon as Jo shone her torch at the trees were the voices seemed to be coming from, a voice was heard saying "Shh!" and everything went deadly silent. Please note that although we were standing right next to the river, as soon as we picked up on the voices, the river seemed to go silent as well.
None of this was picked up on the voice recorder for some reason, even though I was holding it close to the edge of the walkway, directly above the river. Further round the cemetery, we stopped at another location where scuffling was heard. Obviously we put this down to animals but that was when Jo heard the voices again. Honestly, I didn't hear them this time, but I did have the horrible feeling that someone was standing directly behind me. The hairs on my neck stood up and I actually didn't want to turn around and shine my torch. I knew there was something there but I was too afraid to confront it. As soon as Jo turned back towards me, the feeling vanished. As we traversed further, Jo commented on how the rest of the team must have been close behind as someone was following us. When we both turned around, we were surprised to find no one was there. Both of us felt as though we were being watched, and it was only me who was feeling as though I was in a place that I shouldn't have been. The group met up and split into larger groups this time. This was our final journey around the cemetery before heading back home. This time, Lesley accompanied myself and Jo and we set off. Again, I had that horrible feeling that someone was directly behind me, shadowing me around the graveyard and I was glad that Lesley also commented on the same feeling. We headed back around the graveyard and as we reached the halfway point, Jo told us to look over at the headstones. One of them, quite a distance away, was being lit up, almost as though there was a flickering halogen bulb sitting at the base of the tombstone, shining upwards to illuminate the inscription. Now, we'd already been all through the cemetery, reading various headstones, etc and there was no light at any of them. The three of us watched for a few minutes as the light flickered on and off dully before fading to black and disappearing. With no explanation for what we'd just witnessed, we pressed on, passing the other group of the team. We explained to them what we had seen and they said they'd look out for it on their way round (they didn't see the light at all). The rest of the walk was uneventful until Jo stopped again, feeling that presence behind us. As Lesley turned to see if anyone was following us, I let my eyes wander to the old ruined kirk that sat in the center of the graveyard. A dull, grey shadow (it wasn't black - it stood out against the darkness) appeared seemingly from nowhere and traversed the side of the building slowly before fading into the blackness at the other side. I had to blink a few times and I was relieved to hear Jo saying "did anyone just see that?". I asked her what she'd seen and she confirmed what I had just witnessed. We knew it wasn't any of our team members as the figure was far taller than any of us, and we knew that by now, the team would have been away on the opposite side of the graveyard. As we began to walk up to the building, we noticed a faint light coming from the window on our side. We thought it was perhaps a team members' torch, or the flash from Tracey's camera, shining through from the other side. As we approached the kirk, we were surprised to find that there was no window on the other side for the light to have come through - it was just a solid stone wall. We went back to where we'd seen the figure and we all noted that the light in the window had faded, the temperature was icy cold in this one area, and also that there was a...unique smell lingering. None of us could identify the scent as we'd never smelt anything like it. We were unsure if it was perhaps old perfume or even oil - we just couldn't identify it. This was interesting as we'd researched the location prior to visiting and had heard numerous accounts of a dark figure, presumed to the Lady Flora Hastings of Loudon Castle, wandering the road from the kirk to the castle. But to me, this was no woman's figure. It was formless but we could see the movement of walking. The team headed home at approximately half twelve and told the others what we had seen. Of course, we were greeted with skepticism. That was until the next day when the photographs on Tracey's camera were reviewed. In one picture, taken looking at Lady Flora Hastings's monument, there is a dark grey shadow. It is much taller than any of us, and it appears to just be hanging at this particular tree, as if it were watching us. After various enhancement techniques, the figure remains just grey - no amount of enhancement could bring out any features or even show that it's the tree. There is no explanation for this. We will be posting the photograph on our website if you are interested in taking a look. For me, I certainly will not be heading back to the kirk anytime soon. The horrible feeling of being watched is something I can't get out of my head. You feel as though someone is right behind you, breathing down your neck, but there's no one there. I just hope that it wasn't that shadow behind me. As for the voices we heard, it's interesting to note that two days before we headed up to the location, the son of our researcher took a drive up there, just to see what the place was like. Apparently as he rolled up to the kirk, something which he could only describe as "on two legs, half the size of me" ran out in front of his car. Our researcher said that he sped off back home, and when he finally got home, he called her. He sounded very upset and distressed. I haven't found any other accounts of this small creature but if you have any information or if you feel like you've witnessed something similar at the kirk, please get in touch - you can email me directly at;
hizumi@forbiddenfear.co.uk
Thank you for taking the time to read my account.

Kansas
I have experienced the floating ghost of a spirit that I found out that was actually my dead grandpa that I never got to meet and unfortunately one night while getting up to get a drink of water I had entered the kitchen which to find the light off over the sink which was weird but when I got done getting a drink I turned around only to find a floating figure that what looked like my dead grandpa after that I was flipping out not only cause I never net him but that he was cut up in the air in my parents house that used to be where grandpa always visited.

New York
A very HEAVy feeling in the basement where an elderly married man died in an unhappy marriage, we were told by neighbors they would fight all the time, and in that home my family went in married and came out divorced! Our pet bird would almost scream when we put him down there, always a feeling someone was watching you, and it was always cold..

New Jersey
I was 13 we had just moved into a new house, the moment I walked threw the door I felt a chill go up my spine but didn't say anything. It was Thursday when we finished moving in and we went t sleep right after dinner. It was a Saturday morning and everyone but my self was a sleep, my room had no windows because I liked my room to be dark s that I could sleep. I woke up at 4:30 in the morning to use the bathroom which was by the stairs the lead into our apartment. Walking there I saw a cat sitting by my brother's room door. we didn't have any pets so it was a little more than strange that I saw a cat. Ignoring it because of my history with my curiosity I continued on my way to the bath room. after dealing with my full bladder I was washing my hands when I heard the cat meowing by the bathroom door. I didn't want to open it because I knew I/ would see something I didn't want to. I waited till the meowing stopped than walked out and went straight to my room. My mattress was maid of memory foam which meant that when some one pressed on it the mark stayed there. I saw the cat by my door so I just went in to get what ever was going to happen over with. I walked into my room which was now ice cold in mid July with no ac and On my bed there was a body figure, I put my hand over it and it felt extremely cold. I looked back and the cat was gone, I told my mother and she just made me switch rooms not to creep out my other siblings she asked me to keep it between us. Three weeks passed and I was sleeping when I heard someone calling my name. It sounded like my mother so I walked to her room which was by my old room which was now just empty...it was the cat, the cat was sitting there and when it meowed I heard my name.

Pennsylvania
Today, when I went to check my phone to see who called while I was away, the first number that came up was the phone number of my sister who passed away over two years ago, including her first name. I then went to the next number and it was my niece who was the one that actually called. When I went back to recheck the first name, my sister's phone number and name were gone.
Kansas
The land at chestnut ave,Kansas City Missouri IS HAUNTED! I grew up in this house [which has since been torn down] my personal experiences include unexplained self inflicted injuries doors rattling when no windows were open climbing onto the top of the roof for no reason a obsession with fire and destroying things! I believe something very tragic and evil happened there before my grandpa and grandma moved there in 1950 my recent experiences have been recurring dreams\nightmares of my past experiences growing up in this house. my mother told me she has encountered this entity also and says that this entity is non human! am I the only person who is living with this problem?????

New Mexico
Well one day I was sleeping over at my sister house and she was looking at photos of her that she took at her friend's house and well she found one that had a ghost of a little girl and well the next day I went to sleep over at her friend's house and went we got there my sister went somewhere and I was all alone and I feel someone blowing in my ears and then my sister came back and she started to hurt and there was scratched forming and we freak out and then a couple hours later we feel asleep and I hear something so I had my eyes close and I hear footsteps walking to me on my side and the bed and then I felt a breath then a scream of a little girl in trouble so I shot up in bed with my heart beating fast and breathing fast then I had a need to go somewhere but I could not because I was scared and I sat there looking and my sister and her boyfriend was sleeping and my sister friend and her boyfriend was sleeping so I went to wake up my sister and I was shaking bad so she told me come here and she ask what happening I told her and she woke up her friend and she went to sleep again and I didn't get any sleep after that but when I went home for like 2 months I had nightmares and bad things happening to me and this s really true I'm really it remember everything.

Alaska
I have had numerous experiences many of them violent on multiple occasions as of late the experience has been the same over and over again. I am scratched or bitten sometimes I get a cold shiver and something runs it's hands down my back, at other times they almost seem to reach into my back and grab my spine it stops me from moving and breathing then it lets me go. I have also seen black shapes out of the corner of my eyes and I own no pets they tend to stay for seconds at a time and move faster than I can follow, but I can always feel them watching me always feeling the killing intent or the intent to harm. But lately when I feel it watching me I threaten it and show it a side of me that scares most of the people that I know.

South Carolina
We have recently moved into this house that is over 100 years old. At night we have been hearing footsteps...heavy like a soldiers walking through the house. and like something is being dragged or pushed across the floor either in the attic or the rooms we are in....but we cant see anything. it is scaring us to the point we are thinking about moving. There is an old crate in the attic with newspapers form 1904 and we found an arrowhead in it. I took it out to show it to my kids but I think I am going to put it back. it may have disturbed something.

Indiana
My father was raised with 7 other siblings on a family farm in Fairbanks, Indiana. His father died in 1954 of Tuberculosis. After his mother had to be placed in a nursing home in Terre Haute in 1973, the house stood empty, though furnished, other than family gatherings until the surviving siblings(6 of them), along with my mother and myself divided up the positions prior to one of his brothers taking over the property in 1976, along with his wife. On many visits, whenever I went upstairs, I always felt like I was being watched. I never felt that way when I was downstairs where all the family was. Just upstairs. There was also a bedroom done in white with a crib in a corner by the bedroom door. The family lost a son at infancy in 1921 and another sibling drowned at a 4-H picnic in 1940. I always got the willies whenever I was in that room, but re-directed myself by looking at antique pictures of my grandmother when she was a child in the 1890's. In 1967, my parents had just returned from vacationing in Northern Michigan. Dad and I spent a weekend at the family farm. We shared his mother's bedroom that night after having spent part of the afternoon at the family cemetery. Needless to say, neither of us could sleep very well that night. Being 11, I kept dreaming of zombies coming from the graveyard. I woke up and found him sitting on the front porch swing accessible by a door to the outside in the bedroom. In 1975, Mom, D ad and I spent a hot August night there following a cousin's wedding. I was put into my Grandmother's bed. It was the very same room that Dad's father died from TB, 10 months before I was born. I could not sleep in that bed. Not just because I felt I was being watched, but, because of the history of that room, it was stifling. I gave up and ended up finishing the night on the overstuffed couch in the Living Room. In the 1980's, after both parents had passed away, I visited an aunt and uncle that took over the farm on numerous occasions. Yet, I also slept in the bedroom that this same uncle and my father shared when they were growing up. I would wake up during the night and feel that same feeling of being watched and it felt coming from their father, only the feeling came from the barnyard, on the other side of the Garage. I never experienced anything from their deceased sister or infant brother. No crying. No poltergeist activity. Nothing. The good thing was that evidently t heir father must have liked me as I never felt any fear. I just acknowledged his presence and went back to sleep.

California
A little over a year ago my boyfriend and I moved into an apartment on the Corner of Divisadero and Bush. It's a very old and charming looking place with crown moldings, chandler medallions, and an old stained glass skylight, with blue and red glass. I thought the place was so charming, that changed quickly after I started sensing things. I am a sensitive, a sort of medium, I don't see ghosts, I only get impressions of them and sometimes thoughts. I was overwhelmed by how many there were, and always changing. I am picking up on a sort of vortex here, like large rocks in a river cause a whirlpool. I believe there is a crossover point here, many of the spirits have told me as much as well. We tried blessing the house with sage and charged water. When we did that we heard a crack in the cupboard and when we opened it a pie plate had shattered into pieces, as if a hammer had come down in the center of it. At the same time our car was parked right outside the window and the alarm just started going off, that had never happened before, and we live on a busy street. Many of the spirits coming through are elderly, they are nice, and at peace, but then there are the angry ones, and they don't want us here.

Texas
I just graduated from college and have returned to live at my parents' house until I can find a job and get on my feet. One of my passions is nail art, so I decided that I'd start a YouTube vlog detailing how to do different manicures. After recording a few videos, I actually looked back at some of them and noticed some strange things. There's pretty discernible audio & visual tearing in most of them. There are also points in the videos when I thought I'd heard something somewhere else in the house (my parents' house is really creaky for being as new as it is), but it's not on video at all. What freaks me out the most, though, is this: There are clips of me included at the end of nearly every video that record events that I do not ever remember occurring. They're usually just shots of me still sitting at my desk after having recorded a manicure, finishing my nails up. It's as if the camera never turned off when it should have.
I do not edit my videos at all - I record them and then upload them straight to YouTube without tampering. You can see how this happening on its own would frighten me.
I've only uploaded 2 videos to my account because I'm pretty freaked out about what's been happening. But if anyone is interested in seeing the footage, I'd post it. I'm just not sure what to do anymore...www.youtube.com/user/keratingarden?feature=results_main

Indiana
In this house I once lived in, I would always hear," Come here...Join us...Don't be afraid..." when I would try to sleep. And from playing in a cemetery with my friend once, I smelt death and rotting flesh. Whenever my mom wasn't cooking, I would smell death, rotting flesh, and I would feel something bone-chilling on my shoulder. And when I woke up, I would feel as if something was actually almost touching my heart, as if it punched right through my chest. Once I felt a million hands sweep over me, and then was suddenly pushed against a wall. Though I was pinned, I said," YOU HAD YOUR LIFE! YOUR JUST A SPIRIT WHO NEVER SAW THE LIGHT! LET GO OF ME!" and they let go. I am a very convincing person. I didn't hear the voice but I had small scratches after that. Eh, I think it was the cats.
Pennsylvania
Walking in side of City Hall Philadelphia , Pa. A year ago. from the corner of my eye I seen some one in clothing from the 1700s or early 1800s . Now giving where this is , they have actors dressed up from this time. but, they had no actors around .I asked the guard . It was walking in a spot where it's closed off going to the 3rd floor in City Hall. It was in Purple , with black shoes with a purple feathered hat . Knowing it was closed off with signs saying off limits to the public . I seen it with my own eyes.
California
It's been happening to me for many-many years. Something is after me at night, something I can't explain. Sometimes it happens during day time as well. Before I will try to put everything in words, I got to mention that I did check myself at the doctors and everything is fine with me. I don't drink nor do drugs. I live a healthy life style. So here is my story. I often can't sleep at night, because I get attacked by "something", don't really know how to call it. It attacks me in many different ways, some nights it is just one "thing", and other nights it's many of them. It happens to me couple of times a week, when I go to sleep I wake up from a big pressure on my body. Feels like I'm half awake and half asleep. My head gets dizzy, I can't move or scream or talk. I feel its presence all around me. They pull my hair, hit me in the face, pull my legs, once it threw me off of my bed, but it happened only once and it was one of the worst nights of my life. Sometimes it hits me wit h electroshock inside my body or throws some kind of energy at me. It is just very hard to pass it through the words, but the pressure is so strong that I can't move at all, especially when this "thing" is sitting on me. It even bit my finger and I felt the pain. Some nights I wake up and I can't breathe, I feel it all over my neck. The other nights they cover my mouth and shake my body to the point that I want to throw up. So many different things are happening I can't even catch up with it. At the end it takes all my energy, like after it happens I feel so weak that I'm not even strong enough to move my blanket. It got to the point when I feel something is about to go down, so I open my eyes a few seconds before it happens. Whatever these things are, they force me to go back to sleep and when I try to fight, it knocks me down. It is very strong that there's no real way to fight it. There are other things that happen. Sometimes I wake up and I see my room and everything on its place and I can see "them" as well. Feels like I'm in my room but in a different dimension, sorry but there's no other way to explain it. I usually stay there for about 10-15 seconds and at that moment I realize what I saw is something I would not be able to see with "sober" eyes. Sometimes I get to see things with my eyes closed. When I am not sleeping just relaxed, I close my eyes and see stuff which usually don't make any sense. Once in a while I hear voices when I'm half asleep, but can't remember what exactly it said in the morning. In the begging I thought this was happening because the house was haunted, but then I realized these "things" attack me anywhere I stay ( friend's house, hotel room, etc). There's much more that I could just go on and on, but I tried to make the story as short as possible. Honestly many of you readers might think that I am crazy or making these things up, but I'm not. I have never talked about this in public, by posting this I was hoping to find people who may know what I'm talking about.

Thank you for your time.

P.S.
Two of my friends slept next to me couple of times. One of them got this unexplainable energy thrown at her. Another friend woke up from the pressure, it felt like something very heavy was sitting on her legs and it was moving like it couldn't get comfortable.

California
I grew up in an extremely haunted house, I was born and raised in this home in East Los Angeles, which used to be a Jewish nationhood. In fact my neighbor came up with the solution on how to part the red sea for the silent picture era...he got the idea when his wife served him red jell for desert. Ours was one of the first houses on the block to be built. It had been an old people's home for elderly Jewish women, a home for single women run by nuns. Also during the depression the caretaker of the property would take any change the homeless had and let them sleep under the house on the wooden palates (that looked like the wooden palates in the Jewish extermination camps. The caretaker was insane, and it was rumored that he would occasionally kill and eat some of the homeless. His brother would help to bury the bodies, to protect his brother. In fact we did find a human knee bone under the house, but being Hispanic in the 50's we knew we would accused of killing whoever this was and the law would throw away the key, as there was a lot of prejudges against Hispanics during this time period. We found a human knee bone, which was identified by my aunt who was a nurse. So we reburied it where we found it.
My sisters and I would have nightmares about an evil nun coming for us, but we never knew we were having the same nightmares until we were older and started to talk about it. There was always a woman in the attic who would watch us as we played outside. They have made that attic into a bedroom, and I fear for whomever sleeps in that room (with the dark haired lady who resides there). Things would disappear and when they finally reappeared it was always on the mantle near the fire place. Several of my family members saw the apparitions of a man in a tattered brown suit, a nun, an angelic person, and a small male child. I myself only saw the black haired woman in the attic....but I experienced many audible unnatural voices and noises. I fear for the people renting this house now. But I am so happy to live in a spirit free home now....here in Whittier (thank you God!!!)

Alabama
This is a personal follow up for the listing of a "haunted house" (the Barfoot House).
My mother lived in that house as a child and it was at her bed that Tom came and stood.
She never felt threatened by him but rather, it was as if he wanted SOMEONE to care or to KNOW who he was (other families had lived briefly in the house over the years but no one seemed to know WHO he was).
The story was often told in the family, and she always described him the same way. Height, dark piercing eyes and a bullet shaped head, who would stand until he and she made eye contact, then he would walk out of the room,(she remembered that the dishes in the china cabinet rattled slightly as he passed, and the single light bulb hanging from the kitchen ceiling, would sway slightly as he passed under it as if he caused a slight breeze)

It was only when she was in her 60s that she took the time to do some research and found that the gallows had been located across the street, down in a gully, back in the 1890s.
The old newspaper article from 1899 had a picture of Tom and he was exactly as she had described him all of those years.
She took the time to go find his grave and let him know that SHE knew who he was.
She is the one who relayed the story to Mrs. Windham who then included it in her books.
As far as I know, his visitations to the house stopped at about that time.
I do not know if he was an innocent man, or just felt that he had been forgotten, but maybe that is why he was looking for SOMEONE to take the time to find out who he was.

Maryland
One day me and two friends were sitting in our living room when we heard a big boom we ran up the stairs and as soon as we got up there everything in one of my friend's room was misplaced and thrown all across the room and that night she got dragged down the stairs ..!!!!!

South Dakota
I was in my bedroom at my old home and it was about 1 in the morning. I got up to go get a drink, and when I went back into my room, there was a pair of glowing red eyes outside my window. I turned on my light, and they disappeared. I looked at my heart box I had gotten for my 2nd birthday, and smiled. I turned around and there was a crash. I looked around for what had crashed, and my heart box was broken in pieces on the floor.

Georgia
This beautiful place can be found near the corner of Lincoln and Bay St. The first and most well known entity is said to be that of Anne Powell. There are 2 different versions to the story but I'm just going to tell you the one that I believe. It was said that a 16 year old by the name of Anne Powel fell in love with a sailor who she became pregnant with. They were to marry before the baby came but they would wait until the sailor came back from a short voyage. Many months passed and he never came. So, late one night Anne threw herself off her second floor window onto the bricks below. It's said that late at night you can still here her scream as she fell onto the bricks. Her room (room 204) is said to be the most haunted room in the whole hotel. And surprisingly, even though she committed suicide out of sadness, she has a pretty lively spirit. Now that's not the only entity that haunts this place. In fact there are 3 more! The second of these three is the mysterious African American who haunts the basement kitchen. It is thought that she was heavily into Voodoo. It is also thought that she was probably head of the kitchen when she lived and she took pride in her cooking. She HATES women. She is known to slap, flick, and rattle her bracelets at them. She does have her sad moments too. Sometimes after the rest aunt closes staff will hear loud sobbing coming from the kitchen and look and find no one in there. CREEPY! A little boy supposedly haunts the hall between and in rooms 201 and 203. He can be heard running around the hallways at night when no children are there. The last entity is of a marine. It is thought that he died in his sleep or just without knowing it and he walks around doing his duties. He is helpful to the staff. One of the restraint staff members in charge of the late night shift after everyone leaves cannot reach the light switch. It's said that this marine helps him every time to turn out the lights. He is always in a good mood and no one has had any bad feelings against him. We ALL hope you book your next stay here. You might just find that you go back with a few more friends than you came with.

Montana
I have just moved in to a new house and I'm able to see ghosts so when I finally got every thing settled in the house I got up and got a drink when I turned to my TV I saw something that looked like a person standing in the hall way so I picked up a knife not knowing it was a ghost yelling who are you and why are you in my house then it turned and ran into in to my room so I ran after it when suddenly something grabs my next and strangles me and when I looked to see what was a attacking me I saw nothing there was nothing at all but I was over 10 feet off the ground and till this day I believe it was a ghost and I am still trying to see if it was real or a face.

New Hampshire
Today, when I went to check my phone to see who called while I was away, the first number that came up was the phone number of my sister who passed away over two years ago, including her first name. I then went to the next number and it was my niece who was the one that actually called. When I went back to recheck the first name, my sister's phone number and name were gone.
Arkansas
I have always had ghost around but more so when I dream! The house that I currently live in is haunted by an old woman named Mary that died from Alzheimer's. One night while I was dreaming of course I went from the park to the bed Mary dyed in. She just wanted to tell me she was there and that I was the only one in the house who could come in contact with her. She said wake wake WAKE I rose up just thinking it was one of the fictile dreams I rarely have so I went in our kitchen to get some water who but Mary was waiting in the bedroom for me that was the first apparition I ever saw I was only eight then and iv seen ghost not only Mary for the past 7 years now not only in my dreams any more they follow me to school and I freak out my friends. if I spend the night with them I see loved ones that past but I have gotten a few to go into the light I cry every time I get them in the light when I myself know nothing beyond just glimpses that mark my spirit guide has given me! they aren't that detailed either the world has to have faith I see what others don't so I know I believe in the other side. to me we are spirits just in physical body's take the soul then were empty!

Georgia
My mother was telling me about a paranormal experience that happened to her while she was in nursing school. She would be alone in her apartment on friday nights and each time at 3 am she would wake up and a silhouette would be standing over her and then hold her down for about 20 seconds to even a minute. She attended Philadelphia's Lankenau Hospital's School of Nursing from 1972-1975 and was rooming with about 9 other girls. She was living in a complex that had been upscale apartments in the 1930's she believes. She also thinks it may have been called the Merion Garden Apartments? but it may not be. I was searching on google to see if anyone had similiar experiences there or if the place was considered haunted (she had said that while she was there, there had been rumors, or little ghost stories about murders and such) but I did not find anything. So I decided to ask you if you know anything about this place or any other stories or if you could look into it? We are both very curious about it.

Michigan
When I was about 12 years old my family bought our own house closer to my fathers work place. Everything seemed fine for a while but then things started to happen to me. There were many nights that I would be laying in bed and I could feel the bed sink down like something was crawling toward me and then held me down. I couldn't move, or scream or anything. Sometimes it would just hold me down for a few minutes and then leave me alone and other nights it would happen several times. My parents kept telling me it was a dream and that I watched too many scary movies. Then things got more intense, rather than just being held down unable to make a sound, it would pull me off the bed and tried to pull me underneath it. It would do it slowly and it felt like I was hovering to the floor. My bed was really low to the floor so I couldn't fit underneath it so once I got to about my shoulder it would stop. I started to miss a lot of school and became really depressed because it kept happening and I wasn't getting any sleep and nobody believed me. I always felt like I was being watched and always woke up with scratches and bruises. This continued for years and things got worse and worse. I ended up moving out when I was 16 and moved in with my boyfriend and his parents. Things weren't good with my parents they still didn't believe me and thought I was just being rebellious. 6 months later things started to happen to my dad now that I was gone. Some of the things that happened to me and some worse. He apologized to me for not believing me but to this day things are still happening there. Since I left that house I have always felt some sort of presence around me at times but not as intense as it was there.

New York
My partner and I have been living in our house for about 14 yrs now. We have had a lot of unexplained things happen here and my friends have experienced them also. When we first moved in we were standing at the top of the stairs in the attic and a cold spot came right between us. I was shaving in our bathroom and I saw a shoulder from the corner of my eye go into our bedroom. My friend Liz and I were sitting downstairs on the couch and we heard someone laughing upstairs on the third floor. Liz has slept in our attic and she felt someone or something sit down on the corner of the bed also and nobody is there. Other time my friend Alan and I were sitting at our dining room table and we heard crying coming from the third floor which is the attic. He said to me "Did you leave the TV on?" I told him no I didn't. But the 2 scariest things that happened to me and my friends were (1) I was sitting upstairs in our movie room on the 2nd floor watching TV and the attic stairs are right next to the room I was sitting there with my cat next to me when I heard footsteps walking from the back of the attic toward the stairs. All of sudden the footsteps started coming down the stairs and my cat jump off of the couch and looked straight up the attic steps and the footsteps started backing up the steps and go back to the corner of the attic again. I was so afraid to go up to the attic after that cause that is were my computer is. (2) My friend Tom was sitting on our recliner with my partner Carmine on the couch when all of sudden Tom said Carmine what was that? Carmine said what? I just saw a shadow walked from the corner of the window into the bathroom. Carmine said Oh you saw it too? Carmine told me that he had seen this shadow on numerous occasions. Plus we have been smelling like perfume and roses. So we think we have a spirit in our house. It's a nice one, no harm or things have been thrown. But we would like to find out what it is. T hank-you for taking the time to read this.
Georgia
ok well I was 13-14 when this happened I was laying in bed and all of sudden it felt like something was like holding me down I couldn't move, I couldn't talk, I was stuck it was like no matter how hard I tried it just got worse. so then I seen a black dark figure in the corner of my room. and all I could see was it's eyes I was scared and all of sudden I got weak it was like I was fighting you know. it seemed as if I was stuck between this world and another world I know that seem a little crazy but idk...I was just stuck there, then I heard whispering and voices but there wasn't anything I could do about it! SO then my parents cut their light on and all of sudden it was gone and I didn't feel myself get up, all I remember I was shaking and crying and until this day I have no clue what happened except that my dad told me the same thing used to happen to him! is that weird or what but I still get stuck sometimes but not as bad as what happened that night!....btw I am 15 now..

Pennsylvania
Today, when I went to check my phone to see who called while I was away, the first number that came up was the phone number of my sister who passed away over two years ago, including her first name. I then went to the next number and it was my niece who was the one that actually called. When I went back to recheck the first name, my sister's phone number and name were gone.

Indiana
We lived above a furniture store when I was 5 or 6 so I'm guessing around 1995 or 96 on Washington Street in Kokomo, Indiana. There were two apartments in the back of the store. We lived in the one up top it had three bedrooms. Well one night it was storming really bad so I had woke up to go to the bathroom so I sat up in my bed and the next thing I know my foot was grab by something under the bed. My mom had fixed my TV the night before and had left the butter knife in there so I had grab that in hopes that it would cut me free .The only thing that happened is it ended up crawling in bed with me and when it laughed it sound like my grandma the voice and everything but my grandma was not dead yet so I tried to lay there and think that it wasn't real but it was very real and I ended up crawling in bed with my bubby...

California
Jan 16 2012 we (my fiancé, me. Two friends) drove on this road about noon it was sunny and warm out. We felt a weird presence around us. About 1/8 mile in saw nothing but trees weeds bushes rock and dirt. We decided to turn back scared in a sense. Taking pictures of the scenery. As we drove looking at the photos from our cell phone we zoomed in one pic and were shocked. The photo showed many different faces clear some human and some demonic. Children woman man and beastlike animal. All six pics had images all different. I think we need to show this to some one in this field of work. Have details and pics.
Ohio
I am writing to let you in on several places in Ohio that are known, or believed to be Haunted. One is the Peters Cartridge Company in Kings Mills, Ohio it is north of Cincinnati, by Kings Island Amusement Park. Several people have reportedly died during an explosion, and trains were ambushed during the Civil War. I personally have experienced disembodied voices, a child's laughter, and by the hydro power mill across the rail road tracks I have heard moaning and strange dripping ( like sonar) I expected to hear water coming from an old water power station, but when the pitch changed I was startled, then I heard the moaning. As well as this there is an old town, now mainly ruins, foundations, and an occasional chimney still standing. It just seemed to vanish. There are still bomb shelters in the woods, and various telephone and, light poles standing. From the looks they seem to be early 20th Century at the oldest from the late 30s or 40s. Other personal experiences from this location were sticks and small rocks flying over me and, on occasion my companions right shoulders. This location is documented in several Ohio specific paranormal books. Second location is Maude Hughs Station, and Maud Hughs Road in Priceton. This is South of Dayton Ohio. Supposedly there was a train wreck in the late 1800s or early 1900s. Stories vary depending upon who you talk to. The one thing I know is that there was a documented train wreck during that time period. I have heard a disembodied train, and have seen ( with my buddy) a phantom train in this area. There are foul odors, and fog when no fog should be present. Once while taking pictures of the location during the day I had a camera malfunction and all the film ruined. The friends with me experienced identical problems. Camera knocked out of my hands and the film loading area opened to expose film. In this same area used to be an abandoned house with a huge willow to this side, it sat up on a hill along Princeton pike. Feelings of being watched, and not to mention the house was full Dishes in the sink cars in the barn, and glasses still sitting on the table. Not sure what was going on there, but it was strange. I kind of chalked up the eerie feeling to neglected electric, but the electric had been shut off for many years. Upon taking pics of this place I saw several anomalies. Smoke, and shadows that shouldn't have been in the pics. Turns out this location was on the site of a Civil War Colonel's property. Civil War house long gone. The new house was from the seventies, or eighties. Now it is a McMansion style subdivision. If I can find the pics I can send them. In this area there are several miles within the Cin Day Road, Princeton Pike, and Maud Hughs roadways. That are haunted. As mentioned above.
Texas
When I was about 11 years old, my best friend/sister, brother, and I made a home made Ouija board. Nothing happened in the short time we were playing around with it, probably because my brother ate a little to much beans and stank us all out! After that night it became very hard to sleep in my room alone. I had a bunk bed in my room so when my friends came over. When we first moved in I always slept on the bottom bunk. Then one night I woke up for a reason unknown. I was still dazed but I saw a short bulky shadow walk to my bed and I could feel it literally sit on the edge of my bed. I screamed and my mother ran in thinking something bad had happened. I had very bad panic attacks when I was little so it was hard to tell my mother what was the matter. All I could squeeze out was there was a midget. The next day my mother found our Ouija board and burned it, we were grounded for months. I got all spiritual, prayed to god to keep me safe every night. That is very unlike me. I remember I would set up all my Beanie Babies around me on the top bunk facing their faces outward. I would kiss each one of them and whisper keep me safe to each of them. Yes I know very weird but true. Then one night I stayed up watching shriek on VHS. Our VHS player didn't rewind so we had a VHS rewinder also but it was on the other side of the room. I paused the movie to go to the restroom. When I came back the TV was off and the Shriek Tape was rewinding on the other side of the room. All who was home was my big brother and he was asleep. After we moved out of that house I turned back to normal and I haven't seen or had anything Ghostly happen to me.

California
That house is crazy!!!!! There is multiple spirits and demons there!!! I moved there February 2004 and moved out August 2008. It just started out with a strong negative feeling. I could easily shake that off though. Then I started to hear someone walking up and down the stairs late at night. I am POSITIVE it wasn't the house. The house wasn't even 10 years old at the time my family bought it. The first time I heard the footsteps I thought it was my dad. I was thinking who else could've it have been? When I looked at the stairs though, I saw nothing. I could even tell where a person was supposed to be on the stairs because the sound continued why I was looking at the stairs. This experience scared my a lot, but I ignored it a eventually it went away. Things got scarier though. After the footsteps stopped other members of my family started to experience things as well. My dad claimed that when he was home alone one time, he heard the door in the laundry room, leading to garage open and slam numerous times. It was a heavy door so the slam could be heard throughout the house. He said he thought someone was breaking in so he got his knife and went downstairs. When he got their he saw nobody. I know this isn't sounding like a Demonic haunting yet, but I'm just getting started. After about a year my younger brother and sister started becoming very scary all of a sudden. They wouldn't sleep in their rooms or anything. My sister (who was 3 at the time) couldn't even walk into the bathroom by herself anymore. I admit getting a little frightened too. Especially of going downstairs near the guestroom (I'll explain why later). Soon new things started to happen. My sister started to claim to see a dark shadow move around the house. Now she was almost 4, so obviously I just thought she was having a bad dream or something. Then my dad claimed to have seen a dark entity as well. It was described to me that this entity was black, and its eyes were pure black. Also another shadow was seen but this one's eyes were red. I would like to talk about this red-eyed entity for a minute, and what it did that gave me the chills. One day while I was in my bedroom the shadow came in. I had a crucifix on my door. First, it looked at me and my sister in the bedroom. then it saw the cross, and became completely enraged. When it saw that crucifix, it tilted it's head, stared at it for a second, then it rose it's hand up and slapped my cross on the floor. It looked at us again then started moving toward us at a fast pace very angrily. You could see the expression in its face, but when it was about to come to us, it just stopped and disappeared. Other things were also sighted. Like before there was this entity that kept on walking in a figure 8 inside the office downstairs. Why was it walking in a figure 8? I don't know but it sure was creepy. It seems that most of the sightings were near the guest room, office, and downstairs bathroom. These rooms are all right next to each other so that's why I was so very afraid of going near these rooms. Spirits walked out of the guestroom into the bathroom or the office all the time. Things do get worse though. One day I woke up with SCRATCHES on me. They would appear on my legs. Scratches would also appear all over my mom's back, and on my sister's hands. The person that got the worst scratch was my dad. One day he was laying in the bedroom then he said he felt this burning. He lifted up his shirt and there was a HUGE scratch. It was a claw mark. 3 claws in all. It started to bleed a few seconds after. So everybody's getting scratched, seeing things, and hearing things so far. One time I came downstairs and my brother was playing his Xbox, and when he say me he says, "I just saw you walk into the bathroom!!! How did you come from upstairs!!!" I was like, "No I didn't I was upstairs." He responds, "Yes you did. You walked out of the guestroom, walked into the bathroom, turned on the light, and shut the door." I looked over and the door was shut and the light was on. My brother and I walked over to the door. I opened it and no one was in there. A spirit that was in the house liked to push me and my family's buttons. I don't' believe it was the demonic spirit, but another. Items that were precious or very needy would be taken and put back in the most oddest of places. I have lost my bible that was in my room, and then it would reappear all the way downstairs in the kitchen. My dad couldn't find his car keys one day. He couldn't find them anywhere. He had a spare, but his original set was lost for about 2 weeks. Then one day my dad and I went to check in his car again, and guess where we found them...Right in the ignition. We knew they weren't in the ignition all this time. We knew it. We would've seen them if they were right in our faces for 2 weeks. My dad asked everyone in the house did they take his keys, and everybody said no. Videos, gameboys, Work ID's, clothes, brushes, combs, and other things were taken and put back in odd places. But everybody claimed to have not moved one things. Man, that spirit loved messing with us. Now with the demon, I believed it slowly was getting stronger. Just the activities taking place in my home would've strengthen it. My parents fought a lot. The more they fought the more often the dark entity was seen in my parents bedroom. The more I cried about it, the more larger the scratched would get. One day it was really hot under the covers of my bed, so I kept my leg and a little bit of my body hanging out of the covers. When I woke up I had a huge cut across my ankle. It was bleeding and very painful. More painful than the other ones. I also think I got that cut because one day I came downstairs with my crucifix and yelled for any entities to leave. A few weeks later I came home and my crucifix was broken in half... When my family and I were getting ready to move out, a strange new thing happened. Sulfur. The most strongest smell of sulfur I've ever smelt. It would always be in the kitchen. It was bad I couldn't explain why it always smelled like sulfur the last few weeks I was at that house. I tried opening windows and spraying air freshener but the sulfur smell would always come at about 9:00 and night every day for about a month. I looked online and found out that is one of the signs of a demonic haunting. Scary. I lived in that house for 4 years with that thing. I've even been at the house by myself with that things. Who knows what it would've been capable of if I would've stayed longer. If it can scratch me and make me bleed, then what else could've it had done to me and my family in our sleep. Before I had this dream that I was downstairs and then the drawer opened and one of the 12-inch butcher knives came out and started floating toward me I started moaning in my dream and then I woke up still moaning. It's like my dreams were invaded. Thank God I moved out before that dream became reality. That butcher knife that was in my dream was real. There really were butcher knives in the kitchen drawer. I always kept the knives hidden after that dream. There was Much more that I experienced in that home. It would take forever to type it all out. I feel truly sorry for the people that live in that house now. I saw them before when I went by there a few months ago.

Georgia
This elegant place in Reynolds square in beautiful downtown. It is said to be haunted by many entities. The first and probably the most well know is Mr. James Habersham, the builder and resident from 1771 until he died in 1799. He is only seen in October-March, usually on a Sunday. He said to stick around to make sure that all Savannas (people who live in Savannah) show their southern hospitality. There is also either 1 or 2 women entities that haunt the 2nd floor. When the restraunt is closed and only staff are left they can be heard sobbing upstairs. They wait until after hours though, they don't want to disturb the guests! The third group of entities is the slave children. They can be heard giggling at night and day. Every member of the staff have been hit numerous times by wine glasses falling off the shelves on their own. Many have heard these giggles after they fall. So, how did these children die. Well, because they were slave children when a disease came around with limited treatment, the slaves hardly ever got treated and usually died. And last the mysterious man hung in the men's bathroom. It's said that late one night a man got drunk in the downstairs bar. Then what stupid thing did he do? Well he hung himself in the men's bathroom. It's said that on night when many cars pass by The Pink House, you can see every ghost or entity's shadow through the window-PARTYING! So is this 4-5 star restraunt REALLY haunted? You make that decision your self and we'll meet you at Reynolds square at midnight. We being the ghosts that is.

Kentucky
Stayed with my girlfriend at mount St Joseph in Kentucky back in Dec of 2010. The nuns put us up in the guest house which was formerly the rectory built in 1874, the original owner died in house soon after, the night I stayed in room #4.
All night long the door handle kept moving like someone wanted in. Jump forward to April 10 2010, I`m back here with girlfriend and we stayed upstairs without incident but this morning girl who stayed in room #4 said it was haunted! Sheets kept coming off the bed.

California
My family moved to a location in Lancaster, Ca 93535 on Dec. 31, 1978. The neighborhood was not very old but within days some of the family experienced strange and frightening things. A boy from my Jr. High and his brother and mom, who was recently divorced, were selling and we go it for about $64,000.00. A four bedroom, 2 bath ranch styled house on a cul-de-sac. I was in my early teens and had and older brother and a much younger sister. It was the first day or two after settling in and my mom had me go out to the garage on a quick errand. When I had finished and came back through the door between the garage and the kitchen and then through the adjoining dining area we all heard a very loud crash come from the garage. I assumed it was boxes falling from the rafters and quickly returned to the garage to see the mess. There wasn't one. I had felt many things like someone getting on my bed with me already on it, presumably on top of me, as there was nowhere else to go on a twin mattress. I thought "doesn't this person, thing, know someone is already laying here?" Once I saw an old pair of cat-eye glasses I kept with a white silk clip-on tie attached to the nose bridge in mid air as though someone was wearing the glasses on their face and left the tie clipped to it. This was outside my bedroom door and forward of the hall way. That would have been funny if you could see the person wearing it! I also had a hat that I kept on a hook that was in the ceiling over my bed. I didn't just hang in on the hook but wrapped the band of the hat around the hook to keep it there. Many times in the night it would fall on top of me. Whenever I put my hamster in the bath tub to clean his cage he behaved as though he was interacting with someone I could never see. Several times when I was alone in the garage doing laundry I felt a great deal of pain in my pelvic area like someone was spreading my hip bones apart. It would stop whenever I cried out. I once heard a very heavy tread as though someone wearing thick boots was coming through the hall from the area of the back bedrooms toward the front of the house while I was setting the table for dinner. The person I assumed was my brother had cleared the hall and was standing in an open area between the living room, hall way and family/den/dining area where I was. I glanced in that direction and saw a male with blond hair (as my brother has) but no feet and no face. I must have been lost in thought about something else at the time because I didn't think anything of. I looked again and no one was there. I assume he went into the living room. A minute later my brother did come through the hallway from the same direction and then I noticed things were 'different'. "That wasn't my brother..." mentally I immediately compared my brother that I was now looking at with the thing I had just seen. Frequently I experienced noises and sensations during the night and kept thinking/saying "Go away. Leave me alone!" My brother suffer terribly from what he called nightmares and kept a Bible close to him and various kinds of homemade weapons. We all considered him extremely paranoid. I do not recall anything he had said of specific experiences but he was frightened often. Once we had an ironing board set up in the dining area and my sister was told to put the iron away. This seems to have been a little late in the day when when the light was waning. She went under the ironing board, as it was next to the wall, to unplug the iron from the electrical plug. She said she looked up to see someone with dark curly hair looking down at her. She saw the face between the ironing board and the wall. My mom experienced cold spots but never thought anything bad about it saying it was our resident ghost. It seems there were at least two male beings in the house with us as far as we saw. If anyone saw. My father never seemed to experience, or at least never mentioned, anything odd going on around him. He was a hobby pilot and worked in aerospace. At nights and weekends he and some friends had a flight school at Fox Field. Once he had drove home with a very old airplane attached to the back of his truck to house in the garage. He and another friend would rebuild it. Several pictures were taken of the work in process and there were always flashes of horizontal lightning across all the pics. Using the same camera in the house, the back yard or any other place always gave clear pictures.

Texas
In January of 2008 I began working at the University of North Texas as a custodian from midnight to nine in the morning. The building I was assigned to was the Murchison Performing Arts Center. After 2 months my experiences had reached the point where I had to ask to be transferred to another building. The performing center is a fairly new building but I do remember that when I was younger there were houses in that spot. I don't know what was in the building but it was not anything friendly. On one evening I walked across the street to IHOP for my lunch break which was from 4 to 5 a.m. I locked the building when I left and was the only one with the keys. When I came back my cart was all the way on the other side of the lobby. During my breaks I would go to a balcony outside the theater in the lobby and you could constantly hear footsteps moving across the main lobby floor. Also you would hear one of the outside entrances opening and closing often. I always checked when this happened and there was never anyone there. One night while mopping a hallway I happened to glance up and someone walked by and went down the stairs to the basement. I called the campus police because no one was supposed to be in the building but me. Especially at 3 a.m. They came, searched and found no one. The elevator would move from one floor to the other and the toilets in the men and women's bathroom flushed on their own. What finally got to be the breaking point was the constant sense of being.... well stalked is the only word I can think of. It was terrifying. It was as though someone was staring you down 2 inches from your face with pure hate and anger. Like they wanted you dead. I would go outside to have a cigarette and the feeling would go away. But as soon as I came back inside it was back. Like whatever this was just waiting for me at the door. I actually had headphones on listening to music one night and heard my name called over the music. When I turned to look there was no one there. There were nights where I just finished what I had to do and walked back across campus because I had to get out of the building. The watched feeling was so pervasive and oppressive there were times when I was actually brought to tears from being so afraid. Once I was transferred I was fine. I worked by myself where I was moved to and never had any problems at all. I've never been back to the other building. I actually live close to it but its not often that I even bring myself to look at it.

MINNESOTA
I have an experience that I would like to share, shortly after I graduated high school my friend and I moved in together into a house that used to be an old school house we're guessing from around the 30's 40's era. At first we kept hearing noises in the attic, which we thought were just the normal house noises that happen and we had to get used to them but we never really good. and as time went on other things would start happening like her bedroom door would be shut and her door knob would start shaking like someone was trying to open it. in my room (the door to get to the attic was in there) I would hear what sounded like footsteps running up and down the stairs, I would just brush it all off thinking that it's all in my head and I was just freaking myself out. that's when things started getting worse for us. the walking sounds in the attic would get louder and more constant and doors, cuppards rattled more. our lights would dim in and out(even after we had all the electric checked out). and then in the summer of 06 I got pregnant. in 07 I had my daughter and when we started using her baby monitor I would hear an older man always talking on it and a little girl, what freaked me out was the little girl, I would always hear her yelling "get me out of here, get me out of here u cant do it anymore" and then the old man would get mad and she would go silent. I kept telling my bf and he never believed me, also my daughter when she was older would wrestle in her sleep then I would hear the girl over the monitor and my daughter would quiet down. after a while we went out and got a new monitor and decided that there was something wrong with the one we had. same thing again, and he still didn't believe me. as time went on I just lived with it and thought nothing bad would ever really happen. friends would always say that the monitors can pick up other signals but we lived pretty far out of town. so there really wasn't any way for the thing to pick up other signals. and lastly, we moved about a few weeks ago to be in town, and one of the nights my bf was out there to get a few more things he went into our daughters old room and started hearing things on the monitor...that wasn't even plugged in, he and his friend had heard a little girl singing and moving around like skipping, needles to say he now believes me that things were going on. and just a few nights ago I went out after I got done with work and my friend that used to live there with us went with me because it was pretty late and I didn't want to go alone. we got there and when we got into the house we got this really eerie feeling that it just wasn't quite empty, I turned the lights on in the living room and kitchen, I noticed that the window in the living room was open and it shouldn't have been the house was locked and I was there that morning, so I knew everything was shut up), I shut the window and then we heard heavy sounding footsteps right above us in the attic, I went to my old bedroom to get the things I was looking for and turned the light on, I looked down and there was a monitor plugged in that wasn't there in the am. or even in the house) and on just as I was about to pick it up I heard the steps again right above me. at that point I thought it would be best just to leave the house. I didn't even grab the things I was looking for we turned the lights off and left the house faster than I have ever gone before. I went out the next day because it was light out and seemed it would be fine) and when I pulled up the window was open again. I didn't even go back inside the house I just turned around and left. I have no idea how we lived there as long as we did, I'm guessing that whoever was there in that house was happy we moved.

North Carolina
I live in Marion North Carolina where my wife and I run the Marion Paranormal Research Team. Doing research on the weekends at various locations, the only thing that I can think of is that we brought a spirit home with us at one point, because we had done research on the house to find that no one had ever died in the house, that we could find. We had been living there for about 3 months when the activity started. We would be setting in the living room and we would hear and see the Kitchen cabinets slam shut. We have seen a many of black apparitions walking thru the house at different times. The living room light would come on by its self and I would go over and cut it off just so it could tune back on before I could get out of the living room to go back to bed. Now I not just talking about the light but the switch would be turned on. One day I had went to town with our 8 year old daughter and my wife stayed there and answered a question that she clearly heard me ask, to her realizing that I wasn't even there. One night I got up to turn our daughters TV off that had just came on to find the remote in the living room. Now this TV was hanging about 2 foot above her head as a child up on the wall. I woke up one night about 11:30 and went to the bathroom when I rounded the corner and walked into a black shadow coming from the bathroom before I could stop. Now the reason I say walked into is because I think that the identity stayed in me for about 30 minutes. I had chills so bad that my wife put the cover on the bed after me returning to bed between us. She said I was so cold feeling that she couldn't touch me. Now this happen on two separate occasions, but only once did the identity stay in me. About two months before we moved into our own home I rolled over in bed to see a little girl about 5 or 6 dressed in, ( now I'm a guy so I don't know much about old girl cloths) cloths that looked like the ones they wear on the little house on the prairie. Now there is nothing that frightens me when it comes to paranormal, BUTT, sudden and unexpected things will make you come out of the bed. This was just two days before my brother – in – law came by my house, (which is a Baptist preacher) to drop off a book. He was going to leave it at the door when he saw what he thought was Ashley (our daughter) in the house by herself. When he call and told me that he had left the book and to tell me that I should not leave her home by herself to find out she was with us. To do Paranormal Research and to get to live in a haunted house is a dream come true. -----------Dean Burnette

Kentucky
I was one of 7 children. I was about 13. I was upstairs reading, my favorite pastime, the rest were downstairs watching tv. Someone knocked on my door three times. I ignored it. It happened again, I asked who it was, I got no answer. It knocked again and I got mad. I stormed downstairs and accused everyone of doing it, they said nobody had gone upstairs. At the time I didn't believe them. This happened several times over several days. It finally happened at night, I went and looked in all the rooms, everyone was asleep. I started thinking it was a poltergeist, I had read several paranormal books about it and figured it wasn't hurting me so I would ignore it. One night I became scared. I don't know why but a feeling came over me. I asked one of my sisters to sleep with me. Sometime in the middle of the night my bed started shaking. My sister and I grabbed the rails and started screaming. Our parents came running up the stairs. When they opened the door, it stopped. After that, the knocking stopped. The maddening thing was my sister and my mother deny anything happened. They said I dreamed it up. My father, on the other hand, told me not to listen to them, he remembered it clearly.

Ohio
I grew up in a small south western Ohio town, my dad was an alcoholic and as a result we lived in the "cheapest" of houses. Our land lord understood that my mom was the bread winner and trying to raise 7 children wasn't easy. So in 1959 we were offered what seemed to be the idea house. It was huge, there were 4 bedrooms a big kitchen and a formal dinning room, everything we ever needed plus. Things started to happen almost as soon as we moved in. We could hear laughter at the most inopportune moments, a deep chuckle that would come from out of nowhere. At night you would hear footsteps climbing the stairs only to turn and go back down over and over every night. Lights would come on at will The doors would swing open even after being dead bolted, things would be "misplaced" , toys long out of style would be left in the floor for us to find , Our watch dog was terrified and could be found cringing under the table ,having to be dragged outside. Knocks would sound at the door and no one would be there. The phone would ring and we would be for warned of danger or something that might be unpleasant. (My mother was told about our dad's secret girlfriend, phone number and all) The night my great grandmother died, we got a call saying that she loved us and was tired, too tired to go on. Whatever or whoever was in that house protected us children to the point of our dad no being able to lay a hand on us in fear that he would be harmed. Drunks can be nasty and on a few occasions he had come in drunk and tried to whip some of us only to have horrible accidents, like tripping on his own feet and breaking his arm, and once while chasing after us he fell and broke his leg both times he told others that he was pushed. We moved because he was afraid, not us children. We called our ghost Charley and We felt safe there , protected. The house is still there, I pass it sometimes and I often wonder if the presence is still there.
Unknown
I've had a few experiences with ghosts. My house I live in currently was made in the 1800's. My family IN the house only consists of myself, my mother, and my step-father. I seem to be the only one who has these experiences, which is frustrating as no one can back me up. There's a little boy who lives in my room. He's about five or six. He doesn't really do much but he is a prankster. I used to have a small directors chair that he liked to take the backing cover and twist it so that it would look like a bow tie. I've also seen him stand by the door. He's a skinny boy but his face is chubby. He's like a spooky blue-white color and he's wearing a little suit. I've come to call him Jimmy. Don't know why but something tells me he's a Jimmy. I've had a few others where the ghosts were violent and we were forced to move out for our safety, simply because it was a poltergeist that liked to throw ours stuff around or mess with our lights. My great-grandfather is also following us. He loves to move our stuff into abstract places(i.e. Keys in the fridge, pony tail holders in the vegetable crisper, etc. etc.).

Nevada
Date: 19 October, 2009; Location, Ward Cemetery approximately 6 miles South of Ely, NV. It was about 10:00 at night and we went up there because the locals say that it is extremely haunted. It was a very cold and still night and there was no moon in the sky. I stopped and we sat in the truck for a few minutes to get our nerve up enough to get out and go into the cemetery. I was the first one to exit the truck and as soon as I got out, I had a creepy feeling. I pointed the camera into the cemetery and took a photo. I then took another one looking out past the front of the truck. I then went into the cemetery through the small maze type entrance and began taking more photos of the graves. All of a sudden my wife let out a blood curdling scream as something hit her leg hard. She was standing by herself about 15 feet away from the front of the truck when that happened. My daughter and her husband were both still in the truck when that happened. it is believed that a number of young children are buried there or nearby; having fallen victim to the harsh lifestyle of the 1800s mining communities. My belief is that the ghost of one of them kicked her. This experience has motivated me to search out ghosts in haunted places. While the cemetery is open to the public, the nearby site of the town of Ward, NV and the mine are private property owned by the company that purchased the mine. Also nearby are the Ward Charcoal Ovens. Whether or not my story is credible to people who read it, this cemetery is definitely worth looking into. Walter Spargo, Reno, NV.
California
Back in 2002 I took over a job as security guard in the town of Shafter, 8 miles northwest of Bakersfield, CA. The site was the future home of the TARGET DISTRIBUTION CENTER and the overall area was some 1.7 million square feet . There had been some burglaries at the site the previous month before of construction equipment and I was hired to do perimeter checks of the property from 11:00pm to 0700am. It was 10:30pm and on my first night as I was driving down 7th Standard Highway, I felt a slight unease but dismissed it as pre workplace jitters. As I approached the intersection leading to the building I noticed 4 wooden crosses off to the side of the road. The crosses were about 5 ft in height and had flowers placed at their bases. I didn't really give it a thought and pulled up to the construction gate. I was greeted by a young female guard who directed me where to park my truck. After a few pleasantries and instructions she handed me a construction helmet and flashlight and we proceeded to the side entrance. The building was about 4 stories high with no floors in between, just a half completed steel roof up above. Since we were out in the middle of nowhere the warehouse was quite dark and the only lighting available was coming from the streetlights out front and the farmlands in the distance. We had only gotten halfway through the warehouse when there was a crash coming from the steel roof directly above us.. It sounded like someone had dropped a cannon ball. Somewhat startled, I asked the young lady "what was that?". She seemed equally puzzled and we proceeded on our tour. At midnight she seemed eager to clock out and suddenly I was there all alone. I wasn't really scared as I had grown up in with a few paranormal incidents in my own life. Just like the feeling I had earlier that night, I dismissed them both. The very next night I got to work, parked my truck and proceeded to do my perimeter checks with that same lady. Again as we walked though the darkened warehouse there was a sudden crash directly up above, this time followed by four more crashes in succession. She turned to me with a look of fright and yelled; "God damn it, this doesn't happen till you get here". I quickly dismissed it again and made a beeline straight for the outside scaffold ladder leading to the roof. My fear of heights overcame my curiosity and I made it up that ladder in about 2 minutes. The ladder was the only one around for about 300 yards and if someone were up there pulling a prank, they were nowhere to be found. I won't go into detail but every night thereafter was quite an experience for me. Being an avid fan of Hans Holzer books, I was quite excited and somewhat apprehensive as the incidents were steadily increasing. One night as I was making my way through the warehouse I could hear the distant sound of chains on the large metal doors being pulled open, the problem was the doors hadn't been installed yet.. Things got so crazy that I finally confronted the foreman one morning and told him what I had been experiencing, he took one look at me and giggled. The giggling stopped one night when he and his crew were hanging drywall, out of nowhere someone laid a hand on one of the crew's shoulder. The guy never came back to work. Thereafter the foreman and I daily exchanged stories about our experiences. All these incidents got me to wondering if there was a connection between this and those wooden crosses down the road. That morning as I clocked out, I parked my truck across from where the crosses were and found photos and flowers adorning each one The photos were of young teenage girls with loving messages attached. I felt bad for these kids and knelt to pray for them. That night I searched the internet for any info about the girls who appeared to have lost their lives there., after about an hour of searching the local news sites I discovered the story. In November of 2001, a car full of teenagers were making their way to a nearby party. The driver of the car and his buddy (both 18) were drunk. They had stopped earlier that night at a convince store and convinced 4 young girls (mostly 14 yrs of age) to accompany them. It was foggy that night and as they made their way down 7th Standard, the driver accelerated the vehicle. The girls pleaded with him to slow down but to no avail. The car struck a power pole and burst into flames. As the girls were screaming for help, the drunken driver ran from the scene. Needless to say the idiot was the lone survivor. I do not know if there was a connection but 7th Standard had been the scene of some horrific crashes over the years. The final incident that happened at the warehouse occurred on a Saturday afternoon when a young male security guard was making his rounds near the rear of the building. It was 2;00pm and the guard was passing the parking area where the truck drivers dropped off their trailer rigs full of construction supplies. The guard noticed that at the end of one of the trailers a little girl was peering at him from around the corner. He smiled at her and called dispatch. The event was recorded by Kern Security and noted in their records. The officer asked dispatch if there were supposed to be kids playing around the construction site. When asked why, the officer suddenly noticed something peculiar, he could see right through the little girl. In fact that same little girl was reported to me as been seen in the doorway to the warehouse a week before. The guard who didn't believe in ghosts at the time freaked out and wouldn't discuss it with anyone, he was really shaken by the incident. Like I said earlier, there isn't enough room here to tell you all what I and others experienced, things like people sighing inside the warehouse which was heard by another guard and I one night. At another sight further up Interstate 5 in the town of Delano, a guard and myself actually witnessed an apparition of a young Hispanic woman drift towards us as we stepped from the patrol vehicle. For me it was quite an experience as I had never actually witnessed a flesh and blood entity before, I had only experience shadows and felt and seen objects moving. I would like to go on with my experiences with you if you are interested. What I tell you here is the absolute truth, I am 52 years old and have no reason to make up stories. The paranormal has always fascinated me, since my first experience back in 1968. After almost dying from a surgery in 2001, I seem to have gained even more powers of experience."
Indiana
In the early 1980's I was playing bass in a heavy metal band. We were young and needing a place to rehearse when we scored what seemed like a major blessing. Mike, one of our guitarists, worked at a music store in Madison, Indiana. The store was in the downtown area, and in a very old building. Madison is one of the oldest cities in Indiana situated right on the banks of the Ohio River. Many of the downtown buildings look like they should be in the French-Quarter area of New Orleans. The owner of the store said that we could practice in the vacant flat above the store, what a deal! No rent, plenty of space and all night to practice! It truly was an amazing place. You could tell by looking that it once was a VERY opulent home. One of the most distinctive features was the big German style fire place in the main room. Cast iron grates surrounded by striking green marble tiles, it was absolutely beautiful. At first we were thrilled to have such a great place to practice, but eventually we began to feel a little strange after being in the flat for a short time. I remember talking to the store's owner about the place before we moved our stuff in. I asked him why he wasn't using that space. He responded by saying, "I don't go up there". I suggested that he could rent it out, or use it for lesson rooms or just plain storage, again he said, "I don't go up there". He never said why – he only said that he didn't go up there.
This band was very tight, both musically and personally. We were close friends and we did almost everything together. After only a few rehearsals, however, tempers would begin to flare – arguments would ensue and eventually, there was a fist-fight between me and the drummer. The drummer quit. We auditioned several others; they would show up and jam a while then leave and never return. Most were native to Madison and were aware of the building's history. The story goes that it was called Mom's Music because of a kindly spirit who lived downstairs. This spirit appeared to enjoy having company and appeared to be a female, so she was nicknamed "Mom". The upstairs, however, was a different story.
During the 60's and 70's Madison fell on very hard times as commercial river traffic began to slow to a trickle. Madison's shipping industry died and so did the downtown area. Residents began to suffer the effects as well as the standard of living plummeted. Teens moved into some of the abandoned buildings
downtown. They were used as homes, as party pits and occasionally – for occult activity. Such was the case in this building. Something had happened up there – but no one knew just what. Eventually, we were evicted from the flat. The other members of the band removed their gear and left my stuff for me to pick up later.
I showed up on a Sunday, and picked up the keys from Mike and went to the store. It was late in the afternoon on a late summer day. The sun still shone through the huge windows which made up most of the front of the store, including the second floor. I unlocked the front door and headed for the stair case. As I walked up, the sunlight illuminating the flat changed color. It went from a warm looking yellow-orange to a very cold and austere looking purple-gray. I shrugged it off as clouds or shadows and continued up the narrow stair case. When I reached the top I was hit with a very cold sensation which seemed to pass through me. I tried to convince myself that nothing was wrong. It took tremendous effort to move across the room to begin taking my stuff down. I could not shake the feeling that something was staring over my shoulder – something that did not want me there. As I worked, I thought I heard breathing in my ear. Suddenly, I turned to look back. I found myself looking at the German fireplace. In the corner to left of the fireplace, where two walls and the ceiling came together, I began to see a black mass form. The mass spread along the top of the wall and moved slowly down toward the floor. I had never seen anything like it before. It was not smoke, it was not a shadow or some kind of haze; the only way I can describe it is that it was just an absence of light that seemed to feed on itself. I stood watching it, mesmerized by it until I began to feel a fear that I can not describe. I also became aware of a loud roaring, like turbulence, in my ears.

I grabbed my bass amp and speaker cabinet (normally too much to carry at once) and made a bee-line for the stairs. As I crossed the room, I heard footsteps behind me closing fast. At the top step, there was an audible growl in my ear. I turned to look, but I never got a glimpse. At that moment, I felt myself being pushed down the stairs. The stair case was very long and quite narrow, but I began rolling down them with the components of my bass amp. With a crash everything came to a stop at the bottom. Without thinking about it, I grabbed my stuff got out the front door. About half a block away I realized that still needed to lock the front door. When I went back, all I could see from the street was the downstairs. The whole place seemed so calm and peaceful. I locked the door and took a few steps into the street to look up at the second floor. The windows were dark, despite the last few rays of sunshine still hitting the front of the store. After a few seconds, I felt a strange sensation that forced me to look away. I went back down the sidewalk, grabbed my stuff, loaded it in my car and left.

The fear that I felt that afternoon never left me. As I think about that day, I can still feel my heart race and my breathing get short and shallow. I have never felt such terror in my life – I never want to again.

I haven't been back to Madison too many times since. Mom's Music is still downtown – but in a different location. In the intervening years, I've forgotten exactly which building it was in way back then. I've tried to find it – but only from the outside.

Kansas
This is the house I was growing up in (4-10 years old). When I was at school and my dad was at work my mom would be the only one at home. She would say she feel a presence during the afternoon. I have felt these but during the night. During the Summer of 2002 I was cleaning my bedroom one afternoon and the attic door in the a-joining room across the room from me had open and we never use the attic. So I closed the door back. The Next day at the same time as before it was open again!. If that isn't enough.... It have seen shadow-like people in my bedroom while I tried to sleep. like if someone was standing there watching me. Another strange thing is our Basement for some reason Animals would come into our Basement and we have inspected that there are no areas that Animals would get in there. But we always had Cats, Dogs, Raccoons and other Animals living in out basement but there is no way they could of got in. My mom's bedroom was also had strange drafts in there. These haunting mostly happen in the Summer or Winter.

Unknown Location
Ever since my son was a little guy like in his crib he would laugh and talk and play with someone and when I say play I literally mean we would watch him try to hand toys to somebody. Once he could talk we asked him who he was playing with and he said dave. We figured it was an imaginary friend and left it at that. Well it was about 6 months ago he came running out of his room and said there was a joker in there. This proceeded on for a week, after i cut out the batman cartoons, when I finally asked him what he called it a joker I asked him what he looks like. This is what he said, "he looks like an old man with a white face and he is scary and he has to go to the dr.'s mommy", "why trystan?", "because he has lots of boo boos and blood."So we started telling it that it had to leave if it was going to be scaring trystan , we made a dream catcher we mad a bottle of water and oil to spray at him when he was scaring him. We also had things happening around the house like things disappearing and reappearing where you couldn't have missed them when you were looking. We had a cookie balancing on a round top of a kitchen chair and when i touched it it fell. i was looking for the vitamins one day in the cupboard where i always keep them and when i turned aroung to walk back out of the kitchen they were on the floor. Trystan has since seen people everywhere he goes so we figure he is sensitive but other things have been happening and the creepiest happened the other day to me. I couldn't sleep and i got up and got on the laptop it sounded like someone was walking up the hallway when i looked up there was no one there, which has happened many times before, i looked back down at the computer and not 2 seconds later i heard in a breathy voice like whatever it was had to push it out and it was like in a breath. So i got up and went to bed. When i woke up the next morning i could hardly walk on that leg there was a fresh mark that was already starting to scab over and a red spot that was hot. As the day went on the hot spot turned into a bruise. So we don't know what is going on and if anyone does feel free to let me know.

Florida
I would like to share a story about a haunting that took place at Florida Hospital of Sebring Florida. There was a report of a man with short black hair dressed in all black, a black oxford shirt buttoned to the neck with black pants & shoes similar to a priest roaming the halls in this place. It would go from room to room going into the room and staring at the patients in bed not saying a word. When they asked him a question he would leave the room quickly. One report was that it went into a room of a man and stood at his bed and broke his foot. That man reported this to the nurse and she reported the man for a psychiatric evaluation in which the man was diagnosed as being under the influence of morphine at the time, but was cleared by the doctor as a sane person. but not everyone who has seen this man in black was under the influence of morphine. That how unbelievers deal with things like these. The encounter was spread all throughout the hospital by the nursing staff and has quickly became know as "The Man in Black" I had a chance to verify this story by the man it happened to directly. By Ghostboy132010

New Jersey
My house was built in 1730 I have had no experiences in a year since moving in. the other day I left my blackberry on the sofa when I returned there were four paragraphs of 00000000000. WITH A period at the end now you could explain the ooo's as a key glitch but the . takes two fingers to do and to put in in the right place takes intelligent thought not coincidence. my cats are very smart but they have no thumbs and I don't think they did it either sounds like one of my departed friends learned to use my blackberry and faster than I did!
Arizona
Unfortunately, my wife and I did not record the exact time and date of our "sighting", which was really a "hearing" or "feeling", as we at no time observed a craft of any kind, not that we didn't scour the sky to identify what we heard and felt. The time of day would have been mid-day in June or July of 2008. We have been hesitant to report this "sighting" as we haven't heard of any other instances where no actual craft was seen even though the sound and feel of the presence of a craft was unmistakable. It was either close to noon, or possibly 1:00 PM and we were doing some clearing of our property in the eastern foothills of the Hualapai Mountains , approximately 16 miles east of Kingman , AZ. Our exact location per GPS was 35"08'31.96"N , 113"44'37.29"W at an elevation of 4,125'.To explain the "sighting" is difficult, as it started out as a noise, which we were used to hearing in that area, as military helicopters, usually in threes, occasionally fly over our property, from west to east. Having served in the Marine Corps, I am very familiar with this sound and usually stop what I'm doing and locate the choppers in the sky. This was totally different. The sound was of something absolutely huge. We could hear it approaching and stopped what we were doing to locate the "object". As it neared, the sound became almost deafening until it became a feeling that literally shook the ground. I was walking all over the area searching the skies for an object. When the sound became directly over our heads, it remained for some time, as if hovering. Our only guess was that whatever it was, it was somehow not visible to the naked eye, or as we assumed, "cloaked". At this time, there was no point in moving around, as I had searched every available spot in the sky for an object, to no avail. After what seemed an eternity (actual time in the vicinity of three or four minutes) it seemed to move on, slowly, as it had arrived. To date, we have not heard of any other instances of a "sighting" with no apparent craft observation. We'd love to hear if anyone else has had this experience, but have no idea where to start. I'm just very glad that my wife and I shared this experience, as I have not or would not share this experience with anyone else for fear of being considered "whacko", or prone to over imaginative. We just had to finally share the information with somebody.
Kentucky
A lot of people say my school is haunted, because it use to be a clinic for the civil war. It is in Richmond,KY. I am starting to believe them for 5 reasons: 1. I got random scratches from no where when I said I do not believe in Ghosts. 2. In certain place in the auditorium it is freezing. That is just in random seats though. 3. During Drama club one day a kid fell of these stacks of papers, because he was pushed. But no one was near him. Then after a while I walked over to the place he fell and saw a really scary black shadow. Ten minutes afterwards the shadow was gone but nothing was moved. 4. When I pass by one of the teachers rooms his door and all of the lockers shake. And 5. Yesterday in the bathroom I heard singing and the sink was on.
When I opened the door A stall slammed shut and the toilet flushed. I waited for 20 minutes to see if it was a person. So I knocked on the door and it opened. Nobody was in there though. See know I do not want to go back to school. You might have and you might not have heard that an 8th grader that went to my school died recently. She was struck by a car on the pegs of her boyfriends bike. Her name was Maggie Katherine Cole. I am starting to think she is haunting the 8th graders. My schools name is Madison Middle School. Jesse, Richmond, KY.
Kansas
I live on Fort Leavenworth and have for four years now. I have had many things happen in that time. When we first moved into our home, before we had any children (I was pregnant with the first). We would hear 2 little kids in our bathroom, slamming the cabinet doors and laughing. My mother in-law came up to help with our new baby. In the middle of the night, she went into the kitchen to get some coffee, and said she saw a woman in a robe standing in the middle of our kitchen. She said when she blinked she was gone. At about 2 am one morning I was playing on the computer because I couldn't sleep. I looked up to try to get my eyes off of my laptop screen and focus. I saw a man standing in our living room door way. He was dressed in a flannel shirt with overalls over them. I told him I was to tired to deal with him right now, he slowly turned towards our hallway, keeping his gaze fixed on me and then looked forward and walked down the hall. I then heard our bedroom door slam shut and something in our room fall and break (it sounded like the candle on my nightstand). When I walked into the room, nothing was broken or moved. The next day my friend said that at 2 am she woke up when she heard someone stomping up her stairs towards her room. But no one was there, I hadn't told her what had happened to me yet. One night I was taking some coffee to my husband while he was working, it was about 3 am. I was driving on a road that runs between the old DB and battalion. Just as I was entering the part of the road where the trees grow over the road, a woman in a black dress appeared in front of my car. I slammed on my breaks, and she threw her hands up into the air and started to bring them down. Just as she was about to hit the hood of my car with her palms, she vanished and 6 deer jumped from the hill on my right into the road and crossed. Had I not stopped I think they would have jumped onto my car. There were many strange things that happened in the hospital at the old DB (that is no longer in operation). We went all the way up the stairs to the top of the elevator shaft we had video camera with us and flashlights, when we reached the top of the tower the 2 flashlights we had started to die, the film went black but we kept rolling. I started choking horribly from the dust and was having trouble catching my breath, my friend was really concerned and asked if I was ok. So we headed back down the stairs, as soon as we got down to the next level, our flashlights came back on and a door in front of us popped open. As we headed out there was a loud crash behind us and we could hear what sounded like someone running down the stairs behind us. When we got home and looked at the film, it was black where we lost our flashlights, but when I started choking, it just sounded like a regular cough, but my friend still got recorded asking me if I was ok, but most of my coughing fit was completely gone, and I was standing next to the camera man the entire time. The elevator shaft is where (I believe it was 8) German P.O.W.'s were hung. In believe Fort Leavenworth has many spirits that aren't accounted for. I do not have a single friend that lives here that I have asked that has not had something happen in their home.

Ohio
Date of Occurrence ~ All the time. Location of Haunting ~ Christopher's Lounge. 150 West Main Hillsboro Ohio 45133. Description of Events ~ There is so much that happens I don't even know where to begin. This is a bar and after we close for the night we sit at the bar and talk and the next thing you know there is something messing with the pool balls in the back room. And then you will feel a wave of cold come from behind you. We close up and come in the next day and there are lights on (and sometimes the juke box) that we know for a fact were not on when we left the night before. You can go in the women's restroom and the exhaust fan will turn on (its never used) and you can say stop it and it will stop. There is a lot more to this but this is just jist. If available, also include the names of witnesses and investigators. No one has investigated this as of yet. We would like for it to be though. But I have seen and felt this stuff myself as has my mother in law Beverly Christ, My husband James Christ IV, and numerous other people who I will get names of if needed.
Thanks for reading, Krystal Christ

Tennessee
Shackelford Corner, an old historic Queen Ann home built in 1905 at an angle to local roads, has been investigated by all major Ghost Hunting agencies in Tennessee. All have call this site very active. Some call it the most haunted home in middle Tennessee. Hundreds of EVP's, most all very clear, many haunting pictures, hundreds of personal experiences in the home and even some videos of the ghosts are available to be viewed by visitors. Seven people in residence have met untimely deaths and for as long as research provides, only one person at a time has been able to stay in the home. The previous owner moved in with her mother, husband and two sons. The mother died first, then both boys became very ill and passed away. One from his illness the other, although very ill was killed in a traffic accident. Her husband cheated on her and left her alone here for many years. Among the owners before, the occupant before lost her son to an illness that was brain related and her husband died, before that the owner died smoking in bed and his son was hit by a car crossing the street. I myself, live here alone and have no doubt that I'm never in the house alone. Doors open and close, things seem to disappear or move by themselves. I have been involved with several discussions and paranormal web sites who all are amazed by the findings people make here. Last April, paranormal magazine in London England featured the house in their internationally published magazine. Thanks, Ed Brennan Owner
Illinois
During the first week of October 2007 a young man stopped to take a picture of a small plastic skeleton I have hanging in an alcove in the concrete exit tunnel. As he looked through the camera's viewfinder and his other eye was looking passed the camera, he saw something moving into the frame (with both eyes). He snapped the picture. The item as of yet unexplainable, is a snake-like, dark shadow, well defined, smoothly curving back and forth, tapering from what seems to be 1/2" wide at the south end up to possibly 3 1/2 inches wide at it's north end. This object or thing is floating about two feet above the concrete floor. I can see no way this one young man by himself could have created this shadow. The light was a fairly bright light coming from the ceiling and to his far right side about seven feet away. This house has been haunted since at least 1925, mostly happening in the wine cellar below the level of the basement. This tunnel I built , dug by hand, cemented by handwork , connects the basement with the outside world 98 feet away, it is used as an exit tunnel from the house. People have had their hair pulled in this tunnel and near the tunnel in the basement is an area where people have been touched on their backs as they stand listening to me talk about the house and it's haunted history. At the end of November 2006 three of us all heard a beautiful singing voice, female, coming from what sounded to me to be the ceiling of the wine cellar , it was 1:55 Am, the lights in the wine cellar were "on". For a living woman to have made her song and for us to be able to hear it in the wine cellar, she would have to be able to sing so her voice would penetrate 6 to 8 feet of dirt, then go through 2 feet of rock, but first she would have to have the strange desire to be standing in my very cold and dark backyard , surrounded by fences and numerous objects abit hazardous to negotiate around in the dark and then somehow guess when we were underneath her? Of course none of these requirements are possible. Orbs of various sizes and colors have also been seen in the wine cellar with the naked eye and of course also photographed. The haunted history of this 1870 inn goes back along time. The incidents I relate were told to me as experienced by former tennets, my customers coming to enjoy the house, my October employees, my wife, my ex-wife and myself. We had a ghost hunter group here a couple of times but their inaccuracy in recording and remembering the facts of the things they experienced here were very frustrating...like forgetting to turn on the recording unit as three of us watched a very strange occurrence coming from their wine cellar camera,"Oh, it will happen again." No it did not, they spent many early-morning hours and it never happened again. It looked like fog or smoke , racing non-stop passed the camera. The wine cellar will sometimes develop fog but it just hangs lazily near the ceiling with no determinable movement. If someone was blowing cigarette smoke passed the lens they would have had to been blowing smoke non-stop for at least three minutes! Nobody's lungs could do this , could they? (A very long exhale!) Another time they totally forgot then denied how their EMF meter was acting. I think they are just too tired to do this by the time they get off work , then drive here, but it requires us to be awake with them which is not easy after a whole day of working here , then doing house tours all night til closing. If there may be a schedule for supernatural events happening here , it might be either two nights before or two nights after the full moon, not during the full moon, if they indeed are going to happen during any month at all. I feature (mostly) my own artwork and ideas to entertain people with, I usually include attempted humor when I tell them the haunted history because I really don't want to terrorize people and some do get very scared when they realize I am not telling them fables . Six years a o was a Very busy year here for activity and for the last six years I g guess that I have been under a compulsion to tell as many people as will tolerate it, all about the events that have happened , hoping that someday, someone just might come walking through my front door and explain it all to me, as to the why-fore and the wherefore of these things happening. A talented psychic was here six years ago, he impressed me with what he knew about the house, things that I know to be true, obscure things, then he said I had been given "The Kiss of Death!" As four kisses went across my forehead one night from right to left. The circumstances of his possible revenge upon me for not wishing to invite another ghost into the house could have very easily resulted in my death or crippling as a semi ran over my car as I was stopped behind traffic. I kept that car, it's in my backyard on display, most that see it can't see how I could have survived just the impact , let alone walk away from it almost unbloodied. Well, I can't type enough to tell you all of it, I can't even talk long enough without becoming hoarse and this is what I have been doing for most of the last 20 years , right here in my front room. Some old customers will ask me , after coming here for ten years , "Are those ghost stories that you always tell us true?" "Yes they are, don't you think that if I was making them up that I would be telling you better and different stories all the time?" Nope. Same stories just new ones added as things have happened here.
Thanks for reading,
Jim Warfield
This is my house and my place of business , The Ravens Grin Inn
411 N. Carroll St.
Mount Carroll, Illinois
61053
Website www.hauntedravensgrin.com
Connecticut
I have lived in this house since I was two yrs old, that would be about 39+2 yrs now on and off. Leaving home a 16 , there was always an emergency that made it necessary for me to come back home, until the current group investigating my home made the connection I never thought about it. Whatever is here has attached itself to me. This is why the need for me to be here at the house was always so imperative, even though I did not want to be here. I moved back here about 5 yrs ago now, reluctantly after my Uncle left abruptly, he had lived in the house about 15 yrs at that point. we have not heard from him since leaving, even after numerous attempts to contact him failed. I sold my dream home moving back to this house, not even understanding why I would do this. Not making sense to anyone who knows me. I have found this forum as relief for myself, I feel as though people wont judge me here and I can tell my story freely without feeling bad about myself. Needed to say that to everyone! I knew I was different all my life, just had a bad case of denial I guess, Now however everyone who comes into my home gets a ringside seat , to what myself and family have experienced all my life. I still have a hard time with the bed moving and vibrating Saturday night. That was a new for me. But at least it happened with 6 witnesses in there with me. I am ok during the day, but when 9pm hits it all starts again, The shadows, black shadows skulking along my walls, white mists, things falling upstairs and downstairs, my dog starts rolling over like someone is playing with him. My sheets on my bed being tugged and pulled from me, the feeling of something touching my body. Well this is the most detail I have told outsiders yet. There is so much more. The group will be back out to my home August 4 the for yet another round of research. Will update as things happen. Thanks so much for the support again!
Dori

WISCONSIN
WHEN I WAS MAYBE 12 OR 13, WE LIVED IN A REALLY OLD FARMHOUSE OUTSIDE OF MONT FORT WISCONSIN. WHEN WE FIRST MOVED IN WE HAD PUT MY SISTERS ROOM AND MY BROTHERS ROOM ON THE SECOND FLOOR. WELL THEY WERE YOUNGER THAN ME, AND FOR SOME REASON THEY WERE SCARED TO BE UP THERE. WE WERE PLAYING OUTSIDE ONE DAY, WHEN WE FELT LIKE SOMEONE WAS WATCHING US. WE LOOKED UP TO THE HOUSE AND SEEN A LITTLE GIRL LOOKING DOWN FROM THE BIG BEDROOM UPSTAIRS. THAT NIGHT WE WERE ALL SCARED TO GO TO SLEEP, SO WE ALL SLEPT IN THE LIVING ROOM, EVEN OUR DAD. I WOKE UP IN THE MIDDLE OF THE NIGHT AND MY 4 YEAR OLD SISTER WAS TALKING TO SOMEONE IN HER SLEEP. THE NEXT THING I KNEW SHE GOT UP AND STARTED WALKING UP THE STAIRS. I YELLED AT MY DAD, AND HE GOT UP AND GRABBED HER AND BROUGHT HER BACK DOWN. AT THE TOP OF THE STAIRS WAS A LITTLE GIRL, AND SHE WAS TALKING TO MY SISTER TRYING TO GET HER TO COME BACK. (AT LEAST THAT'S WHAT MY SISTER SAID, BECAUSE SHE TOLD THE LITTLE GIRL THAT HER DADDY SAID SHE COULDN'T PLAY RIGHT NOW.) MY DAD SLAMMED THE DOOR TO THE UPSTAIRS SHUT AND LOCKED IT. ALL OF THE SUDDEN A COUPLE MINUTES LATER WE HEARD NOTHING BUT CRASHING SOUNDS ON THE OTHER SIDE OF THE UPSTAIRS DOOR FOR A GOOD COUPLE MINUTES AND THE SOUND OF SOMEONE CRYING. BEFORE MY DAD SHUT THE DOOR I GOT A GOOD LOOK AT THE LITTLE GIRL AND SHE WAS MAYBE 5 OR 6 IF THAT. ANYWAY BACK TO THE STORY, WHEN WE GOT UP THE NEXT MORNING, MY DAD OPENED THE DOOR. AND WHEN HE OPENED THE DOOR EVERY THING THAT HAD BEEN UPSTAIRS IN THE BEDROOMS WAS PILED AGAINST THE DOOR.. WE MOVED OUT AND INTO A HOTEL THE SAME DAY AND NEVER WENT BACK TO THAT HOUSE. NOW THAT I AM OLDER, I HAVE ALWAYS REMEMBERED THAT, AND I DESPERATELY WISH I COULD REMEMBER THE ADDRESS OF THAT HOUSE, AND ALSO TO FIND OUT WHAT HAPPENED TO THAT LITTLE GIRL THAT LIVED THERE. IF ANYONE HAS ANY SUGGESTIONS TO HELP ME FIND OUT PLEASE LET ME KNOW .

UNKNOWN LOCATION
On July 16 2007 I was at a locale cemetery with a friend taking photos for there website and along the backside of the cemetery is a tree line that splits the place in 2 well I was walking in the grass and all of a sudden I'm seeing the murder of someone threw there eyes and then I hear a woman's voice say get out and then I snapped out of my trance and I'm standing in the tree line a few feet from where I was with no clue as to how or why I was standing there then my friend came looking for me and asked why I was in the woods and I told him and we left I got a block away to a 7 11 store and pulled in and sat there for almost an hour shaking really bad then I regained my composure and drove home and then 2 days later I told 2 fellow ghost hunters what had happened and they said that a 16yr old girl had been raped and murdered in the area of the cemetery and they told me to Google the girls name and sure enough there was the story of her murder and to this day that vision is still burned in my head I have seen things and events but when you see the murder like that you cant get that out of your head. I have been told I am sensitive to spirits and I have to say I would rather not seen that again.
the avid ghost hunter
NORTH CAROLINA
I lived in a haunted house for a little over a year. The house is located in southeastern Greensboro and is part of several houses on old farmland, which is now turned into a business. The house is said to be over 200 years old. The resident before my family was the mother of the landowner's wife. This woman died in the house in her bed from old age. Shortly thereafter, my family moved into the house. After moving into the house, my mom was laying in her bed about to go to sleep, which happened to be in the same location as the previous resident's bed (the place of her death), when she felt a calming presence coming over her and what felt like a person reassuringly patting her hand. A few months later, my mom was walking beside the house and saw the screen door on the front entrance open slightly and consequently close as if someone was controlling it. My dog, which was with my mom, became very agitated, with his hair ruffled along the back of his neck. At another time, I was getting ready for bed in the bathroom, which was off of the living room. I was at the sink, which meant that the bathroom door was closed due to the lay of the bathroom. A late-night talk show was on and the host of the show made a joke. I heard a man laughing, sounding as if it was coming from the couch in the living room. I was terrified and had to get my bearings before I looked into the living room. When I looked, there was no one there. At yet another time, I was taking a nap in the middle of the day and heard my mom's bed creaking as if someone was settling in for a nap on her bed. My dog and I were the only living things in the house and I could see my dog from where I was. He was not on the bed. When I went to look at my mom's bed, there was nothing there. The spirit's) even showed itself to people who did not live in the house. One of my friends was spending the night at my house one weekend. She had come in at about 2 AM and was getting ready for bed in the bathroom. One of my makeup containers was on the back of the toilet. My friend said she noticed the container kept falling off the back of the toilet. She thought it was strange since the back of the toilet was completely flat. At one point, my friend actually watched the container be pushed off the back of the toilet and onto the floor. My friend addressed the spirit by the name of Shirley, the name of the past resident who died in the house. The activity stopped for the night. However, by the time my family moved out of the house, nothing would stay on the back of the toilet. Also, an ongoing occurrence was the smell of old-fashioned men's cologne in the bathroom. My family includes my mom, my dog, and me. The only male in the house was my dog and I seriously doubt that he was wearing cologne. Brandi

NEBRASKA
My story begins in a home in Craig, Nebraska. My grandmothers home. It was haunted by the spirits of Three. A young man a woman and a three years infant girl. I moved in the home Aug 5 1998. My wife and I got married in the home and my son was 6 months old. I have witness many encounters in the home and I have many witness's see some of it. The guy wore a dark green army tank top with army tags he was what I believe the violent one. He would stand behind me a lot and at the foot of my bed sometimes. He would stomp his feet when he got angry and would slam my door violently hard, also throw some of my furniture and pictures. The women would pace the hall. My son at the age of 2 told me he was afraid of the women in his closet. The little girl would sing ring around the rosy and play with my children's toys. She also mocked my daughters laughter which was the same age as her but living. My son got almost everything you could think of scarlet fever, etc. The little girl died of scarlet fever at the age 3 in 1893. Me and my wife would be violent towards each other when ever we was in the home but would be ok away from the home. It got to the point we couldn't stand to be home. With the lights flickering and opening and slamming doors, people stomping, children singing fighting with my son nightly to go to bed in his own room was more than we could bare after 3 yrs. We moved on. The funny thing is, it was my grandmothers house, so I spent many summers, holidays, etc. in the home prior to my move in. None of that ever happened. It all began the night we moved in. Fred
MISSOURI
In Kansas City we have the Epperson House a Neo-Gothic Mansion on the campus of the University-of-Missouri-at-Kansas City It it's hauntings include a lady upstairs on the second floor who walks the floors. A tower with ramparts built by Epperson for no apparent reason. A large picture downstairs that stares at you and finally a entity that blocks light switches and other household switches with a hand force to be reckoned with. It is a well-known location and although it is now university offices, it was popular with students "in the know" for it's various haunting stories.
NEW YORK
I noticed that in regards to haunting listings for Buffalo NY you only included the Holiday Inn, which is actually in Grand Island. But you seem to have left out some of the more well known, especially locally, haunts. Which are The Mansion on Delaware and the Sphere Nightclub. They even do guided Ghost Tours this time of the year. Another famous landmark you left out was Shea's Theatre, and the USS Sullivan in the Navel Park. I think they're all worth looking into, but a favorite is Sphere's Nightclub, which was a Speakeasy way back in the day and is said to be haunted by none other than Al Capone , it was said to be his favorite hang out when he was in town.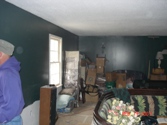 GEORGIA
I've seen these in a lot of pictures when we were remolding our house here in Loganville, GA. We moved here last September. When we noticed them we took the same exact picture and there was nothing seen. Can you please tell us what they are. Sometimes my dog gets weird and won't go into certain rooms of the house. Most of the time its a different room. She freezes and cries for us to come and get her. Donna
CALIFORNIA
I've been searching for reports on a building located in Sonora , CA . It's now a book store with an old fashioned soda shop, but it has been a mercantile, a bank and a salon/gaming establishment. My husband was with me as we toured the building browsing the old books section. It's a lovely place and I fully intend to go back someday. We went to enter through a doorway downstairs and I stopped dead in my tracks right at the doorway. The stop was so sudden and unexpected that my husband (who was walking behind me) ran right into me when I stopped. I gasped and turned around, grabbed him by his arms and announced, "It's haunted! You go first." I had no idea why I thought that and that I was even going to say that to him. I stunned myself. He continued through the doorway into the rooms but I couldn't. I had that feeling you get when you drink a 7-11 Icee way too fast. Very pronounced "Brain freeze" that lasted the entire rest of the day, but another thing that got to me was the feeling as if the air was thick, heavy. Not that I was breathing heavy, but that there was not a lot of oxygen in the air. As my husband continued walking around the small rooms on the other side of the doorway I got the nerve up to peek my head in a little and look around. I never did pass the threshold of the doorway. But yet I wasn't afraid of being left alone in the room I was in, I just didn't want to enter the adjourning room at all. It wasn't dark, dreary or anything spooky. In fact it was well lit, light and inviting in appearance. But one thing caught my attention. Off to the left end of the room was a vault like you find in many old buildings of the gold rush era. Finally, my husband came back and said "everything seems fine to me." And we headed back up the stairs. At the top of the stairs the air was back to normal, but I still had that "brain freeze" headache and eye pain. I was stunned by what had just happened, but I was ready to simply write it off as just being something "weird" and then forget it when we began walking to the very back of the main story of the building where they keep the antiques. As we walked past several people, including a lady behind the counter working with what I think were receipts or papers of some sort, it happened again! There's an area in the building in which the floor transitions and right at the threshold of that transition I stopped again, the air was heavy again and I told my husband, "It's here too, Joe. Right here.", as I pointed down at the floor. I would not, could not step further. Without thinking I turned to the woman behind the counter and said, "Excuse me. Can you tell me the history of this building." Right away she began telling me of the family that operated it as a mercantile for several generations. As she moved forward in her story of the different transitions of the buildings I listened as she told of it's life as a bank then on to it's life as a saloon type establishment I then blurted out to her, "You have something here. I'm not weird, but there's something down stairs in that side room and it's right here too. Right here where the floor changes." She looked right at my face and calmly said, "Do you know what that is right there? Right where the floor rises?" "No." I replied. "That's the top of the vault that's downstairs." "That's it! It's your vault. There's something wrong with your vault." I told her. I suddenly realized why I had a feeling of the air being "heavy" there was a lack of oxygen in it. She then went on to tell my husband and I about the vault door. How she had a replica made out of wood by a man who does the theatre sets in town and the original door removed from the building because the inside of the door was badly marred and beaten as if someone was desperately trying to get out. It was at that point my husband said, "Okay. That's weird." She said the door gave her a bad feeling because it had "the heebee jeebees on it." Belinda

PENNSYLVANIA
I live in Exeter, PA, which is right down the road from Wyoming, PA. All of this is about 10 minutes from Pittston, PA, about 30 minutes from Wilkes-Barre, PA, and about 2 hours from Hershey Park. Wilkes-Barre is eastern, Pittston is northern, and Hershey Park is southern of our area. This area is where 'The Battle of Wyoming' was. Many think that the area that the apartment buildings were built, were where the dead from that battle were buried. Exeter was used as an escape route and for medical treatment. There is some stuff that happens here that I have never, in my life, ever had seen before, nor wanted to see. We have a ghost that lives in our library. It is in our apartment, it used to be a bedroom, until my boyfriend, Devin, and his mother had some experiences in there. They later changed it into a library where all the books in the house are kept. I haven't seen anything myself, but, Devin and his mother have. They have had books fly out at them. They used to have a lion bookend in there as well and one time, it roared at them. To this day, we can't find that bookend anywhere. I have got some of my stuff in the library like clothes, some notebooks, and a ceramic horse little figurine. It was turned around when I went back up there one day with Devin to get some clothes. We looked at one of the bookshelves and there were some books out of place. On top of a shelf on top of my dresser, is where I keep my ceramic horse, but when it was turned around, there were fingerprints in the dust on top of the shelf. Also, there is a closet in that room that has some wood in it for what reason I have no idea. But that closet every once in a while, likes to be open after we close it during when ever it feels like it. Now, only Devin and I go in there. His mother is no longer able to climb up the stairs to get up there. We also have some dolls up in the library. They usually face the opposite wall that they are on. When we got up there, they were all looking at the door. When we were downstairs, we hear a lot of stuff coming from upstairs. One day, we heard something fall, but when Devin looked around up stairs, nothing had fallen or was misplaced at all. Almost every time there is a silent moment in the house, you can hear footsteps in the upstairs rooms. We have told many people about this, and they don't believe us. They say things like, "Oh, it's just the neighbors going up the stairs, or doing something in a room that is next to that." We know for a fact that it can't be the neighbors on the other side of the apartment. We live on an end apartment, where as there are apartments that have two touching apartments, we only have one to the right, if your looking at the front of the building. We will hear the footsteps on the opposite side of the apartment, in Devin's room, or in Nathan's room (Nathan is Devin's older brother). Another thing is that there are fingerprints on the ceiling in the living room where no one, at least in this family, can reach. The ceiling is at least 10 feet high, Devin is only 5'9'', his mom is about 4'11'', Nathan is about 5'7'', and I am only 5'6''. There is no one tall enough to reach the ceiling in the middle of the living room, even with standing on the table. And no one is dumb enough to stand on a marble table, at least in this house. Devin, also, one time had his soda in the living room with us while we were watching a movie. He went to go get it so he could lay on the couch with me to finish watching it, and he couldn't find his soda. We looked all around his chair because we both knew he brought it in the living room with us. We looked in the dining room, and there was his soda, sitting on the table. The worst time of the year for ghostly activity in this area, though, is the anniversary of 'The Battle of Wyoming'. That is when everything really starts getting started. You can hear even more footsteps coming from upstairs, more at night. The 1st floor starts having activity, where as it doesn't normally. Like I said before, I haven't seen anything creepy, but I've heard some weird stuff. I have heard nails tapping on the dresser in Devin's room. I've heard someone walking down the hall when no one was there. I've heard footsteps behind me when I know no one is there behind me. I have seen the lights flicker on and off a few times, but that is the most that I have seen. I've felt cold patches in the rooms. The rooms are cold to begin with, but it just gets colder in one spot. I've heard someone talking that didn't sound like anyone that would be in the house, that is living. That's not all, but most of the other stuff Devin knows, that is all I know, about the apartment. There are some freaky things that happen around the lot too. There is an old foundation of a barn behind one of the buildings in the apartment complex. There, it is believed, is where all the injured and dying soldiers from the battle were taken to be healed or where they died. In the woods behind the complex, Devin and some of his friends have had some crazy experiences. Devin and his friends, one time, were camping out in the woods one night, and all of a sudden, they heard some screaming. As Devin so put it, "It sounded, and felt like something out of the Blair Witch Project movie." No later than that did they look at a tree with no branches until the very top, they saw a board up there with their names on it. By the way, right down the road are two cemeteries. Devin and his friends used to go down there a lot also. One time, there was something that looked like a bed sheet just hanging on someone's body. They were laughing and pointing, until a wind picked up and Devin looked at the feet to see that there was nothing there but the air beneath the "sheet". Devin also stated that when it moved toward them, it looked like it wasn't even moving, like it was "walking" in place. Devin also said that when he and his friends tried to run away, the thing chased after them, but still looked like it was in that "walking in place" position. These are most of the experiences that I have been told or have experienced myself with Devin. I have learned not to go upstairs by myself at night, because I am too frightened to do so. I also have figured out that it isn't anymore "safe" inside the apartment than it is outside. I have learned that ghosts, for the most part, are outside, and that if you go outside, you may just want to pee yourself as soon as you walk out the door, because, the things that are in the woods, don't like to stay there. And they're not always friendly. But, for the most part, the only witnesses are as follows: Me, Devin, Nathan, Their mom, Dickie (Nate and Devin's friend), Mike (another friend) and maybe some others. Well, I hope you get something from Devin's and my experiences. Not all ghosts are like Casper, they like to scare you and do stuff that make you jump out of your skin, or in some cases, they are trying to hurt you. But, there isn't anything really you can do, for the most part, they can't hurt you. But the one in our library has a tendency to do that. Thank you for letting me send in my experiences.
Heather

ILLINOIS
I live in a newer home, I am hearing strange noises at night when I'm home alone and I have seen a black shadow numerous times. I will actually see it from the side of my eyes. I never see it in front of me.. My mother who lives with me has experienced the same thing.. I feel stupid for requesting help. I never really believed in any of this till it happened to me. It sometimes sounds like someone is walking around my house. My lights have gone out a couple of times and my computer has came on by itself and I feel like there is a presence near me. Tricia
UNKNOWN LOCATION
I live in a home where a lot of things happen we have seen a man in a white T-shirt and had things turned off on us. Doors shut and open by them self etc. We see the man several times a week...There are 4 adults and 4 children that live here and everyone has seen something at one time or another. My youngest son seen a white face in the window and the window is about 15 feet off the ground...Thank you. Katrina
WEST VIRGINIA
Ok, I'm not really sure what the name of the road is but it is said there was a couple driving through the dirt road by sandstone mountain in Hinton West Virginia and he was dirking and they had a three year old girl in the car at the time and had an accident. The little girl was thrown from the car and they didn't get out to find her they just took off and left her to die. The next day or so they filed a police report that the child was kidnapped . Ok, so my boyfriend was down there by the falls on September 8th about 8:00 pm fishing when an accident occurred and they blocked the road off and had him go a detour on this dirt road when he said he heard a sound like rocks hitting the side of his car and when I went out to check I seen hand prints from a child on both sides of his car, but him being a man and not believing in ghosts and etc. He said maybe it was one of the kids so I said to him but the kids wasn't there it was just you on that road by your self how could the kids have done it but I'm not really sure if they ever found the little girls body or not and me being a ghost believer myself from experience I told him I said it looks like you where attacked by kids on that road and he said it was really dark and he couldn't see anything he just heard what sounded like rocks being thrown so I think maybe that the little girl is still out there. I'm going to find out the name of that road and what all has happened out there and maybe someone can give this little girls her peace. Thanks For Reading and Hopefully Understanding what has happened ! Pricilla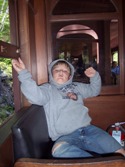 SOUTH DAKOTA
We took a trip out west, stopping in Keystone, South Dakota. We rode the train which goes between Keystone and Hill City daily back and forth. www.1880train.com While on the train, my wife took a picture of our son. The picture is enclosed. If you zoom in on the picture, in the background, beyond the glass, you can see a figure of an old cowboy. There was no one on the train that even resembled this figure. I believe it is a ghost. I sent the picture to the business, but they just believe it was someone on the train. I am an observer, and if I would have seen someone dressed as an old cowboy, I would have remembered that. What do you think??? Chuck
UNKNOWN LOCATION
Our family used to live in a house where there would be a little boy running down the hallway a few times a month. The boy was just a shadow and sometimes stand in the corner. This would happen late at night. When I worked nights my wife would say '' our little friend was watching me last night''. Also we would see cat like images run around corners. The only history of the house is the E.P.A and other authority dug up the back yard prier to our move in they removed 50 gallon drums supposedly full of used oil. Since we moved the house was sold once and the owner quickly moved out since then the house has been vacant. Paul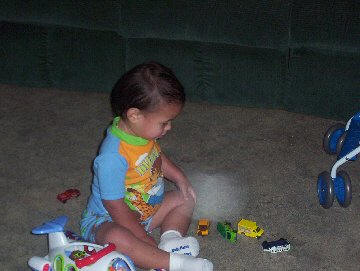 NORTH CAROLINA
My son in May 2007. He always seems to talk to things that we either do not see, or see flashes or balls of light very briefly. No matter where he is they seems to follow him. The house we are currently in, small, but strange things have have continued to happen. Some examples are the remote control falling off the couch but always landing in the same place no matter where it falls from, where it would actually not be possible for it to land.My bed shaking at night. Or sounds as if someone were banging very hard and loudly on my doors in the middle of the night. Fayetteville, NC
CALIFORNIA
This is in reference to the haunting at the Southland Cinemas, a multi screen theater at Southland Mall in Hayward, Ca. The theater is actually part of the peripheral property which is located approx. 350 yards from the mall at what is known as Southland Square. Adjacent to the cinemas is a 6 story office complex known as the Pro Building and a restaurant, ect. Six years ago, I relocated from Hayward and just recently, heard that the cinemas have been out of business for about 3 years which I'm sure is un-related to the haunting. One very strange thing is that I worked mall security at Southland for 2 and a half years from early '86 to mid '88 and I never heard anything about these hauntings at the cinemas . However, a co-worker and myself did experience quite a few - first hand hauntings in the mall itself during some of the graveyard shifts. There was one of which was pretty repetitious. This occurrence took place probably 8 times out of the 4 months that I worked this particular shift and it was always during a gate check. These gate checks were mandatory and performed twice on the shift. We would always start in the Sears Court - I would take one side and the other officer would take the other side and together, we would work our way down the entire concourse of the mall making sure that all of the front gates or cages to every store remained secure as we walked along giving an upward tug on each and every one. Along the concourse, were 8 entry ways with each one having its own short corridor that extended out to the side from the main concourse. The first occurrence happened one night just as we were passing entry # 4 and out of the corner of my eye - I seen my partner stop dead in his tracks. When I looked up at him, he was staring down the length of the concourse and when I turned to look, I was startled enough that my whole body jumped as if a short surge of electricity bolted through me. About 30 yards away, next to the entry # 5 corridor was an extremely tall and lanky man, who appeared to be in his mid 50's - wearing a cowboy hat, dark shirt, dark denim pants, cowboy boots with a long, brown trench coat. He had his hat pulled down in a way that shadowed his whole face. He stood with his hip kind of kicked out which caused him to have a crooked type stance that made one leg straight up and down while his other long, skinny leg kind of extended down at an angle. Everything about him, gave off a radiance of evil. Another thing about this guy (who I later nicknamed the Marlboro man) is that he was filthy ! About 3 weeks prior to this - while doing a gate check - we actually had 2 stow-aways but were unaware of the second until he was discovered about 20 minutes later but these were 2 juveniles aged 15 and 16. after sighting this Marlboro man for the first time, we assumed that he too was a stow-away and both of us began our approach with a slight jog in his direction while my partner shouted - Ahh, excuse me - the mall is closed. As we put only 20 yards between us, the Marlboro man dashed out of sight and into the corridor leading to entry # 5 . Knowing that these entry doors were locked, we were convinced that we had him trapped and by the looks of him, we both anticipated somewhat of a struggle to detain him once we reached this entry area . As we slowed and approached the corner cautiously, I began yelling -- ''Hayward Police is enroute - keep your hands where we can see 'em! As we rounded the corner, he was gone . Immediately, my partner headed for the entry doors and I knew that he was going to do a lock check . I knew they were locked because just hours earlier, I had also done an entry check . I began to have this sort of 6th sense that kept playing a repeated message in my head, telling me that what had just happened was totally phenomenal . Then, it was like an air conditioning duct was right over my head and I just started taking steps backwards out of the corridor as my partner suddenly, spun around and looked at me and asked -- do you feel that? As I mentioned, this guy was filthy, he had dried mud up by the chest and shoulder area but as it went down past his waist, it seemed to be more wet and from the knees down it was caked . Each time this sighting occurred, it was always the same thing, he'd appear, stand the same way then, as soon as we would get about 20 yards away, he'd dash into the entry corridor . Each time he would make his dash, I started to notice some of this mud would flake off from his lower legs and hit the floor but - of course - by the time we would reach the location, there wasn't anything at all on the floor . Though, other weird stuff occurred there during the course of my employment, the Marlboro man was by far the very most significant . M. Gonsalves
UNKNOWN LOCATION
Well what happened is me and my sister were at our great grandma's house. We were going to spend the night. She has 2 back bedrooms and we were just looking around. her house used to be a hotel. well our grandma was taking a nap and we were back in the bedrooms. when we went back there the doors were unlocked. when we went to open the doors they were locked and we couldn't get out so we climbed out the window. nobody was back there. it was scary. Terry
ENGLAND
Hello my name is Aaron I am married, my wife is Lana we live in Nelson, Lancashire, I am righting to you because we have a big interest in the paranormal we live with it well we have the last ten years, you see we lived in a house down the to us and we started to hear loud banging one eve thought it was side had a look but could not hear any thing at all only in the house, the night after we had all the tapes and books we had in the living room pile up from floor to ceiling, this was just a start I could list every one but you would not have time to read them all. we also had our first sighting there has well which also carried on and still does. we had a medium come around and help shed some light on what was going on her name was Val Williams she was very help full, and very nice, she told us that we had a little girl called Jayne, and she collected spirits to help them on there way .but some times they were to strong for her and they staid in our house, at one point we had around eleven spirits things were going mad at that point a lot of glass were was smashed and I had a big crystal eagle that smashed into peaces with out any one there or near it. this went on four around four years, then we moved and brought a house up the street. Things were quit for about six months then it started up again. one summer eve we wear out in the garden having a party, it was late and me and my wife went to bed and left the our daughter with her friends in the garden. we in bed for around half an hour when we herd a loud scream, the kids shouted up to us to come down, we found that all the cupboard doors and draws were open. every thing out of them were on the floor, that only took a few seconds, my daughter said she came in to get a drink and went back out to ask what every one wanted then walked back in and it was done. now the cctv confirms what she was saying was true, the was the first. we also had our furniture stand up on end leaning against the wall. we were all in bed when this happened. still goes now sightings all the time, must admit a little quit this last few days, but it go again, just thought you like to know its all good.
ENGLAND
This just happened in July of 1998. I was in the Palace Hotel, Manchester, England. After flying all night to England, and waiting for my hotel room to be ready, I was exhausted. As soon as I settled in my room, I tried to take a nap. It was around 11 am, and I was in a twin bed, tossing and turning, trying to find a comfortable spot. While I was lying on my stomach, just settling in to sleep, I felt a pressure or presence on my entire back, from my neck to my bottom, I felt like someone was on top of me...I felt hands come around me, and hold me very tight. I knew I was alone in the room, and the door was locked. Feeling such a presence, I jumped out a bed screaming. I ran around the room looking for someone or something to be there. No one was there, I then went for the bible in the nightstand, flipped it open to any page, and laid it on the bed opened. (hoping that the bible would exorcize the spirit) Then I searched around the room to find information about the hotel. It was built in 1895, and was an insurance company until 1915 when it became a hotel. The Refuge Assurance Company was the title of the business, located on Oxford Street, Manchester, England. I know that there was someone or something attacking me. I don't normally get out of bed screaming and feeling accosted and abused. My conscience kept telling me that I must have been dreaming, but my physical body was telling me I had been man-handled. Later that day I asked the front desk if this hotel was haunted. They denied such a thing. I then asked the bellman in the front lobby. He had stories to tell !! I also called the Chamber of Commerce of Manchester, and related the story. The lady on the phone laughingly replied, all old buildings and old houses in England are haunted! I don't have any more history on that hotel or that sight. A building that was built in 1895 isn't that old in England. If you have any information on how I could find out more on that building or that sight, please let me know. Jeanne Parker
ILLINOIS
It was the spring of 1969 and I was 20 years old. I was enrolled in the Chicago Police academy which was located near Maxwell Street and the Dan Expressway. I had been attending the academy for several months and I was taking lunch with two other academy students. As we entered a small typical restaurant in this area, I remember a white lady dressed in all black. Her dress reminded me of someone from the 1800's. (The reason I mentioned her color is because the area was basically a black neighborhood and seeing a white lady in this area makes this individual encounter even stranger. Now, as I Stood just inside the restaurant with my friends on either side of me, This Lady in black came up to me and looked right into my eyes. Without a word, or hand gesture or even a facial expression, she communicated to me to hand her the pen and small note pad I had in my upper left hand shirt pocket to her. I did. She took the pen and note pad, and wrote something into the note pad and shook her head in a gesture of no, no, no. She handed me the pen and note pad and then left the restaurant. I looked into the note pad and noticed what she wrote, my name and my birth date and then I also realized that it was in my own handwriting. I quickly turned to my friends and asked them did you see what the lady just did ? They responded to my question as though I was crazy. What lady? They acted as if nothing unusual happened and we went into the restaurant and had lunch. Well this little encounter stayed with me and I always felt that I would have to quit the Chicago Police Department. I felt she was telling me to leave this career options in order to save my life. Now I never really told many people of this story. However, I saw a TV show in which a woman in black saved a motor cyclist on a highway near Chicago and how Paramedics and others saw this lady in black save his life. I believe I saw this on Unsolved Mysteries. I suspect that this lady I saw was my grandmother, however the lady I saw I did not recognize. I now believe that it was the lady in black I saw on Unsolved Mysteries. - Frank D. Ayers
KANSAS
I was living in a house that had been built on the old Osage Indian Reservation back in the 1870s. I went to bed and was lying there awake when I heard this Strange Chatting as If many children were saying Nah nah nah nah nah over and over. Very High pitched. Then a picture of a face of an elderly white haired woman appeared on the wall near the ceiling, over the Picture was spelled the words Mrs. E. Wolfe than the voices started to chat Mrs. Wolfe is dead Mrs. Wolfe is dead. I was some what shaken by this experience and managed to get out of bed and go into the kitchen and as soon as I turned the lights on the voices stopped. I was in a quandary as to what to do as My Mothers Name was Mrs. Emma Wolf and her next door Neighbors name was Mrs. Esther Wulff. I wanted to call my Mother and see if she was all right but it was late and I knew she would be in bed. so after a big drink of water I went back to bed and slept soundly. The next morning I called my mother and she was fine Then I told her about what had happened and she told me Mrs. Wulff was visiting her son and was not at home and she was not about to call her. Mom just stated if anything has happened to her we will know soon enough. I than let it drop and chalked it up to my imagination. The very next day my Mother called and said ' have you seen the obituary Column this morning. I had, and a Mrs. Ethel Wolfe had died the night of my vision. I have no explanation as to why this happened but know it was very real. I felt at the time a great sadness for the woman on the wall as the voices seemed glad she was gone. I have often felt she came to me so I would mourn her loss. I have also regretted not going to pay my respects to see if see was the woman on the wall. - Carol Wolf
NEW JERSEY
I grew up in a small town directly across the Delaware River from Trenton, New Jersey. I had a girlfriend who lived in a very old house, supposedly built by Robert Morris during the Revolutionary Era. It is situated right across from the Soldiers' Barracks in Trenton. Us kids would always joke about an underground tunnel that ran from her house, under the river to the barracks where the American soldiers were housed during the war. When I was in the fifth grade, over 25 years ago, I spent the night at her house. She, her sisters, and I all bunked in this huge room that served as both playroom and bedroom for the girls. That night, for whatever reason, I could not fall asleep all night; and the next morning I was very unsettled, glad to go home. It was not until I was sixteen, that my mother told me what happened. My girlfriend's mother heard noises in the middle of the night coming from the room directly above our bedroom and went up there to check what was happening. She opened up the door, and toys, games, -- you name it -- were all torn apart and still moving in mid-air! She promptly locked the door and no one was allowed in there again. She later called on our parish priest to come over and bless the house and end the ghostly activity. I know my mother did not make up this story; she's not the kind of person to do that. My girlfriend and her husband still live in that house to this day. They have remodeled, though I have not seen the house. But I still remember that strange room and mom's story and just wonder what really happened that night. - Linda Birch
NEW YORK
My wife and her sister were visiting Sagtikos Manor in Bayshore. It is a pre-revolutionary mansion used as a stage stop at which George Washington once stayed. It is a historical site, and in the summer they give tours, but they visited one day on a lark and found the place deserted. A sign at the entry said it was closed for the season. They tried the door, which was locked, and went around the back of the house where there was a cemetery. The graveyard dated all the way back to the Revolutionary War. They were reading the headstones, when a young girl of about 16 years old, wearing a Revolutionary costume walked past them from the front of the house. The girl nodded a distinctive and courteous hello as she passed and continued on her way. My wife and her sister assumed she was one of the costumed girls who gave tours and nodded back. Then they realized they place was supposed to be closed and deserted, and looked out into the middle of the field where the girl had been. Well, she completely disappeared from sight! In broad daylight. When they looked down at the last headstone they were reading, they saw it marked the grave of a 16-year-old girl who died during the Revolutionary War. - Frank Michaels
MASSACHUSETTS
My former wife and her former husband used to live in a hundred-plus year-old triple decker brownstone in South Boston. It was an old house that sat at the end of a dead-end street. Many mornings she would wake up to hear teacups and saucers clinking and barely audible conversations going on in the parlor. She describes the sounds like those you might hear when you are just starting to wake up and you can hear a conversation in the other room but can't quite make out the works. She would often hear these morning 'tea sessions' in her house but avoided mentioning them to her husband, until one morning when they were both lying in bed and the 'party' started up. She warily asked him 'Do you hear that?' To which he answered 'Yes, I hear that a lot but never wanted to mention it to you because I thought you'd think I was crazy.' One night when her husband and her sister's boyfriend had been out for the evening, she and her sister were lying in bed, almost asleep. They heard the front door bang open and footsteps coming up the stairs. They turned to each other and said, 'Oh, sounds like the boys are home.' But when they both went out in the hallway to welcome their men home, there was no one there! - J. Sold
PENNSYLVANIA
The oldest house in Nazareth, Pennsylvania, is the Whitfield House built in 1740. It is now a museum and also has a couple of apartments where retired clergy live. At the time of the happening, my wife was a health-care worker whose clients included people staying at the Whitfield. One night, while doing up some dishes for her elderly clients, she went for the sponge floating on top of the dishwater, when it suddenly dove to the bottom of the sink! Then she put her hands into the sink and the sponge would pop to the surface like a bobber. But she could not pick it up! The sponge eluded her by diving or floating about the basin. She spent several minutes trying to catch the sponge, and finally, on her seventh try she grabbed it by keeping one hand under the water and using the other to corner the sponge. When she told here clients what happened, they said, Oh, you've met our ghost. They went on to relate many other paranormal events including disembodied footsteps that started in the hall, stopped in front of their bed, and then walked away into the back of the house. Others, including guards, have reported strange things that go on at the Whitfield. - Randy Gleason
WISCONSIN
I wanted to share an experience that has left a mark on me since it occurred. In 1989 my best friend moved to a house in Milton, Wisconsin (Circa 1920's). Almost immediately she complained of hearing footsteps up and down the stairs that led to the bedrooms, and running across the lower part of the house. She thought her house was being broken into, but no one was there when she investigated. One one occasion I stopped by to see if she was home and left a few seconds later...my car lights were on (it was broad daylight) I had mentioned this to her and she said that has happened to her mother in law on a few occasions. Another time when I was visiting, we were sitting around her living room with the shades drawn and I noticed a twinkling light on her ceiling...I thought it was from a mirror or a reflection of some kind, we sat there and watched it for a few minutes, it danced around and vibrated until it finally slipped through the wood molding next to the ceiling. I also want to mention that things would mysteriously disappear around the house and most times would reappear in odd places. She wore this old terry cloth romper in the summer when she was cleaning the house (it was not flattering!!) One day it disappeared and she couldn't find it anywhere...in the fall when she was unpacking the Halloween box in a spare room in the back of a closet, she found her romper packed in the bottom of the box under her kid's costumes. (I said What does that tell you??) Also, when she was doing laundry in her basement, she would put a load of laundry in the dryer, go back down to fold the clothes and find strange clothes in her dryer!!! She later found out that some of them were her neighbors that were on their clothes line earlier! The most memorable account happened on my birthday in 1991...she was giving me a permanent at her dining room table (which faced and was next to her stairway), we were talking and all of a sudden a small blonde haired girl ran past me and up the stairs...she was approximately 9 years old, and she was wearing shorts and a t-shirt...It was common children clothing so I couldn't date it to a particular time. I was stunned, but we knew no one would be up in the bedrooms when we went to check. My friend moved in 1992 in the spring and stayed with some family til the fall when she found another house to rent...she shortly realized that the young girl had followed her. She just recently moved to California and hasn't had any occurrences...maybe the little girl found peace in Wisconsin? - Susan Greeney
---